Arizona Farm Bureau Celebrates National FFA Week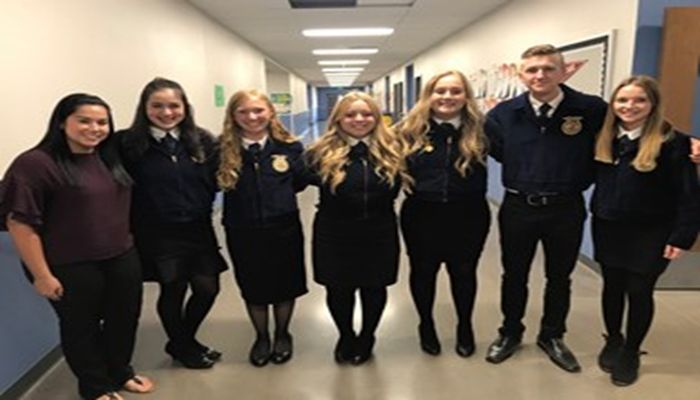 National FFA week is a time to celebrate the role that FFA plays in the development of agriculture's future leaders. It provides an opportunity to celebrate agriculture education and Farm Bureau is excited to join in the celebration! After all, many Farm Bureau members have a history in FFA. During FFA Week (February 20th -27th) Farm Bureau is excited to be hosting two virtual events: an Ag Policy Seminar and an Ag Issues Webinar. In addition, there will be daily challenges for prizes. Follow us on social media to be sure you are a part of these fun events!
Join us for the following:
1. The FFA Week Challenge
Are you up to the task? We're asking FFA members to try their hand at a series of trivia questions that will be shared on the Ag In the Classroom Instagram (@AZFB_AITC) from February 22nd- 26th. Be sure to follow the account now so you can stay up to date with contest rules and new stories or posts.
Here's how it works:
Members will have the opportunity to win prizes for themselves and their Chapter.
Individual prizes will be awarded 24 hours after each trivia question is posted. Winners will be chosen by raffle from the group of students who answer correctly. Prizes include Ag In the Classroom branded tumblers, camp-style mugs, and hats.
Amazon gift cards will be awarded to the top three chapters in the amounts of $100, $50, and $25 respectively. All you need to do to win it for your chapter is participate! A point will be awarded for each student's interaction. At the end of the week, the Chapters with the most points win!
2. A Look into the Legislature and How You Can Get Involved

A small pivot from last year's in-person event will allow teachers and FFA Students to learn about the Legislature, how to interact with their Representatives, provide strategies and tips for hosting virtual Program Tours with their Representatives, and provide the opportunity to meet with our State's top educational leaders at the Legislature through a Virtual Panel on February 22nd.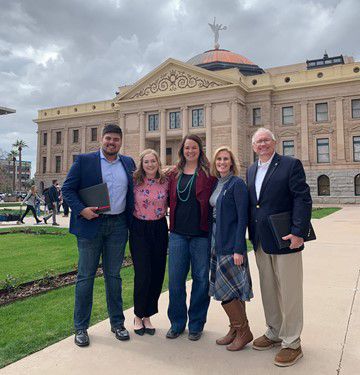 3. What You Want to Know Webinar: Ag Technology

On February 23rd, teachers and students will be able to join Farm Bureau for their monthly What You Want to Know Webinar. This month's webinar will highlight some of the amazing technologies being used in agriculture today and will allow attendees to hear from several individuals from the agricultural community to see how that technology is making a difference.  
 The future of agriculture rests on the shoulders of young agriculturists and it has been a clear priority of the Arizona Farm Bureau membership to invest in the potential of agricultural youth through advocacy, communication, and education.
The Arizona Farm Bureau also supports the Arizona FFA Foundation as a title sponsor for their annual Blue and Gold Gala fundraising event. To learn more about the Arizona Farm Bureau's current events, programs, and partnerships, please visit azfb.org.
Join Our Family