Arizona Farm Bureau Earns National Recognition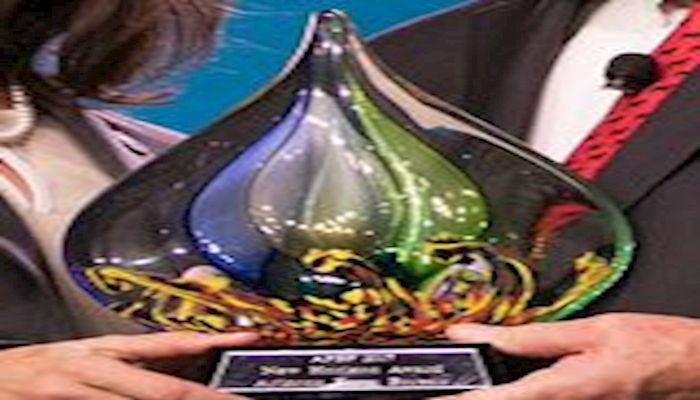 Arizona Farm Bureau received American Farm Bureau Federation's (AFBF) prestigious Pinnacle Award, the highest honor a Farm Bureau state can be awarded for program and membership achievement. State Farm Bureaus were presented awards at the American Farm Bureau Federation's 2018 Annual Convention & IDEAg Trade Show in Nashville yesterday. The awards recognized excellence in implementation of outstanding member programs and membership achievement in 2017.
To earn the Pinnacle, Arizona Farm Bureau had to earn recognition in all four areas of programming excellence: Advocacy; Engagement and Outreach; Leadership and Business Development; Membership Value.
The Awards of Excellence are awarded to state Farm Bureaus that demonstrate outstanding achievements in four program areas: Advocacy; Engagement and Outreach; Leadership and Business Development; and Membership Value.
Arizona Farm Bureau President Stefanie Smallhouse receives The New Horizon Award from AFBF President Zippy Duvall. The New Horizon Award honors Farm Bureau states with the most innovative new programs. We won for our Farm to Football Program run through Arizona Farm Bureau's Ag in the Classroom Program sponsored by Hickman's Family Farms.
Because AFBF gives out six Pinnacle awards based on member size, Arizona joined Florida, Massachusetts, Michigan, Pennsylvania and Tennessee in earning top honors.
But the recognition didn't stop there. Arizona Farm Bureau earned the New Horizon Award this year too, honoring states with the most innovative new programs. Other states that earned the recognition included Alabama, Massachusetts, Ohio, Pennsylvania, Virginia.
Arizona Farm Bureau President Stefanie Smallhouse accepted the New Horizon Award during yesterday's General Session in recognition of the Farm to Football Program, designed to reach children with the agriculture story tied to a popular sport, in this case football.
"We are so pleased that the Farm to Football Program was recognized by the American Farm Bureau as one of the best new programs by a Farm Bureau this year," said Arizona Farm Bureau Ag Education Director Katie Aikins. "We really couldn't agree more! Farm to Football has proved to be a wonderful way to reach people where their interests are and educate them about an industry that, although impacts everyone multiple times a day, they are often disconnected from and is often misunderstood. I wish I were a kid again and could participate in this program. Arizona Farm Bureau Ag in the Classroom (AITC) is honored that Hickman's Family Farms entrusted us with this program."
"Supporting education should be the Game Plan for everyone's future," said Hickman's Family Farms Sharman Hickman. "Thank you to the participating instructors for teaching students through STEM where their food originates. Additionally, I'd like to thank the teacher's throughout Arizona that were so engaged in the Farm to Football program, including Arizona Cardinal's Markus Golden's 4th grade teacher in Missouri, for including food production in their lesson plans."
This is Arizona Farm Bureau's second time to win the Horizon Award. The first time was in 2014, for its publication series project aimed at providing information in various mediums to Arizona's farmers and ranchers.
Join Our Family