Arizona Farm Bureau Earns the New Horizon Award Thanks to Partnering with NRCS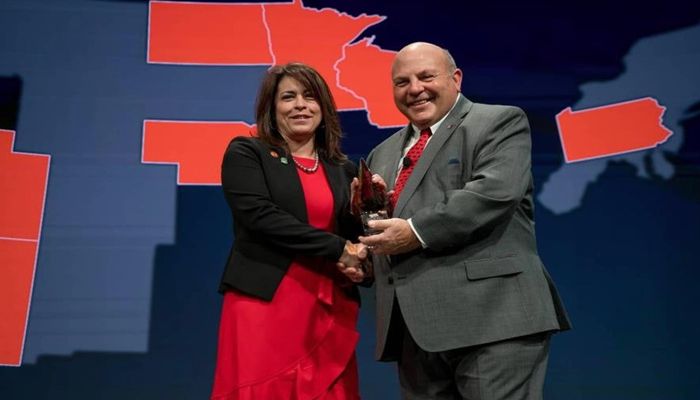 Arizona Farm Bureau earned American Farm Bureau Federation's (AFBF) New Horizon Award at its 103rd Convention this week in Atlanta. The award honors the most innovative new state Farm Bureau programs and membership achievement. Arizona Farm Bureau won on NRCS's Conservation Agriculture Mentoring Program.
In partnership with Arizona Farm Bureau, the April 2021 launch of NRCS's Conservation Agricultural Mentoring Program (CAMP) drove a unique partnership that paired 10 NRCS employees with 10 Arizona Farm Bureau member farmers and ranchers mentors. While several other states have the CAMP program, Arizona is unique in the partnership effort with Arizona Farm Bureau. Arizona Farm Bureau helps manage the program and field mentors for the NRCS proteges. 
Said USDA/NRCS State Conservationist Keisha L. Tatem, "Partnering with Arizona Farm Bureau is just good business for us as they broaden our reach to engage with various sectors within the agriculture industry. Tapping into their experienced membership to mentor our new employees was a win-win and we are humbled to be recognized for the amazing partnership we share."
At the beginning (Spring 2021) of this 18-month effort with the first class, Arizona Farm Bureau and NRCS continue to shine a bright light on this exciting program and the experiences our mentors and protégé are going through. These partnership works to understand Arizona agriculture and conversation opportunities, joining forces to provide firsthand experience of the conservation practices and agricultural happenings throughout the state. 
USDA/NRCS Assistant State Conservationist Rebecca M. de la Torre in charge of Employee Engagement added, "We went the extra step here in Arizona. We saw an opportunity to strengthen our partnership bonds between Arizona NRCS and the Arizona Farm Bureau. Their business acumen, resources and membership add an enhanced layer to this national mentoring effort that no other states have tapped into in the nation."
Arizona Farm Bureau's CEO echoes this same gratitude. "We are very appreciative of this recognition and the partnership with NRCS," said Arizona Farm Bureau CEO Phil Bashaw. "More importantly, this provides us with a great opportunity to highlight successful efforts to help our NRCS partners become more engaged with Arizona agriculture."
The additional States that won a New Horizon Award in their size category is past week:
Delaware: Digitally Marketing Delaware's Specialty Crops

Illinois: Illinois Ag Mental Health Summit and Mental Health Resources

Iowa: Grow Your Future Award

Montana: Virtual Farm Fair

Oklahoma: Oklahoma Farm Bureau/Oklahoma 4-H ATV Safety Facility
Arizona Farm Bureau also won all four Awards of Excellence categories. This effort recognizes state Farm Bureaus that demonstrated outstanding achievements in Advocacy, Coalitions & Partnerships, Engagement & Outreach, and Leadership & Business Development.