Arizona Farm Bureau Leaders Elected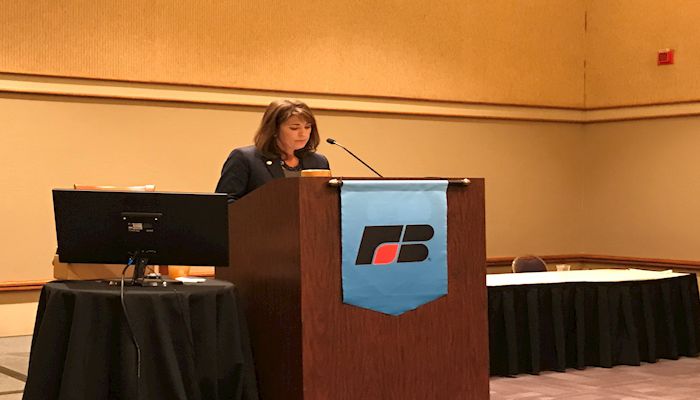 Stefanie Smallhouse of Redington was elected president of the Arizona Farm Bureau last week by voting delegates during the organization's 96 th Annual Meeting in Mesa. A forage and beef producer in the Tucson-area, Smallhouse will serve her first, two-year term on behalf of the nearly 100-year-old grassroots farm and ranch organization.
"We work together to further the entire agricultural industry as a whole and all of the segments that are within that industry," said Smallhouse in her acceptance speech last Friday morning. "When I look out to the group of you today I see multiple generations and I see first generations. I see organic and traditional growers. I see local and global growers. Folks who produce vegetables, grains, cotton, beef, lamb, nursery plants, citrus, dairy, tree nuts, wine grapes, forage crops, sod grass, honey and even hops. When all of us speak with one voice we are extremely powerful because of this diversity."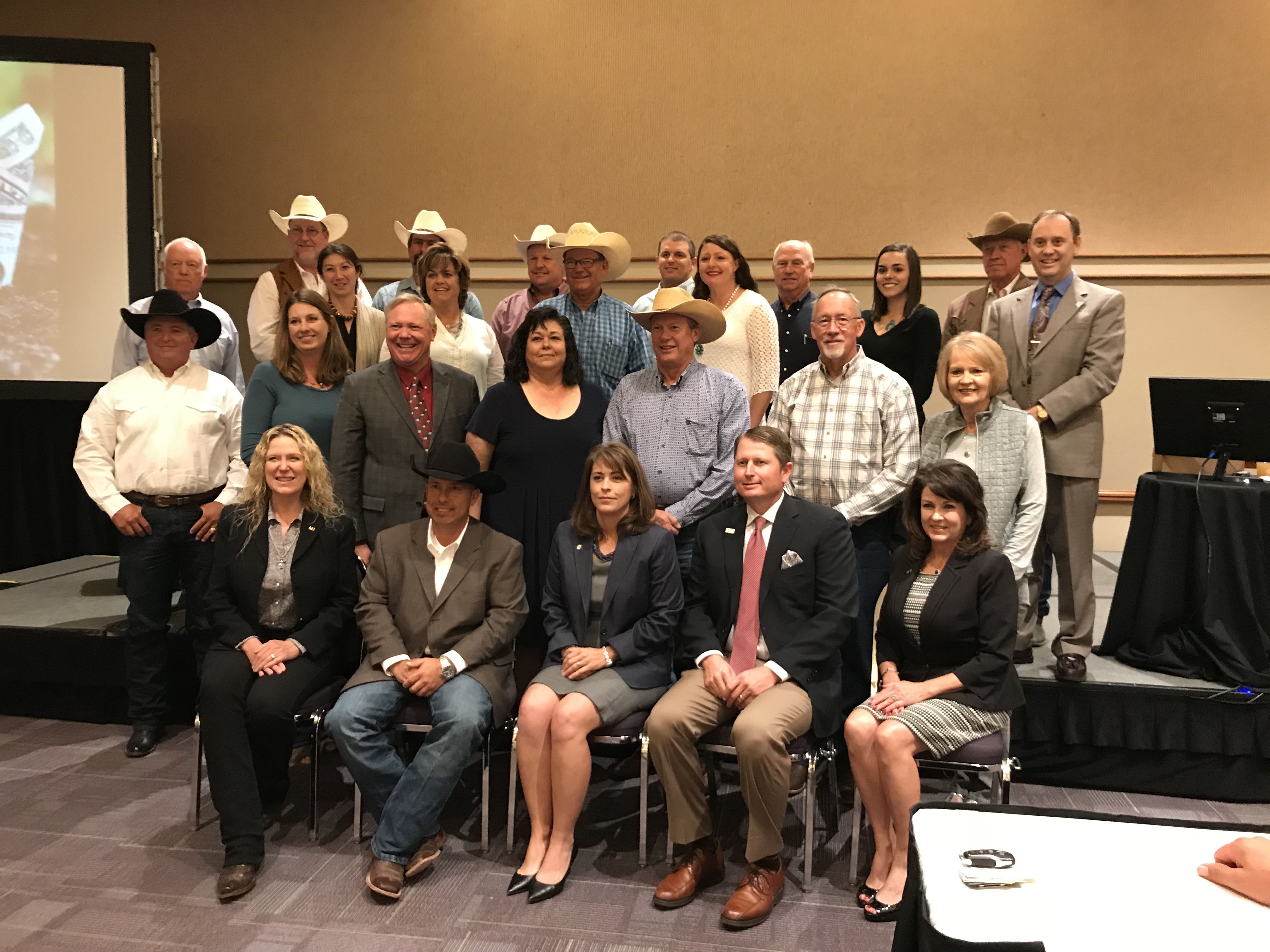 The 2018 Board of Directors for the Arizona Farm Bureau. The officer team consists of President Stefanie Smallhouse (center, seated), Second Vice President Richie Kennedy (left) and First Vice President John Boelts (right).
Originally from the eastern plains of Colorado, Smallhouse moved with her family to New Mexico and later attended New Mexico State University receiving a Bachelor of Science in Agriculture degree with studies focused in Wildlife Sciences and Range Management. While there she received the National Wildlife Leadership Award from the Rocky Mountain Elk Foundation.
Smallhouse worked as a wildlife biologist for the Bureau of Land Management in Southern Utah before marrying her husband, Andrew Smallhouse, and moving to Southeastern Arizona. Andrew is a fifth-generation farmer and rancher in the San Pedro River valley in Pima County and together they have two children. Stefanie helps to manage their cow/calf operation, farm, saguaro cactus greenhouses and mesquite lumber business.
The Smallhouse family has received conservation awards for their farm and ranch management from the Arizona Society for Range Management and the National Association of Conservation Districts.
Smallhouse previously served as the Chair of the Redington Natural Resource Conservation District Board of Supervisors and President of the Pima County Farm Bureau.
She has served on the Selection Committee for the Director of the Arizona Department of Agriculture, and previously involved with the Governor's Women in Agriculture Committee.
She was a participant of the Partners in Agricultural Leadership (PALS) program Class 3, sponsored by the American Farm Bureau (AFBF). She is past Chair and continues to serve on the AFBF Environmental Issues Advisory Committee.
Delegates also elected Yuma produce farmer John Boelts as Farm Bureau First-Vice President, and Pinal and Maricopa County livestock and crop farmer Richie Kennedy as Second Vice-President.
The delegates reelected Sine Kerr as their state chair for Arizona Farm Bureau Women's Leadership Committee and Catherine Mann as Women's Director.
Earlier, a delegation of Arizona Farm Bureau Young Farmer and Rancher members elected Ashley Jeffers-Sample as their chair and Katie Hanger as vice chair.
For the broader Board of Directors for Arizona Farm Bureau, Smallhouse, Boelts and Kennedy will serve as the officers of the 2018 Board of Directors.
Join Our Family