Arizona Farm Bureau's Historical ACEs In the "C" Column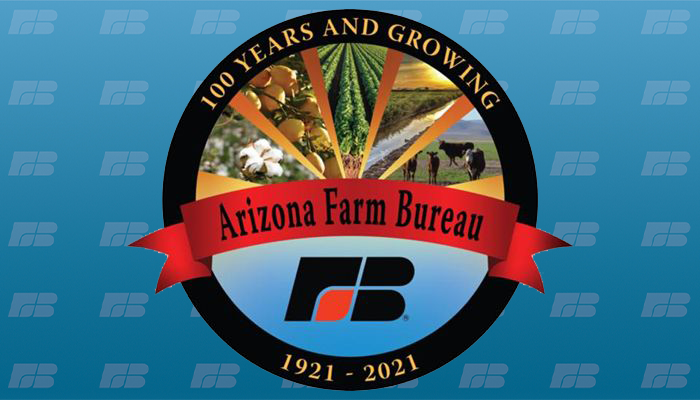 2021 is a milestone year for Arizona Farm Bureau: the organization reached 100 years of service to Arizona's farmers and ranchers. Along the way, countless other milestones were reached including Arizona Farm Bureau's communication, or "outreach," efforts that encompass a variety of outreach tools to support our more than 25,000 members and our Arizona families.
In Communication (officially known as Outreach), when we began the "Reach a Million Campaign" to connect with a variety of Arizona families and target groups, we asked ourselves could we connect to a million people, at least have a variety of "touchpoints" that would garner that many impressions? We asked the question in the 2009/2010 fiscal year. That first year, our campaign concluded with just over 3 million impressions. Today, 10 years later we're on our way to meeting our target of more than 14 million for this important and ongoing effort. 
In our public outreach efforts, we mainly target moms (but not exclusively), ages 25 to 45, with children still in the home. These are moms typically focused on feeding the family well.
The Historical Highlights of the last 14 years in Communications
In the past, to reach the "Foodie demographic" we sponsored Phoenix Cooks, a "Foodie" event that included 15-second radio spots leading radio listeners to 

www.fillyourplate.org

. The two radio stations KEZ (953,600 listeners) and KNIX (574,100 listeners) were part of this program and are our state's two "Top 40" and country stations in the valley. The spots and Phoenix Cooks event reached thousands of listeners and attendees. Because of the design of the program, even small, non-profits could latch onto the extended reach these two radio stations provided. 
Today, we reach the "enthusiastic foodie" demographic through a Foodie influencer, "Az Foodie," otherwise known as Diana Brandt. In our first campaign (2020) with her we reached thousands of Arizona families interested in food, 84, 377. This year (2021) we plan to double our efforts. 
Radio marketing has proved to be tremendously valuable to the Arizona Farm Bureau outreach efforts, especially since our outreach budget is so small in the world of marketing budgets. In 2012, we partnered with the famous Romero family of Rosie on the House to host farmer and rancher guests one Saturday a month to continue telling the Arizona agriculture story. Each show has a listening audience of more than 100,000. We target their audience for the more established Arizona family. 
With our limited marketing budget, television has typically been out of our reach. However, for a few short years when our local PBS channel hosted America's Heartland Show, we would sponsor the 30-minute show. Their audience for the Sunday evening show was nearly 500,000. We sponsored the show from 2010 to 2017. 
We segmented a unique group in our state: Arizona's rodeo demographic shows families with an average of two to three children. Arizona's Parada del Sol and other rodeos annually draw hundreds of thousands of people. One year in the Parada del Sol example Arizona Farm Bureau connected with an audience of 200,000 using a two-part branding campaign entitled "Fill Your Plate with Arizona Agriculture" featuring AZFB's www.fillyourplate.org that included a full-page advertisement in their rodeo program passed out during the rodeo parade and at the actual 3-day rodeo. The other part was a banner advertisement in the grandstands during the event. What really validated the outreach to this audience that year was the 60% jump in www.fillyourplate.org web visits during the rodeo weekend while our advertisement was running, and the banner was up in the grandstands. The rodeo segment outreach continues today through Ag Education's Ag in the Classroom program at Queen Creek's Roots and Boots.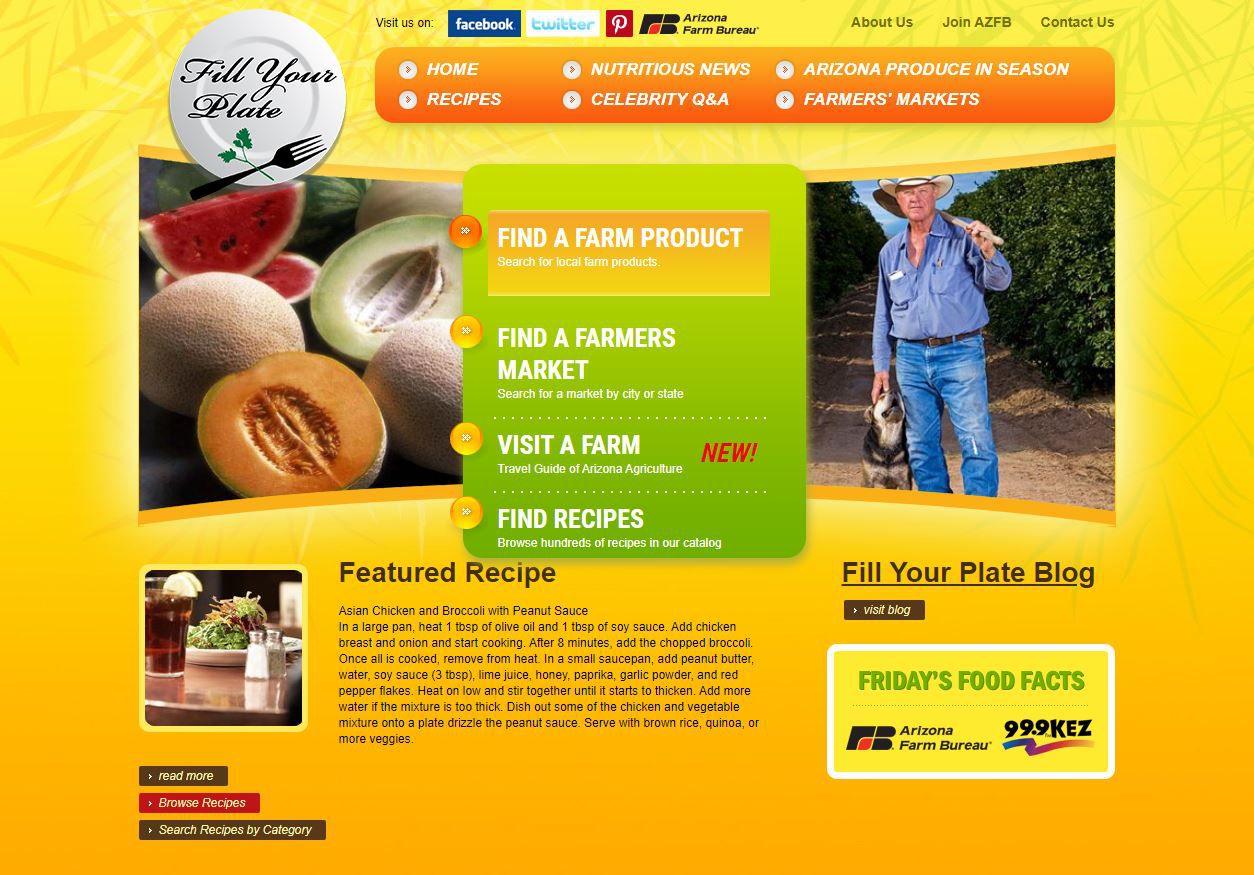 We targeted an Earth Day ABC 15 campaign that included cross-media promotion (web, television and Internet banner ads). The campaign generated an average of 216,820 viewers for 3 months, according to the Nielson rating service. 
Today, we continue to partner with KEZ99.9 to reach their 70% female audience with an average impression reach of 6 to 8 million. The current campaign is called Friday Food Facts and last year generated 6.4 million in impressions.
Site visits to both www.azfb.org and www.fillyourplate.org  can easily jump 50% to 75% during special campaigns such as these. Previously, a 30-second spot used in a TV campaign was viewed on www.fillyourplate.org leading to more engagement. The various campaigns would often partner with well-known local programs like Sonoran Living. The first-ever Sonoran Living segments generated an average of 47,100 viewers for each show, according to Nielson. 
Additionally, we have sponsored several "foodie" events that have allowed us to engage the public including hosting "Locavore" dinners, wine tastings and sponsorships with Local First Arizona for beginner and retail farmers and much more. These events over the years have drawn thousands and thousands of participants. 1,500 participants (total attendees over the one-year effort) were part of the now-famous Locavore dinners we did monthly in 2009 with chef James Porter where we spent approximately three hours with "foodies" over a five-course dinner sharing the true story of agriculture. "Here, we've literally been able to move a foodie's perceptions from a misconception to the truth about today's modern agriculture in America," said former Arizona Farm Bureau President Kevin Rogers, who had attended several of the locavore dinners. 
In the past, we even partnered with the Phoenix Zoo's Harmony Farm for public outreach. While Harmony Farm is now refurbished and we no longer partner with the Phoenix Zoo, we estimated that we annually reached approximately 500,000 people in Harmony Farm visits (1.5 million people visit Phoenix Zoo each year). We produced and sponsored their Harmony Farm agriculture video that tells families about Arizona Agriculture. It ran in a continuous loop in the Harmony Farm barn.
As Arizona Farm Bureau continues to brand Fill Your Plate, more interest continues to be generated by the public. And www.azfb.org visits continue to increase especially during special advertising. Plus, we are now considered a high-traffic site on www.azfb.org.
Additionally, many significant public groups, including "foodie" groups, are now coming to Arizona Farm Bureau to partner. They include Savor Scottsdale, representing more than 40 independent restaurants; Edible Phoenix, a magazine for the Slow Foods movement; Local First Arizona, an organization promoting independent business and others.
Our social media channel outreach generates nearly 4 million impressions annually across 9 main channels and the video-release-a-week effort through our social media channels continues to grow. 
And regarding social media, recently launched in 2019, our weekly "Talk to a Farmer" live on @AZfarmbureau Instagram, draws regular viewers. We then post the recorded video on the "Friends of Arizona Farm Bureau" Facebook page where we average 200 to 600 views. One session drew more than 1,000 views. 
We never want to discount our traditional communication publications: Arizona Agriculture and CHOICES. These two regular publications reach our ag and associate members. Historically Arizona Agriculture (Previously known as Arizona Producer in the early beginnings of Arizona Farm Bureau and later as Arizona Farm Bureau News) has been here from the beginning. The agriculture publication has evolved over the years with numerous editors, but one thing has remained the same to highlight the work of farmers and ranchers and the mission work of the Arizona Farm Bureau. 
Finally, the media regularly references Arizona Farm Bureau as the source for information on food safety, nutrition, and dollar-savings advice. By becoming a "Knowledge Source" we become an industry leader to the public on these issues. In 2020 we've connected with more media outlets than ever before partly because of the pandemic. Last fiscal year our media exposure garnered an audience of 2.2 million.
And on Media relations, one consistent media outreach has been our quarterly market baskets and Thanksgiving Market basket. We conduct a price check on Arizona grocery stores to determine if food prices are increasing or decreasing. We can compare from previous quarters and help the media report on food prices for Arizona families. While we stress our process is unscientific it places a gauge on whether Arizona food prices are up or down. The media is keen on the information and we supply it on a regular basis. (We suspended it during 2020 due to the pandemic.)
Arizona Farm Bureau's public outreach efforts continue to improve with a dramatic increase in those areas that have completely new program outreach in the case of Fill Your Plate improvements and new features and promotions, effective use of advertising and marketing, food market basket's "Stretch Your Dollar Menu" outreach and special "Foodie" outreach. We continue to be on the outlook for opportunities to outreach, connect and engage with the public. 
Between Ag in the Classroom and Arizona Farm Bureau's Outreach efforts in general, we strive to move the needle in the right direction dispelling misinformation about agriculture. 
Join Our Family