Arizona Farm Bureau's Pinnacle Award A Great Honor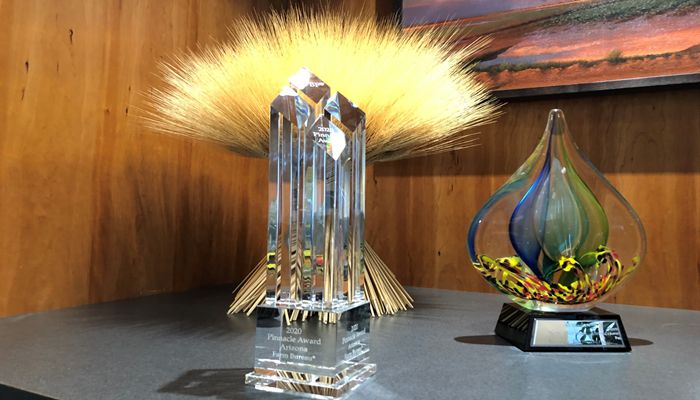 Arizona Farm Bureau came away with American Farm Bureau's highest award, the Pinnacle, last month during American Farm Bureau's Virtual Annual Meeting. One of only two other states, Arizona was recognized for excellence in the implementation of outstanding member programs and membership achievement in 2020. 
"It is always a great honor to be recognized by your peers for a job well done. We certainly appreciate this recognition of the hard work of our staff and volunteers that made this year such a success," said Arizona Farm Bureau CEO Philip Bashaw."
The Pinnacle Award, the highest honor a state can be awarded for program and membership achievement, was given to Arizona, Texas and Virginia.   
"This is our first year in this membership group, a group which includes much larger Farm Bureau states, a great job," said Arizona Farm Bureau President Stefanie Smallhouse. "Our staff at Arizona Farm Bureau are relentless in their efforts to advocate, communicate and educate on behalf of Arizona's farm and ranch families. The Pinnacle Award is the result of hard work, innovative ideas and dedication. Our volunteers are committed to a brighter future for agriculture and we welcome anyone to join the Farm Bureau family."  
The Awards of Excellence recognize state Farm Bureaus that demonstrated outstanding achievements in four program areas: Membership Value; Advocacy; Leadership & Business Development; and Engagement & Outreach.  
Join Our Family