Arizona Farm Family Nominates School District for Grant
Receives $25,000 grant to revitalize student greenhouse
District named winner in America's Farmers Grow Rural Education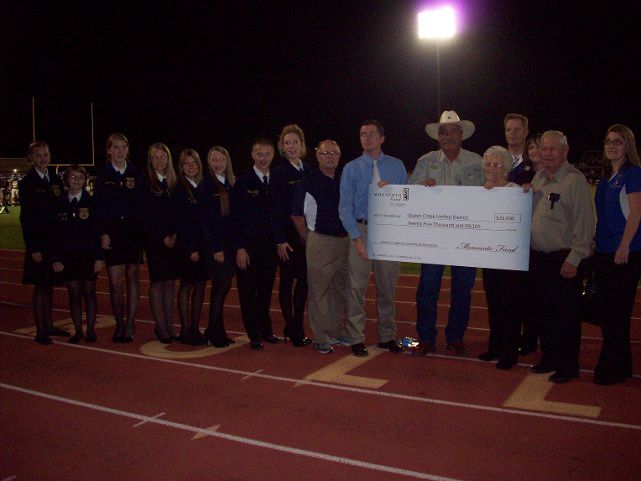 The Barney farm family of Queen Creek recently nominated the Queen Creek Unified School District to receive a $25,000 grant to revitalize a student greenhouse and the district won the grant. Queen Creek School district is using a hands-on strategy for generating student interest in math, science, and agriculture.
America's Farmers Grow Rural Education, sponsored by the Monsanto Fund, awarded the $25,000 grant to renovate the district's greenhouse. In addition to the renovation, the funds will be utilized to run the "Learning to Dig Math & Science through Agriculture" program, and will also contribute to materials for the raised garden beds and employee stipends.
The Barney Farm family of Queen Creek has been farming in the area since 1949. The patriarch of the family, Newell, is a great-grandfather to 70 children; his name graces a local school and sports complex. The family has been active in the community for years and values education and helping young people succeed.
America's Farmers Grow Rural Education offers farmers the chance to nominate a local public school district, which can then compete for a grant of up to $25,000 to enhance math and/or science education. More than 1,150 nominated school districts submitted applications. The Monsanto Fund will invest $2.3 million through America's Farmers Grow Rural Education grants this year.
"As our students and teachers prepare for Common Core State Standards, a great emphasis has been placed on the application of knowledge and skills in real-world situations. This grant will facilitate those kinds of learning experiences within an agricultural context," said Dr. Perry Berry, director of curriculum, instruction and grants for Queen Creek Unified District. "We expect a high level of motivation and interest from students, and we believe that these activities will translate into quality learning experiences that will have a lasting impact on the students we serve."
Nominated school districts across the country submitted grant applications in the spring. During the summer, a panel of educators from ineligible districts reviewed and evaluated applications based on merit, need and community involvement. The strongest submissions were then sent to the America's Farmers Grow Rural Education Advisory Council. The Advisory Council, comprised of farmer-leaders with an interest in agriculture and education, selected the winning grant applications from this pool of finalists.
"A record number of America's farmers stepped up this year to improve math and science education in farming communities across the country," said Deborah Patterson, Monsanto Fund president. "By nominating their local school districts to compete for this grant opportunity, these farmers demonstrated their dedication to growing the next generation. The Monsanto Fund is committed to strengthening rural America and this program is an exciting way to honor that commitment."
America's Farmers Grow Rural Education launched nationally in 2012 and has grown to include 1,271 eligible counties in 39 states. Since its inception, the program has invested more than $4.8 million in rural school districts across the country.
America's Farmers Grow Rural Education helps farmers support math and science education in local rural school districts. Currently in its second year, this program is part of the Monsanto Fund's overall effort to support rural education and communities. America's Farmers Grow Communities, which offers winning farmers the chance to direct a $2,500 donation to a nonprofit organization in their county, is also part of this effort. Enrollment for 2014 Grow Communities is currently underway. Visit www.GrowCommunities.com to enter to win $2,500 for your county.
To date, these programs combined have contributed more than $15 million to rural communities. To learn more about either program, please visit http://americasfarmers.com/.
FFA chapters across the state have received a total of $15,000 in Grow Communities donations.
Service organizations, like food pantries, have received $2,500.
Grow Communities has donated $2,500 to education organizations.
Community improvement organizations have received $2,500 through Grow Communities.
Many farmers chose to give back to their local 4-H clubs. A total of $7,500 has been donated to 4-H clubs across the state.