Arizona Farming Family Saves $1,200 Using Farm Bureau Discounts
By Peggy Jo Goodfellow, Arizona Farm Bureau: I know what you're thinking. Why should you take advantage of your Farm Bureau discounts? Simple…you will save money. And, our Arizona farming families know the importance of true savings.
While talking with several Arizona Farm Bureau Board of Director members before a recent state board meeting, Stephen Klump from Cochise County told me about his father's health situation and how he must regularly purchase a 90-day prescription. Stephen said his father paid $385 for his prescription every 3 months.
"We had never used our member benefits," Stephen said. "Since we are Farm Bureau members we had noticed the prescription program on the list of benefits and I suggested to dad he use the Farm Bureau prescription drug card the next time he had to purchase his medication."
Mr. Klump presented the card at his local Safeway Pharmacy, a participating program Pharmacy, and was told he owed only $85 for his 90-day prescription. He saved $300! In fact, he'll save $1,200 a year on this one 90-day prescription. Today, the Klump family takes advantage of several of their Farm Bureau member benefits.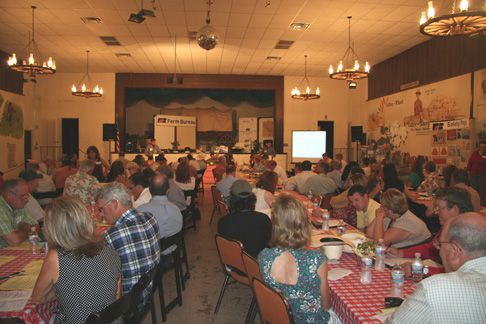 Farm Bureau members who take advantage of their member benefits can find great savings.
Of course the saving will vary since not all prescriptions are the same, but if you are an Arizona Farm Bureau member, it might just save you some money if you present your Farm Bureau prescription card the next time you pick up a prescription.
Because you belong
Farm Bureau Financial Services: access to insurance and investments
Farm Bureau Bank: credit cards, checking, savings; vehicle and home loans
Dental Care Advantage: dental, vision, prescription & chiropractic 20-55% discount
AmeriGas: $.05 off per gallon of propane
T-Mobile: 12% discount on all lines on the account
Ford vehicles- $500 rebate on new Ford cars and trucks
Sears Commerical- on-line savings
ClearValue Hearing Healthcare benefit- Up to 55% discount
Choice Hotels: 20% discount
Grainger: 10% discount on catalog items. Free shipping for online orders
Wyndham Hotel Group: 20% discount
Sea World tickets: save up to 20% on adult and child admission
Harkins Theatre tickets: save up to $3 per ticket
Universal Studio: discount coupons
Knott's Berry Farm: discount coupons
Verde Canyon Railroad: 10% discount
Phoenix Zoo: save $2.00 per ticket or 10% on the annual pass
Jiffy Lube: 15% discount
Advanced Auto Service & Tire Center: 10% off at 14 locations
Case IH- $300 - $500 off select equipment
Avis: up to 25% discount
Frazee Paint: 25% off retail paints and 10% off sundries
Enterprise, Alamo and National car rentals: save up to 20%
Life Line Screening: 30% off health screenings
Farm Bureau Prescription Discount Program: up to 75% savings with free drug card
FB apparel: 30% off retail on casual, work and outdoor wear
Office Depot: Up to 80% off online purchases
Crimshield: 10% discount on E-Verify process and investigations
SCF Arizona Workers' Compensation Insurance: bonus dividends to policy holders
Local/Regional benefits: discounts offered in your county
Fillyourplate.org: Searchable database of Farmers' markets & weekly blog
For more information, visit www.azfb.org or call Peggy Jo Goodfellow at 480.635.3609.