Arizona's Certified Organic Ag Sales Increase Nearly 70% from 2016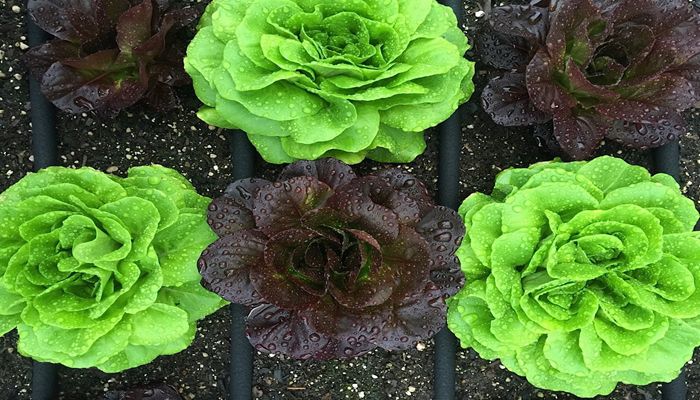 In 2019, sales of certified organic agricultural production in Arizona totaled $203 million, a significant increase from 2016's $118 million, a just under 70% increase. The $203 million of sales made Arizona the 11th ranked state in terms of certified organic value of sales. The number of certified organic farms in Arizona was 62, an increase of 24 farms from 2016. 
The 2019 Certified Organic Survey showed that vegetable sales accounted for 64 percent of Arizona's total certified organic sales. Top certified organic vegetables produced and sold in 2019 in Arizona included lettuces ($32.7 million) and broccoli ($15.9 million). Field crops totaled $16.7 million, a significant increase from 2016. Other commodities accounted for the remaining $138 million in sales. Many of these were not publishable due to confidentiality rules and included spinach, dates, milk, pecans, and various other vegetables and field crops.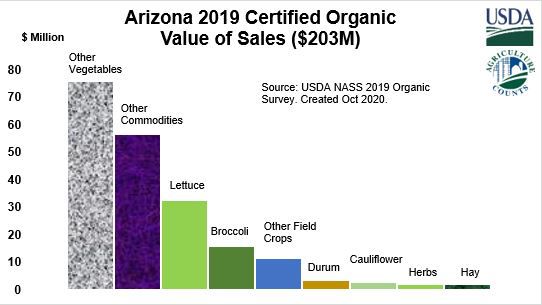 Overall, sales of U.S. organic agricultural production increased by 31 percent from 2016. U.S. farms produced and sold $9.9 billion in certified organic commodities. The number of certified organic farms in the country increased 17 percent and land used for certified organic production increased 9 percent. Here is a link to the highlights from the 2019 release.
With $3.6 billion in certified organic sales, California continued to lead the nation in sales, accounting for 36 percent of the U.S. total. California also had the largest share of certified organic acres. Ten states accounted for 75 percent of U.S. certified organic sales, slightly less than the 77 percent in 2016. 
The survey was a census of all known U.S. farmers and ranchers with certified organic production in 2019. Producers must meet the standards set out by USDA's Agricultural Marketing Service's National Organic Program and be certified compliant by an approved agent of the program. Survey results are available at www.nass.usda.gov/organics or the Quick Stats database at https://quickstats.nass.usda.gov.
The 2022 Census of Agriculture will be upon us in just a little over a year. Census of Agriculture forms will be mailed out in early 2023 and results from this massive data collection effort should be available by early 2024. 
I want to personally thank each Arizona producer who responds to our important data collection efforts so that we can prepare estimates of Arizona's agricultural acreage, production, and value.
Editor's Note: Organic food sales reflect this segment's growth too. According to the Organic Trade Association, organic food sales in the United States increased by a record 12.8% in 2020 to a new high of $56.4 billion. Almost 6% of the food sold in the United States last year was certified organic, reflecting strong, pandemic-driven demand across nearly every organic food aisle.
Join Our Family