Arizona's Legislative Leadership Outlines Priorities for 2023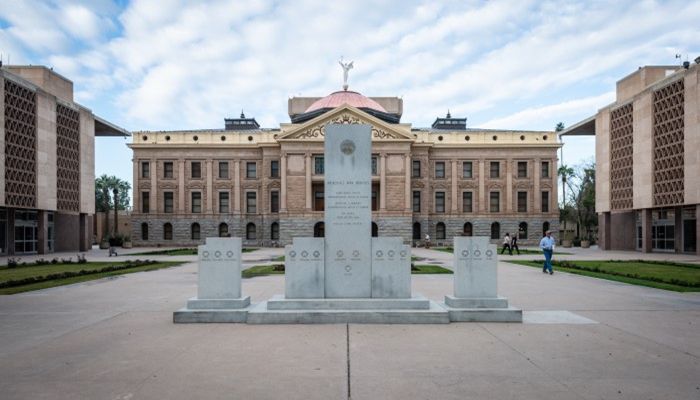 With the beginning of a new session comes the opportunity to welcome new leadership into the Arizona Legislature. 
This year, we asked our newly elected leaders two questions: 
What are your caucus's top priorities for the upcoming legislative year?
Arizona Farm Bureau's top priority heading into the legislative session is protecting agriculture's access to water. Agriculture's water use leads not only to $23.3 billion in economic activity but also contributes significantly to the food security of our state and nation. What does it mean for Arizona to be water secure, and what do you see as the Legislature's role in helping achieve water security for the state?
Below are their responses, printed in their entirety and unedited. We look forward to working with this incoming class of legislators to protect and further agriculture's policy priorities to the benefit of all Arizonans! 
Senate President Warren Petersen
The Arizona Legislature is embarking on a very unique year, as the political landscape has greatly shifted in the wake of the November 2022 midterm elections. With slim majorities of Republicans again in both the Senate and the House of Representatives, a contrasting dynamic of a Democrat Governor serving Arizona will greatly influence which priorities make it across the finish line at the end of this upcoming legislative session. 
Without a doubt, Arizona's water shortage and diminishing supply of Colorado River water is one of the most important issues that our lawmakers will tackle this year. In the last session, the Legislature appropriated more than $1 billion over the next three years to secure our water future. We expanded the Water Infrastructure Finance Authority (WIFA) to provide financial assistance to political subdivisions for a variety of construction, rehabilitation, and improvement projects relating to drinking water, wastewater reclamation, and water quality. In this session, our goal is to ensure WIFA processes are streamlined, and resources are deployed efficiently with minimal bureaucratic delay, in addition to further developing solutions that will support the millions of people living in our state, as well as those moving here, while encouraging continued economic growth. 
Farmers and ranchers are the backbone of Arizona. They support our food security here at home and across the nation. Arizona's agriculture industry alone produces $23.3 billion annually in economic activity, despite experiencing severe challenges to their production and their livelihoods in the face of declining water resources. Farmers have maintained a willingness to implement new water-saving technologies, and we will continue to support their drought mitigation strategies. At the end of the day, we will need to continue to work with stakeholders like the Arizona Farm Bureau, as well as other Lower Basin states and the federal government to achieve water security so that further cuts to our state's supply won't need to be made. 
Arizona continues to experience positive revenue growth for this fiscal year. In fact, revenues have so far climbed 12% higher than the year prior and are $677 million above forecast, as of this past fall. The Legislature will explore ways to give some of this money back through further potential tax cuts for the hardworking families and small business owners that have been struggling with record inflation due to poor policies enacted by the federal government. 
Investments in transportation, infrastructure, public safety, border security, homelessness and paying down state debt remain priorities. We're also hopeful that we can get some commonsense bi-partisan legislation passed to improve our elections processes, as November 2022 highlighted some frustrations and deficiencies within the system. 
We're looking forward to an impactful session!
Senate Democratic Leader Raquel Terán 
Due to historic drought conditions caused by accelerating climate change, ensuring the current and future water security of all Arizonans, including Tribal nations, is one of the most important challenges facing our state and the Arizona legislature. First, a unified Arizona must work with the federal government and the other Colorado Basin states to both protect Arizona's Colorado River allocation and secure the river's ongoing viability and infrastructure. To this end, the legislature must increase its investment in the Department of Water Resources in order to lead these efforts. Second, the legislature must build upon last session's bi-partisan initiatives, including SB 1740 - water infrastructure financing; supply; augmentation and SB 1564 – on-farm irrigation efficiency, fund; appropriation to strengthen and diversify Arizona's water conservation, management, infrastructure, augmentation, and data collection laws and initiatives. Third, the legislature must commit to updating Arizona's groundwater code to reflect 21st-century water realities. The legislature needs to engage with local governments, communities, and stakeholders and enact legislation to give both rural and urban Arizona the necessary regulatory tools to secure their water and economic future.
The 56th legislature has the possibility to deliver real results for all Arizonans. Our caucus is committed to dropping, debating, and passing legislation that is grounded in reality. Democrats are working with stakeholders to address dire climate change issues, protect our very limited natural resources, and ensure job growth throughout the state. This past legislative session has shown us that honest bipartisan conversations can lead to transformative legislation – we plan on continuing that trend. From school investment to environmental policy, our top priority is making sure Arizona families are supported, safe, and healthy. 
 House Democratic Leader Andrés Cano
Our House Democratic caucus was inspired this summer when we worked to pass a historic bi-partisan budget that delivered for all corners of the state we all love. And then a few days later we did it again, coming together to help address Arizona's long-term water future with our new Water Infrastructure Finance Authority Board, and investing $200 million to spur innovation and conservation. 
Now with 16 new members brimming with new ideas and new energy, our exceptionally skilled and diverse Democratic Caucus remains 29 strong, and we intend to be there for Arizona again. Democrats are united and absolutely committed to securing our water future, defending our public schools and improving the quality of life for all Arizonans. And we will never stop fighting for freedom and equal rights regardless of where you live, where you're from, or whom you love. 
As we lead with our values and a new Democratic Governor Katie Hobbs, Agriculture remains one of the most vital drivers of our economy and is key to our shared future. 
Even as a $23 billion industry that supports nearly 200,000 jobs, Arizona farms are family businesses. And Arizona families deserve better than wells going dry in rural Arizona. They deserve better than losing out to sweetheart deals for Saudi farms pumping away our limited water supplies. They deserve better than letting neighboring states like California shoulder less than their share of necessary cuts to Colorado River water. And they deserve infrastructure – roads, bridges, airports and ports of entry – that are modernized and in good repair so that goods can get to market.
We have many looming issues that we must face together, but the most pressing is water. Without water, there is nothing else to talk about. We need both parties and all stakeholders at the table as we build upon our accomplishments this summer with more bi-partisan solutions.
Our goal, always, is to protect Arizona's air, water and land for future generations. As stewards of the land, the Agricultural community is and must remain, an important partner in reaching those goals. 
As Governor-Elect Hobbs said, "We've been through a thing or two these last few years. But we are tough. This state is tough. And if we work together, we can tackle our biggest challenges."
Thank you for this opportunity. Despite the challenges we face, I remain filled with optimism about our future, and about the spirit of compromise and collaboration we will bring to Arizona's next chapter, and I look forward to working for all of you in 2023.
Editor's Note: Speaker of the House Ben Toma was traveling and unable to submit before our deadline.