Arizona's Salt River Project's 7 Dams Regularly Get Tender Loving Care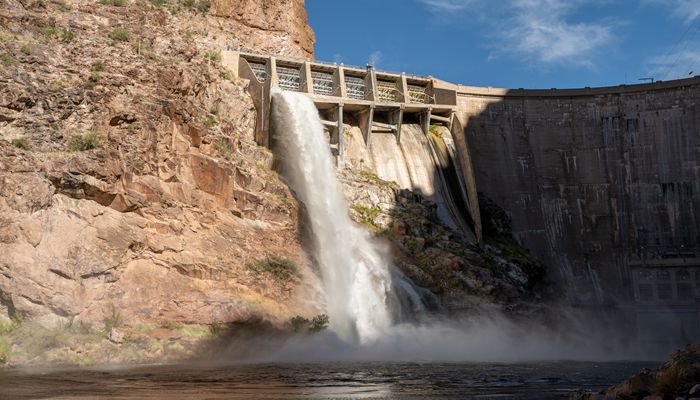 While our state continues to endure a multi-decade drought, Arizona's Salt River Project (SRP) continues to perform regular maintenance and testing to ensure the health and safety of the seven dams it manages and operates. Salt River Project has helped shape the West since its founding in 1903 and its history is one of service to the residents of Arizona and certainly Arizona agriculture.
Periodically testing water release capability helps to confirm operational readiness in the event of flooding. last week's spill test at Horse Mesa Dam, located on the Salt River at Apache Lake northeast of Apache Junction, is the last one conducted at three dams this year. The last time SRP had to release water to manage storage was in September 2019, when water was released at approximately 50,000 cubic feet per second from both Mormon Flat Dam and Stewart Mountain Dam.
Important facts about SRP's service to residents of Arizona:
SRP provides water for about 2 million people living in the Valley and provides about half of the Valley's supply. Each city's SRP water allocation varies.
SRP's water system is built for resiliency and is doing exactly as it was intended: to store water when dry and deliver it when needed.
Spill tests are performed annually, as required by the U.S. Bureau of Reclamation. 

Helps to confirm our spill capability for flood events.
SRP is charged with the safe and effective operation and maintenance of our dams and hydroelectric facilities, on behalf of the U.S. Bureau of Reclamation.
Many other periodic inspections are performed to ensure the safety and functionality of systems and equipment, including any electric generating capabilities.

Horse Mesa Spill Test Details: 

SRP performed a spill test on the Tunnel Gate and five Spillway Gates.
The Tunnel Gate discharged water at a maximum rate of 1,200 cubic feet per second for a total of about 800,000 gallons (2.5 acre-feet).
Each Spillway Gate is released at a maximum rate of 530 cubic feet per second for a total of about 300,000 gallons (1 acre-foot).
Horse Mesa can discharge up to 150,000 cubic feet per second, or about 75 average size swimming pools every second.
All water released from Horse Mesa Dam today remains stored in the Salt River reservoir system.
Safety is our greatest concern and site personnel performed several operational checks as well as a pre-spill safety tailboard. A representative from the Bureau of Reclamation, Phoenix Office, was present to witness the test.