Arizona's Urban Farming: How One Farmer Tackles the Challenges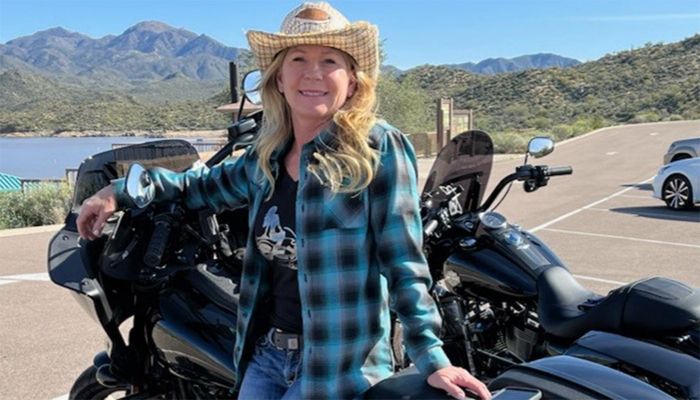 Janna Anderson was featured in these pages in 2014 for her efforts in retail farming in an urban setting. It's time to get caught up again with this adventurous soul between farming, raising dogs and cruising backroads on her Harley. 
A frequent shopper at area farmers' markets, third-generation Phoenix native Anderson saw there was a large demand for urban farmers even before the locally-grown movement became trendy. Because of this recognition, Pinnacle Farms was launched on a tiny plot behind the Scottsdale Community College in 2000. This all began to unfold at a time when Anderson was just a semester shy of obtaining her nursing degree. Instead, she dropped out of college, decided to follow her heart, and applied herself to filling this niche food market. 
The small plot behind the college served Anderson well for a short time until she realized that the need for local produce was so great, she had to look elsewhere to grow produce to supply the demand. Thus began her journey as an Arizona urban farmer.
In the thick of all this she's an advocate for biotechnology in agriculture. Arizona Agriculture always appreciates this young farmer's philosophy. This urban farmer, whose maiden name is McDonald, sees the irony in all sorts of things, including farming.
Arizona Agriculture: Back in 2014, you and I had a conversation about your retail farming. What has changed in your farm operation since then and talk about the crops you are growing?
Anderson: Almost everything has changed! Arizona now has a food cooperative that aggregates and distributes produce for smaller specialty crop growers, like me. This has enabled me to keep my focus on running the farm. While it's still difficult to always be in the right place at the right time, being able to sell my products to a wholesale market is a game changer. This is the missing link for small producers to enable them to stay on the farm and focus on production.  Sun Produce Co-op is a great option for small farmers: https://www.sunproducecoop.org/sun-produce-farms-statewide-map/
Arizona Agriculture: What's been most important for you in managing your urban farm these last few years?
Anderson: Land availability is a huge issue, and water use is always top of mind. My farms are in Waddell and Laveen and went from 57 acres to 17 due to the need for new housing. We all know that Maricopa County is a hot housing and business area, but watching all the best irrigated farmland being paved over with concrete and warehouses makes me concerned that people who move here don't have that connection to their food sources anymore, and we all know the risks with losing farmland. You can only control the commodities that you produce, and outsourcing food is not a great plan. 
Arizona Agriculture: How'd you operate through the pandemic, especially as it related to supply chain issues?
Anderson: Really, we didn't change much of anything. We still went to work and worked hard at producing food for buyers, although the way the buyers distributed their food changed to CSA boxes and food bank purchases. But in general, most of the supply chain issues were resolved by paying more for our supplies. 
Arizona Agriculture: You've always had such a positive outlook with all methods of farming. You understand the compatibility of all agriculture. Why? What's your philosophy behind all this?
Anderson: I feel like our younger folks are predisposed to think that big agriculture is not sustainable, but that stems more from a lack of understanding why and how we stewards of the land do our job. I have changed my growing practices to become what is considered conventional, primarily because I see the similarities between the "sustainable movement" and the conventional farmers who treat the land as precious and need to protect it for the future crops used to feed Americans and the rest of the world.  
Some years ago, I watched a demonstration by longtime farmer Ron Rayner about how the no-till practices protect and grow the biomass in the typical 3 to 4 crops that are grown as commodities here. Why they do what they do makes sense on a large scale, and all the while, they are protecting and growing our soils, using safe and sustainable inputs, not raping, and destroying like some activists might want you to believe. Education and firsthand experience make a huge difference, and the educational opportunities Farm Bureau works so hard at providing is an incredible way for the average Joe to understand how important and sustainable agriculture truly is. 
Arizona Agriculture: You've had some rough times trying to continue to farm in an urban area. Talk about this and what's been the most proactive outcome of it all?
Anderson: In the metro-Phoenix area, land is always under threat from developers, which is to be expected. However, the city of Phoenix itself is one of the biggest perpetrators, robbing private property owners to create their newest project to build more infrastructure for the millions of people moving here. Obviously, this is a result of massive growth, however, as Arizona grows, we need to ask ourselves if the city we want to live in is going to be one stripped of agriculture? 
We have seen a few of the articles about other farms in Phoenix being used for water treatment plants, part of my property in Laveen has been condemned for a flood control project and several smaller farms in Phoenix around me, are also condemned or slated for future projects, particularly in Laveen. The city sees the farms as the easiest way to achieve their projects because it is the lowest and least density, but I feel like they should understand that value of property is not only in the dollar amount that it can be taxed. Open desert space is valued and protected in Scottsdale, and it remains a nice place to live. Farms could be viewed the same, at least protected from the massive city projects. In previous years, farms were provided significant tax benefits to remain agriculture. Right now, the city views us as a wasted property tax opportunity, rather than a valued partner of our community. If you look up the city's general plan, they have completely left out any room for mixed-use agriculture properties. 
Arizona Agriculture: I've asked you this before, but how can you be an organic farmer, yet pro-biotech … otherwise known as GMO?
Anderson: I am now considered a "conventional" farmer. I use the least inputs possible and rely on sustainable techniques, along with trying to maintain a delicate balance with my land. Like all farmers do, we never use harmful chemicals when a simple crop rotation will do, and growing our own biomass can be a great help towards keeping it real. Unfortunately, "organic" techniques are using 1900s technology when 2023 technology can reduce or eliminate the need to spray chemicals. In a lot of ways, I feel like the organic movement is primarily misleading buyers into believing their products are never sprayed but, in reality, they allow using more "natural" sprays to control issues that could be eliminated by breeding better seeds or by growing crops that are precisely timed. Conventional agriculture seems to have a bad rap, but in general, we do more with safer inputs than ever before and the organic versus conventional farmers have more similarities than differences. 
Arizona Agriculture: What trends and/or changes do you see emerging for the urban farmer?
Anderson: Everything is driven by costs, water and land availability. Unfortunately, costs of land, water and supplies are being driven to a crazy high with inflation and continuing hikes to minimum wages. And of course, this makes it harder to supply the demand with low-cost foods. 
Arizona Agriculture: Does Arizona treat the urban farmer right? What else might need to be done to support small, organic farmers?
Anderson: Personally, I am a capitalist. I believe the pressures of the free-market system guide the usage of the land. That said, there are several ways Arizona can protect what used to be a very valued partner for our economic development. Unfortunately, Arizona and particularly Phoenix, are finding they have done too little and too late to protect those urban farms who want to stay and keep supplying the valuable commodities that we do.  
One suggestion to help keep farmers and ranchers on their land, is to create zoning changes that allow Agritourism. Not only do these types of farms stay more profitable than their rising land values, but they perform valuable educational opportunities that people need to learn about how we grow their food. We can also learn from other states' mistakes and help consumers understand the incredibly crucial role farms play in their everyday life. Farming in the desert is not a wasteful use of water. In general, farms provide far more than they use as far as resources, and as an economy, food is crucial. We can't control commodities that we don't produce, so it's imperative that our food source is protected and the way we grow safe, sustainable crops is kept within our own communities. 
Arizona Agriculture: Successful urban farmers seem to need to understand market trends and what customers want. How do you keep up with this and then adapt to what you grow?
Anderson: As a specialty crop grower, most of what I grow is unique and new to many of the buyers. Lots of people enjoy trying new foods and I supply that market almost exclusively. I adapt every year to what I know the consumers want, and always try new veggies whenever I can. I also focus on growing crops that do well in our extreme climate, and helping create a market for those items will be key to our success at farming in the desert. Maktoom dates and I'itoi onions are an example of successful crops that people enjoy here. 
Arizona Agriculture: Arizona can claim to have the largest number of female farmers, listed as primary owners on the farm. Much of this is the matriarchal structure of our American Indian farmers where the woman is listed as primary owner. But you represent another demographic segment of the female farmer. What's your take on all this?
Anderson: Since I have been farming for 20 plus years, it has always been an uphill battle. Buying land, equipment and then being super stretched trying to sell my products direct at farmers markets has been a challenge. Most people have mentors and family willing to do either the marketing or the growing which would make this more sustainable. The creation of Sun Co-op has streamlined the struggle and connected the missing link making this something a single woman could do much easier. So, I hope more women will be able to benefit from the new business model!
Arizona Agriculture: What advice would you give a beginning urban farmer?
Anderson: I highly suggest taking a job with one of the other large growers in Arizona prior to deciding to start your own farm. Experience is key and not knowing what you don't know is extremely costly sometimes! Plus, that 401K will come in handy someday!  
Arizona Agriculture: You're proof Arizona Farm Bureau can support the urban farmer with our advocacy, communication and ag education since you've been a member from the beginning. But what else can we do?
Anderson: I would love to see a Farm Trails type of promo system for our Arizona Farms. Areas are linked on a map, and annually, farms will put on a little show for the public to see how they do what they do. All farms are included, big and small and advocacy for all different types of farms would be the biggest key. 
In the South Mountain area, we have probably 15 farms within a few miles radius and folks could watch an alfalfa harvest, milk goats, chase chickens, buy fruit trees, pick up some worms and buy oranges and veggies, milk (from our local dairies), eggs, and honey, all on the same day.   www.farmtrails.org is a great example of how the local farms join and help promote each other.
Editor's Note: On Arizona Farm Bureau's www.fillyourplate.org we have provided a searchable database where you can search for farms you can visit. We have also produced in the past an On the Road with Arizona Agriculture brochure that may need a resurrection of sorts.