Beef Up Arizona!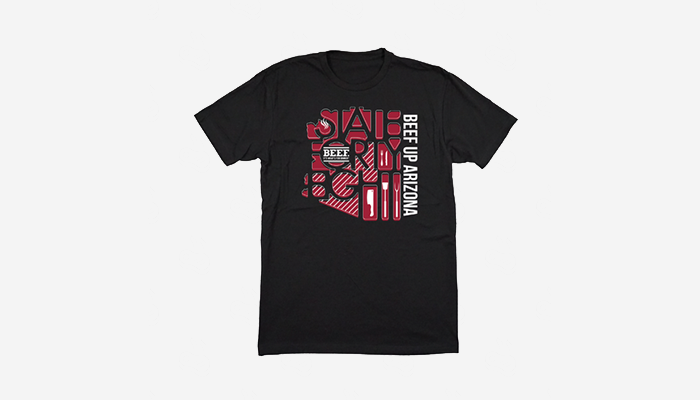 The Arizona Beef Council (ABC) knows the importance of high-quality protein as part of a healthy diet and seeks to help our neighbors in need this holiday season. In collaboration with Arizona apparel company State Forty Eight, ABC's second annual "Beef Up Arizona" campaign will be selling t-shirts and stickers with all proceeds going to St. Mary's Food Bank to be earmarked for the purchase of beef.
"In this program's second year, we are looking forward to helping address hunger in Arizona, especially during these times of inflation and tighter food budgets," explains Tim Cooley, cattle feeder, and Arizona Beef Council Chairman. "Ranchers and farmers are proud to raise nutritious food and they are generous when it comes to helping their neighbors. What a great way to show pride in our state's beef industry while helping to put food on the tables of those in need."    
Providing more than 10 essential nutrients including protein, iron, zinc and B vitamins, beef can be an important part of a healthful and nourishing diet. In partnering with St. Mary's Food Bank, each shirt purchased will provide 113 beef meals to our Arizona neighbors in need. That will go far to help the 2 million Arizonans who are faced with food insecurity every year, including 1 in 4 children who grow up in poverty with food insecurity (according to Feeding America).
St. Mary's has been distributing food at record levels since 2020 – nearly 300,000 meals per day and more than 10 million pounds of food per month to meet the increased need in the community. Over 900 partner agencies in 8 counties across Arizona receive food from St. Mary's Food Bank.
Get yourself a fun and hip t-shirt or sticker while helping to feed beef to Arizonans in need. Preorders are open until November 13 on www.ArizonaBeefStore.com, and will be shipped by early December in time for Christmas gifting.