Duncan Family Farms Gets Own Label
In agriculture, we always celebrate local markets and local labels. Well, we get to do it again with Duncan Family Farms. This family farm operation out of Arizona and California is distributing organic strawberries to the market for the first time under their own label this winter.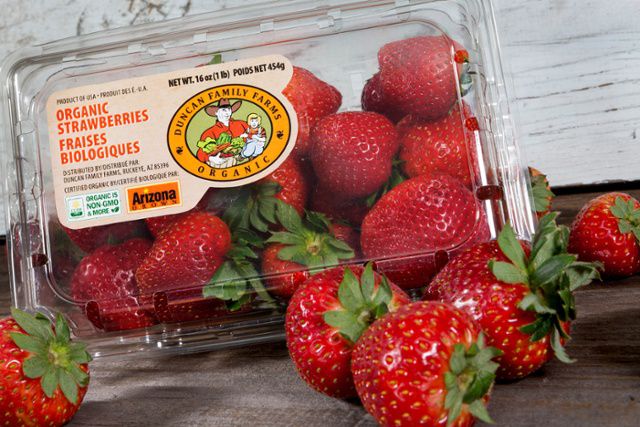 A 100% organic grower of a wide selection of leafy greens and vegetables, Duncan Family Farms grows their strawberries in Goodyear, Arizona and is proud to currently be the only organic commercial strawberry grower in Arizona.
"After our strawberries went out under the Dole label last year, we noticed tremendous interest from our local customers. They loved the berries but really wanted to see a local brand on them, so that's when we decided to move production to the Duncan Family Farms label," said Patty Emmert, Specialty Crop Manager at Duncan Family Farms.
Although their strawberry program is in its third year, it's the first time they'll be distributing organically-grown strawberries under the Duncan Family Farms label. After a great test run in their first year of growing berries in the West Valley near Phoenix, they ramped up their efforts in 2015 and are now ready to distribute under their own label for 2016 and into the future.
"We've got a really unique product that's perfect for the local market since we can pick our berries at the optimal harvest point and deliver them to the market with significantly reduced shipping times," said Patty. "It's a great opportunity for all retail outlets within the Phoenix metropolitan area, and even the state of Arizona, to profile a local berry and take advantage of product that's going to have superior flavor and shelf life."
Duncan Family Farms plans to start harvesting their berries in mid to late December and expect harvest to last until either the end of March or beginning of April, depending on what the weather brings. Look out for organic strawberries with the Duncan Family Farms label in retail stores throughout Arizona.
"The berries are big, beautifully red, sweet and Arizona grown," says Arizona Farm Bureau's Communication Director Julie Murphree. "I was first introduced to Duncan's strawberries last winter at the Arizona Capitol Market when Duncan Family Farms was our "featured farm family" at our booth and they brought us the berries. They were doubly tasty because the Duncan Family grew them."
The Duncan family, along with so many of our generational farmers, will tell you that the land makes the difference … or should we say soil. "Great strawberries start with high quality soil and the foundation of Duncan Family Farms' agronomic practice is their composting program which aids in building up the biodiversity of the soils and water retention. Local dairies, horse racing tracks, golf courses and municipalities bring their green waste to Duncan's facilities to be turned into compost," says the Duncans.
Members of Arizona Farm Bureau, Duncan Family Farms is a family-owned, multi-regional grower of over 8,000 acres of certified organic produce, specializing in baby lettuces and greens, kales, beets, chards and herbs using sustainable, state-of-the-art farming practices. Founded in 1985 by Arnott and Kathleen Duncan, the company is one of the largest growers of organic produce, nationally recognized for their environmentally-sensitive farming techniques and premium-quality food for processors, retail and foodservice distributors. To learn more, visit duncanfamilyfarms.com.