Fake News about Food and Farming is Mainstream
By Amber Morin, Arizona Farm Bureau Field Manager and Southern Arizona Rancher: The new head of the Environmental Protection Agency (EPA) is proposing a ban on a common household additive, Dihydrogen Monoxide. Multiple independent studies have documented that exposure to the liquid substance, which is colorless and odorless, can be fatal if inhaled. Prolonged exposure to its solid form can cause severe tissue damage. Symptoms of ingestion can include and are not limited to excessive sweating, urination, bloating, nausea, vomiting and electrolyte imbalance, and the possibility of death in extreme cases. Due to probability that many children have direct access to this substance in households across the nation, the Agency feels the need to act immediately. The public comment period for the proposed rule published in the Federal Register on June 16, 2017 (82 FR-JK 2354), is being extended. Written comments must be received on or before July 15, 2017.
Stop! The above paragraph is an example of Fake News and many of you guessed it: Dihydrogen Monoxide is water! Good ole H2O!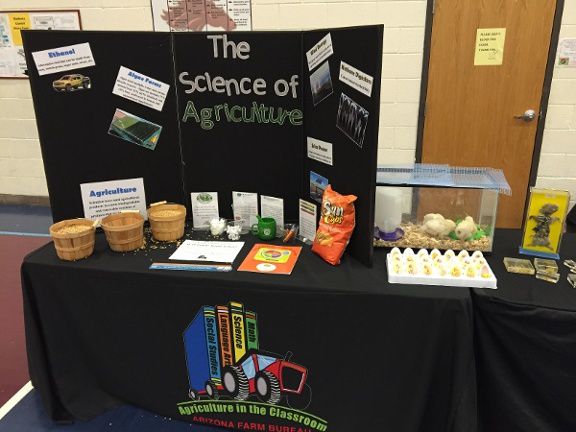 Ag in the Classroom, Arizona Farm Bureau's educational program, is one way we battle the fake news about farming and food. Arizona Farm Bureau is also battling the misinformation with a strategic effort in outreach to the public through a variety of marketing, social media and other outreach tools.
This is the example used by Arizona Farm Bureau Ag Education Director, Katie Aikins, in her "Misconceptions of Agriculture" high school presentation. It might not have fooled you, but it is effective at confusing high school students who think they are going to learn about agriculture and then are hit with a chemical compound that sounds dangerous. It is out of context for them; It throws them off. The point of using this example with students, is to demonstrate how misconceptions are often created – using big words, with lots of associated bad words, to scare the heck out of people. This is done constantly to our industry by faultfinders attempting to scare people about pesticides, antibiotics, and biotechnology. Unfortunately, the greatest achievements in the history of food production, have also been used as fodder to create the food industry's biggest misconceptions.
When Aikins began managing the Ag in the Classroom Program almost nine years ago, "Misconceptions of Agriculture" was one of the first high school presentations she created. She makes changes to the presentation, as the industry changes, but for the most part, its original content is still very relevant today. As I sat in on one her presentations to a group of Basha High School Sophomores, I was impressed with how much they knew. Later, Katie told me that this one of the best classes she had presented to. "It's not generally like this," she told me, "Usually, the students are guessing that only 15 to 20% of farms and ranches are family owned."
I struck out with this impressive group of students, but despite their smarts, what they and countless other students who hear from Ag in the Classroom, take away from this presentation isn't just a bunch of facts. Rather, these students learn what a misconception is, how misconceptions are created, and, most importantly, how to spot them. Students leave with an awareness to fact check big words, question overuse of harmful statements, do a double take if emotion is being used in advertisements, and follow up on the money trail for organizations that tout the words "animal rights" in their title. The Ag in the Classroom "Misconceptions of Agriculture" presentation is teaching the skill of critical thinking in the age of technology where viral trumps truths. It's no wonder this presentation hasn't lost its relevancy.
I encourage everyone who has a vested interest in agriculture to support Farm Bureau's Ag in the Classroom Program, and to not be afraid to tell your own agricultural story. Education of the consumer is going to happen one person at a time and one classroom at a time. It will take a united effort, as success doesn't happen overnight. Although, it would be nice!