Farm Bureau Leaders Found in Washington, D.C.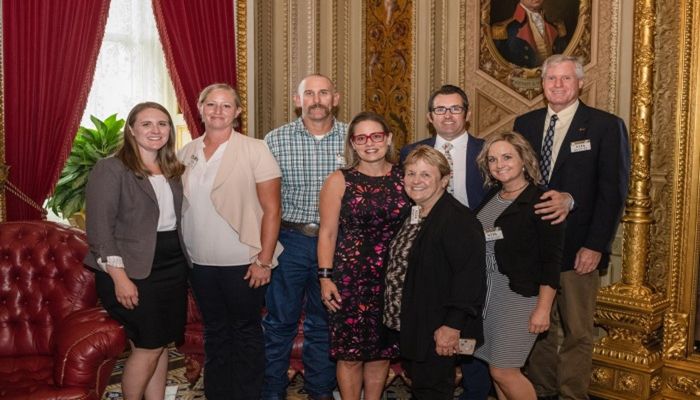 In September, Arizona Farm Bureau sent a delegation of leaders to Washington, D.C. to discuss critical ag issues with federal elected officials. This was our first official fly-in since COVID shutdowns made such trips an impossibility, and it was a joy to be back on Capitol Hill with Arizona's premier agricultural leaders!
We met with staff and elected officials from seven of Arizona's nine Congressional offices. In those meetings, our leaders shared the top issues currently facing agriculture in Arizona. While sharing stories from their own farms, our leaders discussed western drought and the situation on the Colorado River, the 2023 Farm Bill, and the need for agricultural labor reform.
While in D.C., we presented four members of Arizona's congressional delegation with the Friend of Farm Bureau award. This award is given to legislators whose voting record is consistent with Arizona and American Farm Bureau Priorities. Recipients must be nominated by Arizona Farm Bureau and approved by the American Farm Bureau Board of Directors. Congratulations to Senator Kyrsten Sinema (D), Senator Mark Kelly (D), Congresswoman Debbie Lesko (R, AZ-08), and Congressman Greg Stanton (D, AZ-09) for earning this exclusive recognition!
In addition to our visits with elected officials, we also had a chance to discuss Colorado River issues with the Bureau of Reclamation. While we left that meeting with more questions than answers, it was still a valuable opportunity to put stakeholders in front of an agency with an immense amount of power and influence over an impending water crisis. By telling our story to the Bureau, they have a better understanding of what's at stake on the Colorado River and how to engage stakeholders on the river as they make crucial decisions about water.
Our visit has already sparked some tangible action from Congressional offices, and we look forward to continued follow-up that will have a positive impact on our members across the state. Your stories matter, and there is no more powerful lobbying tool than the true story of a farmer or rancher with a vested interest in a policy outcome.
A huge thank you to Stefanie Smallhouse (and her son, Johnny Smallhouse), Paul Brierley, Nancy Caywood (and her son, Travis Hartman), Nich Kenny (and his wife, Brook Kenny), and Kristen Nelson for taking the time away from their farms and businesses to tell the story of Arizona agriculture.