Guess What Congressional Leaders Support Arizona Agriculture's Ability to Farm?
By Julie Murphree, Arizona Farm Bureau: U.S. Congressman Paul A. Gosar D.D.S. joined 230 of his colleagues in sending a letter to Gina McCarthy, Administrator of the Environmental Protection Agency (EPA), and John M. Mchugh, Secretary of the Department of the Army, urging them to withdraw a scientifically and economically flawed rule that would expand the federal government's role under the Clean water Act (CWA).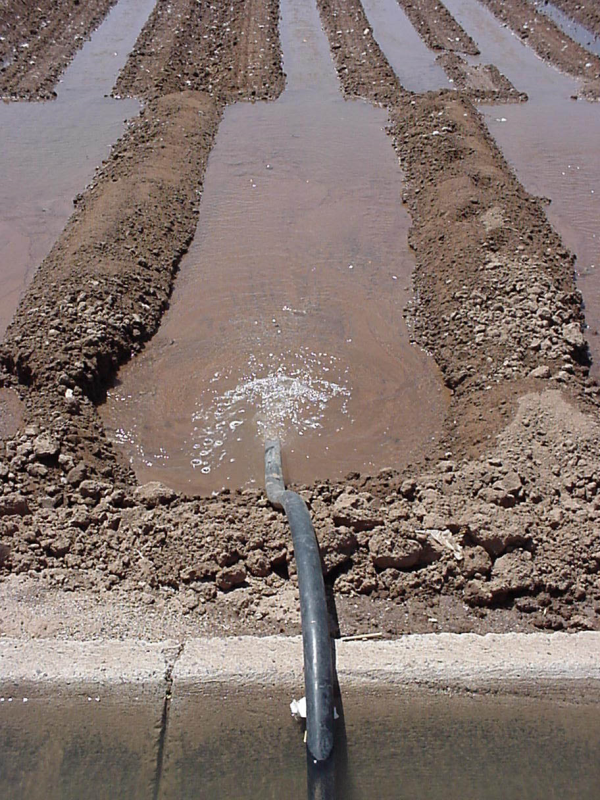 Even your farm ditch would be regulated by the EPA under the newly proposed rule.
Additionally, just yesterday, U.S. Sen. Jeff Flake (R-AZ) and U.S. Sen. John McCain (R-AZ) sent a letter to Environmental Protection Agency (EPA) Administrator Gina McCarthy expressing concern over the proposed "waters of the U.S." rule that stands to adversely impact landowners, businesses and the economy of Arizona. In the letter, Flake and McCain urge McCarthy to abandon the proposed rule in favor of developing a meaningful proposal that limits federal jurisdiction and provides consistency for the regulated community.
Arizona Farm Bureau President Kevin Rogers said, "Puddles, ponds, ditches and water tanks have no business being reclassified as 'navigable' as proposed under the new EPA rule. Congress, not the EPA, makes the laws. The Clean Water Act has been very clear on what navigable is and our farm ditches and ponds are not. We thank Congressman Gosar and our two senators for asking EPA to Ditch The Rule!"
Meanwhile, Arizona Farm Bureau First Vice President Stefanie Smallhouse in an editorial that appeared Monday in the Arizona Republic said, "My children will be the sixth generation on the same ranch to ride the tide of commodity price fluctuations, decades-long droughts and the rising cost of farming. As if these challenges were not enough to test one's resolve, now the EPA wants to use the Clean Water Act to make our job nearly impossible."
Beyond the overreach of government in this instance, many in Arizona agriculture see this as an issue of our ability to farm; ultimately our right to farm.
In the Arizona Republic editorial Smallhouse added, "The Supreme Court and Congress have repeatedly limited the EPA to 'navigable' waterways. This new rule would bypass their authority and grant the EPA administrator more power over private property and its use than all three branches of government combined."
Specifically, The EPA and U.S. Army Corps of Engineers released a proposed rule March 25th that would assert CWA jurisdiction over nearly all areas with any hydrologic connection to downstream navigable waters (even if that was a puddle on your farm), including man-made conveyances such as ditches. This is one reason why Farm Bureaus across the country including Arizona Farm Bureau and the American Farm Bureau have recently launched a campaign to have EPA and the U.S. Army Corps of Engineers to "Ditch the Rule."
Other Arizona congressional leaders that signed on to the House of Representatives letter included Matt Salmon, David Schweikert, and Trent Franks.
"We want to thank Senators Flake and McCain who placed themselves front and center on this issue, in addition to our Representatives in the House who signed on to a House version of the letter to the EPA," says Rogers.
"The American Farm Bureau Federation will dedicate itself to opposing this attempted end run around the limits set by Congress and the Supreme Court," said American Farm Bureau President Bob Stallman. "The Supreme Court has ruled repeatedly that Congress meant what it said: 'navigable waters' does not mean all waters. This proposed rule shows that EPA refuses to accept those limits."