Guess What's Growing in Arizona On an Old Football Field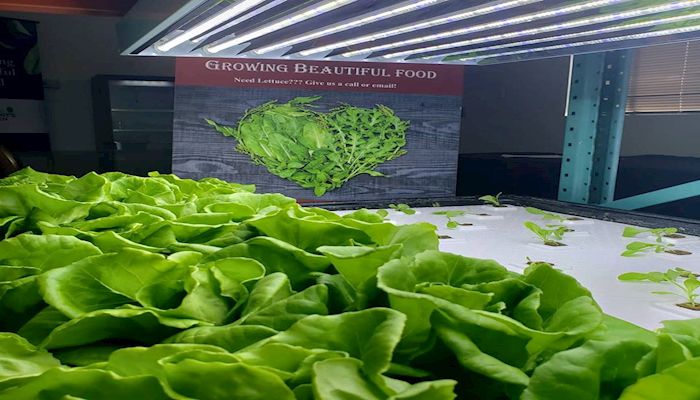 I've talked often and with a sense of pride that Arizona can grow the "Med Diet in the Desert," considered one of the healthiest diets in the world. Now, I'm beginning to think we can grow anything anywhere in Arizona thanks to innovative thinkers like Chaz Shelton of Merchant's Garden in Tucson.
Shelton joined me and the Romero family of Rosie on the House this last Saturday (March 7, 2020) to share about his agriculture business. Still humble about calling himself a farmer, he started the business with his father in 2015.
Quoted in the Tucson Weekly, Shelton said, "Honestly, before this, I had zero agriculture experience. I was in health care and I just saw a big need for healthy food. So together we got this property and built a greenhouse. Then it started to take off from there."
Originally from Michigan, Shelton was in business school when the idea for Merchant's Garden formed. Today, they harvest half a million units (either head lettuce or herbs) a year, including both red and green leaf bok choy, Thai and Genovese basil, butter lettuce, romaine, green and red leaf lettuce and mustard greens.
In 2016 they came to downtown Tucson to develop one of the schools in the Unified School District that had been closed, basically developing a football field into their actual farm having leased the property from the School District. They built 10,000 square feet of greenhouse. Shelton explains the system as an aquaponics closed-loop system using fish waste to fertilize the product. Right now, they are the only USDA Certified Organic greenhouse system in Pima County.
And, they have room to grow. Eventually, they can add on another 20,000 square feet in the current location and they have their sights set on Maricopa County too. Because they plan their business around a controlled environment that a greenhouse can provide old football fields, empty lots, and other inconspicuous spaces that can be considered. Of course, available water needs to be at hand.
And, while he's a Michigan native through and through, he picked Arizona as the University of Arizona is home to a premiere controlled environment program where he's spent hours with University colleagues to make his model work in the real world.
The Med Diet in the Desert
Foundational to the Mediterranean diet, vegetables, fruits, herbs, nuts, beans and whole grains are the main ingredients to this diet. While meals are built around these plant-based foods, seafood, moderate amounts of red meat, dairy, poultry and eggs are also central to the Mediterranean Diet.
Farms like Shelton's can only enhance our appreciation and love for our greens. And, while on Rosie on the House we featured celery as it the "crop of the month" in March and Yuma and Maricopa counties are heartily growing this ubiquitous vegetable until the warmer weather comes and then production will shift to California along with the other leafy greens.
And while Merchant's Garden doesn't grow celery, they'll still be in the lettuce business in the heat of summer thanks to the controlled environment his greenhouse farm can create. Interestingly though, even Shelton admits that summer yields are not as good as during the winter.
In fact, you'll gain all sorts of insights on Merchant's Garden if you tune in to the show's Farm Fresh hour nearby.
The hour-long segment highlighting Chaz Shelton and his Merchant's Garden farm.
Fun Facts about Celery
There are 25 calories in 100 grams (3.5 ounces) of celery.
Celery is an important food source of conventional antioxidant nutrients, including vitamin C, beta-carotene, and manganese.
But celery's "claim to fame" in terms of antioxidant nutrients may very well be its phytonutrients. Many of these phytonutrients fall into the category of phenolic antioxidants and have been shown to provide anti-inflammatory benefits as well.
The health benefits of celery include benefits

weight loss,
lower high cholesterol,
lowers inflammation,
prevents or treat high blood pressure,
helps prevent ulcers,
protects liver health,
boosts digestion and reduces bloating,
contains anti-microbial properties that fight infections,
helps prevent urinary tract infections and may help protect from cancer.

Gardeners can grow a range of celery varieties, many of which differ from the wild species, mainly in having stouter leaf stems.
In North America, commercial production of celery is dominated by the cultivar called 'Pascal' celery.
In Europe, another popular variety is celeriac (also known as celery root), grown because its hypocotyl forms a large bulb, white on the inside.
A crunchy snack all by itself or with peanut butter added to round out the nutrients, celery is one of the most versatile vegetables in the garden, useful for its flavorful seeds and pale green leaves and stalks.
The seeds can be ground and mixed with salt, to produce celery salt.
For more information on the Med Diet, searchable recipes and more, go to Arizona Farm Bureau's Fill Your Plate, our website for everything Arizona food related!
Join Our Family