Water Win: Historic Water Legislation Represents Bipartisanship at its Best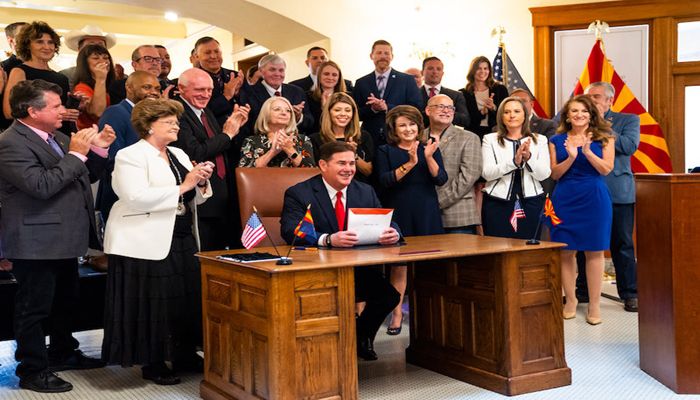 Late in the evening of Friday, June 24, the Arizona Legislature passed a bipartisan bill investing more than $1.2 billion in water augmentation and conservation for our state. This package represents one of the largest, if not the largest single investments this state has made in its water future. And, perhaps most encouraging of all, it was developed through bipartisan collaboration with stakeholder input such that Republicans, Democrats, farmers, developers, environmentalists, and everyone in between has something to celebrate.
What's in the bill?
As ultimately passed, the bill contains three major parts:
Long-Term Water Augmentation Fund: up to $750 million for the state to invest in projects designed to bring or develop new water sources (desalination, direct potable reuse, floodwater pipelines, etc.). These investments are meant to bring about total cost recovery and must go through a robust evaluation criteria before any investment is approved. The criteria includes the overall benefits of the project when compared to its costs, the security of the water supply developed by the project, the qualifications and experience of the project leader, and more.
Rural Water Supply Development Fund: up to $250 million for the state to make loans and grants to water providers, cities, towns, and other public entities, districts, NRCDs, and others, so long as they are located outside the boundaries of an AMA in Pinal, Pima, or Maricopa county. These grants of up to $2 million, loans of up to $3 million, are for water supply development projects, including storage, conservation, infrastructure, stormwater recharge, and more.
Water Conservation Grant Fund: this $200 million fund will use American Rescue Plan dollars to facilitate voluntary water conservation programs. The money can be used for education programs on water use reduction, rainwater harvesting, installation of drought-resistant landscaping, and projects that generally promote groundwater and surface water conservation.
And then, of course, there is the administrative and technical language needed to implement all of these programs. Most importantly, the bill outlines that all of the money will be distributed through the Water Infrastructure Finance Authority of Arizona, or WIFA. The original proposal, which I described at one point as "water Shark Tank," was that the State would create a new agency solely responsible for providing financing for private-sector investments (and participating independently in projects on its own behalf) investors looking to invest in water augmentation projects. While appreciative and supportive of the concept of investing the state's hefty budget surplus in water augmentation, many lawmakers nevertheless remained wary of creating a new state agency to do so. (Bureaucracy, after all, has never been known to move projects along quickly.) To mitigate these concerns, Senate leadership ultimately came up with a compromise: take the money and give it to an existing agency, WIFA.
But though WIFA has a solid track record of funding and managing projects related to federal clean water and drinking water programs, it certainly did not have the kind of governance or vetting processes in place that stakeholders agreed were necessary to ensure the success of these investments. So the bill also involves a significant overhaul of WIFA's board and decision making processes, equipping it to make decisions about augmentation and conservation investments quickly and effectively.
Moreover, to safeguard the investment, the bill also contains specific criteria for vetting each of the projects that will ultimately be brought before the committee. It also creates advisory subcommittees to vet those projects from the perspectives of the users most likely to benefit from them.
Bipartisanship at its Best 
After months of work on the bill, the last few days of the session involved significant across-the-aisle, inter-caucus, and inter-governmental negotiations. Here are the major provisions that are (or are not) in the bill that helped get this piece of legislation across the finish line:
Giving the legislature direct appointments to the WIFA governing board (which votes on whether to spend money on any given project from the funds), while maintaining that a majority of those appointed positions (5 of 9) come from the Governor.
Making sure that both parties of the Legislature have a direct appointment to the Board.
Creating advisory subcommittees to reflect the likely users and footprints of projects from each fund. Applications for rural fund money will be vetted by a mostly rural board and applications for long-term augmentation fund money will be vetted a mostly urban board.
Creating a separate conservation fund to help use current water supplies more efficiently, rather than mandating conservation through additional groundwater regulation.
Thanks to the willingness of all parties to work together, the bill passed the legislature with flying colors. With only one "no" vote in each chamber, the bill was a huge bipartisan success.
The Future of Water in Arizona 
I don't think that it is an exaggeration to believe that in 20 years, we will look back on this bill with gratitude for those who worked so hard to make it a reality. Governor Ducey's innovative thinking and commitment to invest significant funds kickstarted the entire conversation. Speaker of the House Rusty Bowers and Senate President Karen Fann worked with their chambers to include the investment in the budget and keep it at the forefront of policy discussions throughout the year. House staff worked diligently to draft the first outline, and Senate staff worked to make sure the governmental footprint of that outline was small enough to be effective. Senator Sine Kerr's principled advocacy made the bill something that both chambers and parties could ultimately agree on, and Senator Lisa Otondo's conservation amendment sealed the deal with bipartisan support. And that's not even mentioning Representatives Gail Griffin and Tim Dunn, who were the champions of the bill in the House from the very start, or the dedicated and outspoken stakeholder groups who made sure their constituents were well-represented in all the negotiations.
Arizona Farm Bureau is proud to have been involved in this monumental undertaking, and we can't wait to see where it takes us from here. When the first flows of new water rush into our state through infrastructure financed through WIFA, or when the first conservation projects are installed using grant money made possible through this investment, we will look back with gratitude and pride; this is Arizona's politics at its best.