How Arizona's Dairy Farms, Food Banks and Schools Work Together in Response to COVID-19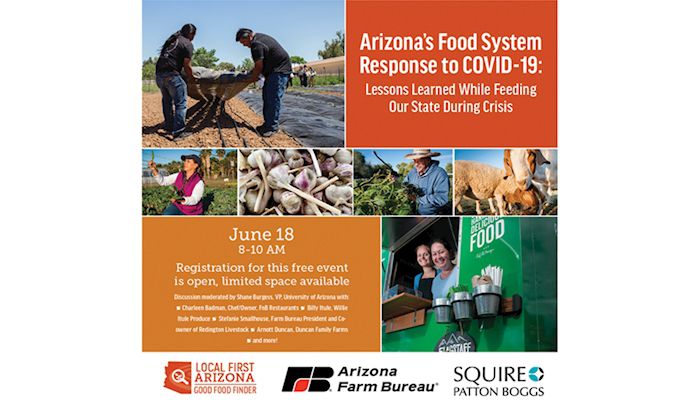 Today's webinar, hosted by Arizona Farm Bureau Federation, Local First Arizona and Squire Patton Boggs, allowed participants to peer into the food supply chain from a very unique and important perspective: dairy, food banks and our schools.

Moderator Stefanie Smallhouse, President for Arizona Farm Bureau Federation, asked some very important questions of the panel.

The Panelist:
Angie Rogers, President & CEO of the Arizona Food Bank Network
The Arizona Food Bank Network is a nonprofit organization representing five large food banks that distribute food statewide to more than 1,000 sites. Angie is responsible for childhood hunger programs, ensuring transportation resources are available for its members, and the overall strategic direction and management of the anti-hunger organization. Angie brings more than 20 years of experience in public policy research and advocacy focusing on human services.
Ashley Schimke, Farm to School Education Specialist with the Arizona Department of Education
Ashley is an education program specialist at the Arizona Department of Education (ADE), Health and Nutrition Services. Ashley specializes in Farm to School and School Garden Program development, working to provide access to local food for use in school meals. She graduated from Arizona State University with a Bachelor of Science degree in Dietetics and a minor in business. Ashley is a certified Master Gardener for Maricopa County.
Keith Murfield, CEO, United Dairymen of Arizona
United Dairymen of Arizona is a milk marketing cooperative based in Tempe. As CEO Keith oversees the domestic and international sales of 4.5 billion pounds of milk annually. Keith serves as President of Arizona Dairy Goods and Arizona Milk Products. Additionally, he serves as a Director on the boards of the Innovation Center, Dairy America, National Milk Producers Federation, American Dairy Products Institute, US Dairy Export Council, Arizona Milk Producers, and SECO/QCS, a cooperative for dairy cooperatives which boosts purchasing power for its members.
Tammy Baker, General Manager Arizona Milk Producers
Arizona Milk Producers is a non-profit organization working on behalf of dairy farmers to inform, promote and support the people, products and process of the dairy story from farm to table. Tammy manages the planning and implementation of programming that reaches more than 10 million people across Arizona and Nevada.
Some of the Questions Panelists Addressed

Tell us your perspective on the impact the pandemic has had on the local food system. OR What emerging issue(s) or disruptions have occurred/been underscored as a result of the pandemic?
We know the pandemic hit so hard and so fast that it was difficult for the dairy industry to respond when food service outlets and schools closed abruptly. Can you talk about the challenges you experienced from your perspective that led to some milk going to waste?

How has the dairy industry been recovering since the initial shutdown?

Schools provide so much more than just an education for students including much needed nutrition services to food insecure youth. Can you explain how school nutrition programs have been impacted by COVID and how they have responded to keep these programs going?

There's been a massive increase in demand at local food banks- from your perspective, how has the food system worked well to accommodate this increased demand and how has it been challenged?

The USDA issued significant funding dollars through the Farmers to Families Food Box Programs and Governor Ducey allocated funds to a similar "friends of the farm program". Can you tell us how these programs have helped alleviate the challenges faced by food banks?

Despite the disruptions observed during the pandemic, what's one thing you are hopeful for and what motivates you to remain hopeful during these times?

If there was one big (or small) shift that you think Arizona's food system

could

achieve because of surviving the pandemic or re-building post-pandemic, what might that be? What would it take to achieve this goal?

Curious what their answer were and their biggest insights in smoothing out the disruptions in the supply chain during the pandemic? The recorded webinar, How Arizona's Dairy Farms, Food Banks and Schools Work Together in Response to COVID-19, can now become a key reference tool for you on this very important topic.