Meet Arizona Agriculture's Ag Fraternity: Alpha Gamma Rho
Justen Ollendick, Arizona Farm Bureau Intern: Alpha Gamma Rho Alpha Pi is the premier professional fraternity associated with the College of Agriculture and Life Sciences at the University of Arizona. It dawned on me that 90% of the Alpha Gamma Rho members were also Arizona Farm Bureau members, and so were their families! How neat to see these two organizations come together to promote Arizona agriculture.
An interview with Jared Biciolis, President of AGR at the University of Arizona - Tucson
Give me the background of Alpha Gamma Rho: Alpha Gamma Rho fraternity is the social/professional agriculture fraternity at the University of Arizona in Tucson, Arizona. Alpha Gamma Rho (AGR) was establish in 1959, and is a chapter within the National Alpha Gamma Rho Fraternity Organization. We currently have 35 members (as of December 2014), who are all involved in the College of Agriculture and Life Sciences at the University of Arizona. We have fraternity brothers that come from all across the state of Arizona, and even some from California. The backgrounds of our members range from traditional agriculture backgrounds to no background in agriculture, but they are each pursuing a degree in agriculture.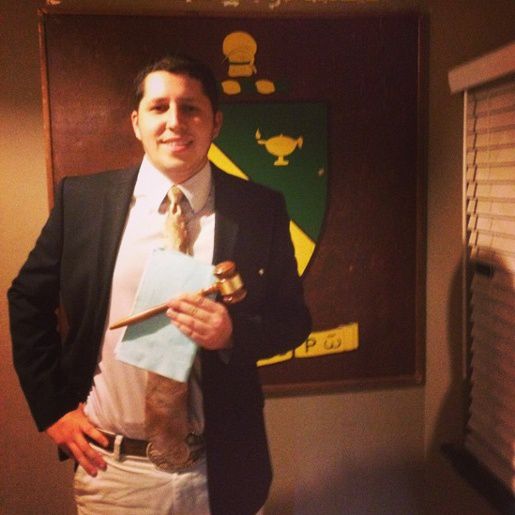 Jared Biciolis is the current President of AGR at the University of Arizona in Tucson.
What are some of the different advantages to joining Alpha Gamma Rho? Something that I really want to emphasize and that makes Alpha Gamma Rho so much different than other fraternities or other groups that you can join is that we are strictly a social/professional fraternity. That term is very rare to find in the Greek life. The social side is everything you would expect from a fraternity: we own our own fraternity house on Greek row in Tucson that members are encouraged to live in, we have social events with other frats and sororities on campus that help strengthen a person's social skills and gives them college experience of networking. The counterpart to AGR is the professional side, which is extremely rare to find in most fraternities or sororities. Since Alpha Gamma Rho - UA is connected with Arizona agriculture, we get the opportunity to give back to the agriculture community and give our members opportunities and experiences that prepare them for a career in the agriculture field.
Do we have an overlap in membership between members of Arizona Young Farmers and Ranchers (YF&R) and Alpha Gamma Rho (AGR)? The YF&R program, especially the collegiate program down here in Tucson is run for the most part by AGR members. The current chapter president is an Alpha Gamma Rho brother, the past two chairs as well. I think that speaks to a great level as we are all in the same "ag family" so to speak. We have a great mesh together.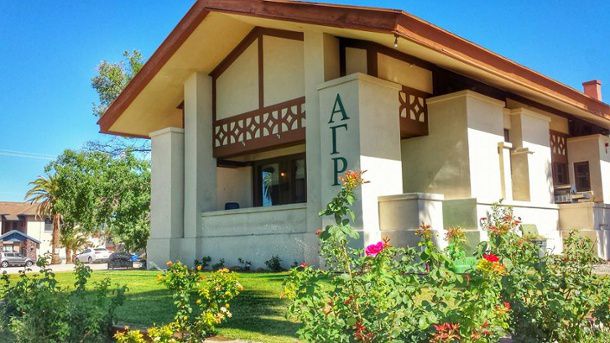 Membership in AGR continues to grow as many young men pursuing agriculture degrees see a fit.
Where do you see AGR going in the next five to ten years? The nice thing is we have the best growth as a fraternity, most recently. In the last two years we have tripled our membership from nine guys, to thirty-five! This will only go up from here, as we are getting attention on the national level, which is great. We have two things to be proud of, and it's a two-fold. One, getting our name exposed and back out there within our own university. There was a time AGR was very small and seemed like it was non-existent on campus. Now we have a presence in giving back to our campus whether thats through helping the CALS ambassadors, charity events, having the Dean of the College of Agriculture and Life Sciences attend our events and see what we do, is great. We are back, and making a presence in our agricultural community.
How does AGR connect to farm bureau? We are the future farm bureau members, if we aren't already members, we are the future leaders. We just finished our first annual professional development tours. We visited twelve operations in just three days, talked to well over twenty farmers/ranchers who are primarily farm bureau members. The tours were in southern Arizona ranging from Willcox to Nogales. Our goal is to reconnect them to what we do. Our end goal is career success in that when we do these professional development tours, our connection with the farmer or rancher is that we are looking to take our members to their operations to engage in a business and industry tour, to help promote the agricultural industry.
Editor's note: Look for upcoming Meet Arizona Agriculture Articles featuring members dually enrolled in Arizona Farm Bureau and Alpha Gamma Rho memberships and their families. You'll recognize quite a few of them!