Meet Arizona Agriculture's Art & Peggy Allen Family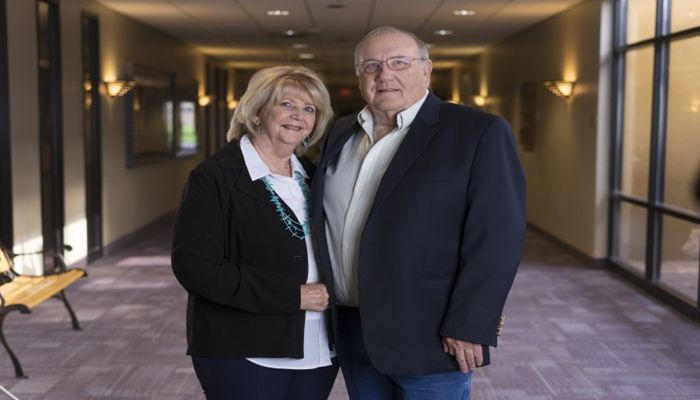 Like so many of our farm and ranch families, a deep dive into the Allen farming family from Yuma, Arizona is one of advocating for an industry they love, and countless hours that were given on behalf of Arizona's farm and ranch industry. 
Specifically for Art and Peggy Allen, agriculture has not only been their passion but the core of whom they were brought up to be. They believe in the opportunities available in the ag industry, and the importance of promoting ag and educating others in the fight to continue to feed the world. Their life reflects this.
Art and Peggy Allen were awarded Arizona Farm Bureau's 2022 Lifetime Service to Agriculture award during the 101st Annual Meeting last November.
Flanked by Arizona Farm Bureau CEO Philip Bashaw and Yuma County Farm Bureau President Meryl Marlatt on the left and Arizona Farm Bureau President Stefanie Smallhouse on the right, the Allen family receives Arizona Farm Bureau's 2022 Service to Arizona Agriculture Award. 
A farm profile of the Allen farm family, From Yuma County.
An ongoing series of our farm and ranch families.
Tell about Your Farm and Ranch Story: Art Allen grew up on a labor camp, called Goodyear Farms where his dad was foreman. Prior to starting his own farm and just after graduating from Arizona State University (ASU), Art worked for Farm Credit Services as an agricultural banker. His first farming opportunity came along when he started a farm in the Salt River Valley. 
Peggy Accomazzo Allen's family farming legacy dates to 1907 with the Accomazzo and Kruse families. Her grandfather, Dante, immigrated to America in 1905 and established Pacific Farms along with an uncle and brother in the Salt River Valley. Her mother, Betty's family, immigrated to America and established vegetable and dairy farms in the same area. Peggy's mother Betty was active in agriculture as well. She compiled and edited seven volumes of the Arizona National Ranch Histories of Living Pioneer Stockman.
Working with people from all over the state to collect the histories, Betty and other volunteers interviewed old-timers or convinced them to write their own memoirs. Each book contains approximately 25 descriptions of ranch families' lives, including women's stories. For her work and dedication to preserving the histories of Arizona pioneer ranching families, Betty was inducted into the National Cowgirl Hall of Fame and Western Heritage Center in 1983 and honored as "Arizona's Foremost Humanitarian." In 2008, she was inducted into the Arizona Women's Hall of Fame as well.  
Art and Peggy's Early years: With a love for agriculture as the foundation of their childhoods, Art and Peggy had an enduring passion for agriculture early in their lives. After spending one year at ASU, Art decided to join the Service. He was active Military from 1965 to 1969, returning to ASU to complete his Ag business degree. He married Peggy in June of 1970. After graduating with a Bachelor of Arts degree in Education from Arizona State University in 1970, Peggy went on to teach junior high Home Economics and History at Laveen Elementary School from 1974 to 1976. After Art graduated, Art and Peggy moved to Coolidge, Arizona, where Art worked as an Agriculture Banker for Production Credit Association (PCA) which later became Farm Credit Services.
They also raised a small number of cattle in the Coolidge area. One year later, FCS moved Art back to Phoenix, so they sold the herd and moved back to the Salt River Valley, where he began farming his own ground in 1977. He raised a family on 2 ½ acres of land in a beautiful ranch-style home in Laveen, where his kids enjoyed the wonderful farm life. The three children rarely sat in front of a television but spent their days outdoors on the farm. They raised 4-H animals and enjoyed endless amounts of freedom, spending afternoons in the cotton picker, or learning to set irrigation tubes.
In 1992, Art and his family moved to Yuma where Art remained tied to the agriculture industry, working for Bingham Equipment, RDO Equipment, and later became a Farm Bureau Insurance Agent. Art and Peggy treasured being part of the community and quickly became involved in 4-H and other area organizations. Both Peggy and Art loved supporting kids at the County Fairs, volunteering to judge projects and assist kids as needed in the show ring and auction.
Additionally, they were instrumental in developing a new farm company with their son-in-law and another partner, John Boelts, which has become Desert Premium Farms. While the company has flourished and is now farming nearly 2,500 acres, Art has moved on and is currently only involved in an advisory capacity. Art now leases out their farm in the South Gila Valley and manages other property rentals.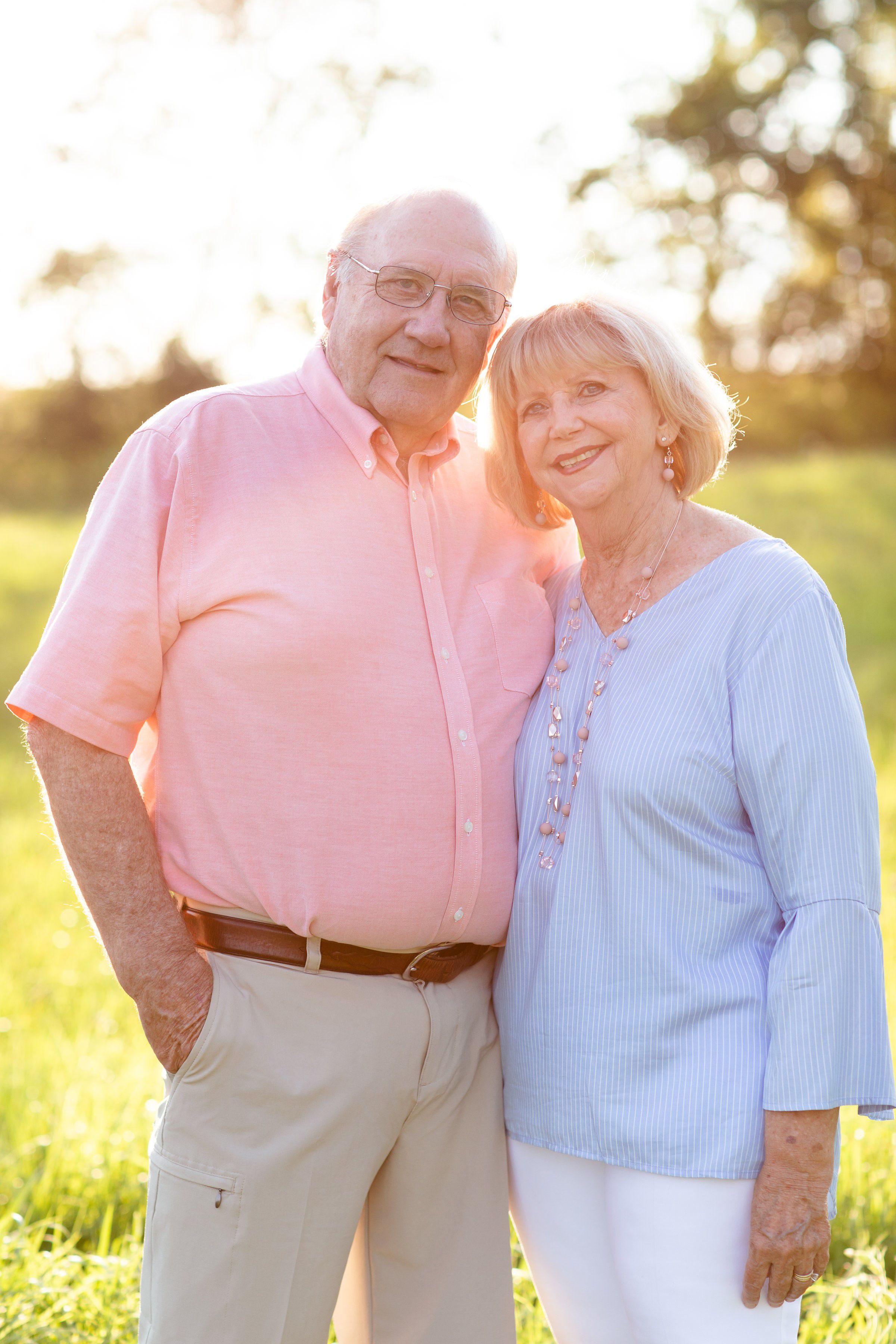 Art and Peggy Allen were united in their love and passion for Arizona agriculture, family and so much more. 
Their Volunteer Involvement: Peggy and Art have always been advocates and sacrificed time and energy to support the agriculture industry and promote a positive political agenda from the local to the national level. Together, they were Laveen Lions Club Officers, Laveen Community BBQ Committee organizers, and Arizona Ag Day Advisors, (who started the club that purchased fair animals that did not have buyers) and hosted Arizona legislators. 
They were also members of the Maricopa Association of Governments (MAG). 
Art joined the Yuma County Farm Bureau in 1991. He served as Vice President for a year and a half beginning in 1999 and then went on to serve as President from 2000 to 2001 and again most recently in 2020 until earlier this year. He also served on the Arizona Farm Bureau Board of Directors in the corresponding years that he was county president. As a teenager, Peggy attended the National 4-H Congress in Chicago, IL as a State Achievement winner in 1967 and was 4-H Fair Queen in 1966. Later in life, she remained engaged in the agricultural organization and was very active in her community as President of the Phoenix Cotton Wives and Laveen Cowbelles. 
Peggy was a 4-H leader for 15 years and served in various roles on the Laveen Community Council, PTA, and the Laveen Lady Lions. Peggy was also deeply involved in the Yuma community, serving as Yuma County Cotton Women's Secretary, Yuma County Farm Bureau women's committee chairman, YRMC volunteer and Yuma Chapter B-I of PEO sisterhood chaplain. 
Art and Peggy encouraged their children's participation in the agriculture industry through FFA and career development at the college level. Their daughters, Jenny and Karen, are both graduates of the College of Agriculture and Life Sciences at the University of Arizona.
Their Biggest Challenges: Art and Peggy faced the challenges confronting all farmers over the years: 18% interest rates in the 1980s plummeting land values, volatile commodity markets, and insect and disease pressure such as the cotton boll weevil outbreak, which decimated Arizona cotton farmers in the mid-1980s. Amid all this uncertainty, they stayed committed to farming, advocating for agriculture, and building a legacy for their family.
Why is Agriculture Important: Farming was not only their passion but the core of whom they were brought up to be. They believed in the opportunities available in the ag industry, and the importance of promoting ag and educating others in the fight to continue to feed the world.
Their Contribution to the Agriculture Community: Art was a crucial part of preventing local politicians from using the Yuma Crossing Heritage Area issue for political gain. Together with other Yuma County Farm Bureau leaders, they helped to organize the community to pass local legislation prohibiting local governments from using the Yuma Heritage Area designation to restrict the property rights of local landowners.
Art has also worked closely with fellow Yuma County Farm Bureau members, David Sharp and Harold Maxwell, on PM10 and air quality issues for 20-plus years. From the initial PM10 meeting that pegged agriculture as the problem to developing the Yuma Agricultural PM10 BMP Guide, Art along with David and Harold have continued to engage with elected officials and regulatory agencies at the local, state, and federal levels to get a PM10 plan in place that recognizes not only agriculture's small PM10 footprint, but the true source of the PM10 problem, windblown dust from high-wind events.
In 2019 Art took part in an EPA Region 9 meeting in California to share with EPA directly the continued PM10 issues facing Yuma County at that time. Peggy's involvement in the AZFB Women's Leadership Committee, Laveen and Yuma 4-H, and UA Extension helped to promote and foster the mission of those organizations. She was also able to share valuable skills and life lessons with the children she worked with through 4-H. Even in organizations not tied to agriculture, Peggy was always willing to share her knowledge of agriculture and her family's farm roots. She was an active member of the local Philanthropy Educational Organization (PEO). A fellow PEO member fondly recalls Peggy as a wonderful storyteller, noting that Peggy could recall so many details of her early life in Laveen. Peggy would share photos, which brought to life her family's farm history. Peggy had a true love and understanding of Arizona farming and readily shared her experiences with others.
Special Note: Peggy Allen passed away in later 2021 but her legacy lives on through her children and grandchildren.