Meet Arizona Agriculture's Bar 7 Rancher
By Julie Murphree, Arizona Farm Bureau: He was only 10. He followed his father's shadow like so many little tikes in farming and ranching that wanted to be just like their daddy. And, he also followed Fred Upshaw around, an Arizona rancher with a long tradition in the cattle business in southeast Pinal County.
Knowing that his own ranching career was coming to an end on the Eskiminzin, Mr. Upshaw took note of this and sat young David Stambaugh down one fine summer morning in 1977. "David, how would you like to buy seven of my cows along with my Bar 7 brand, No. 7761 for $10?"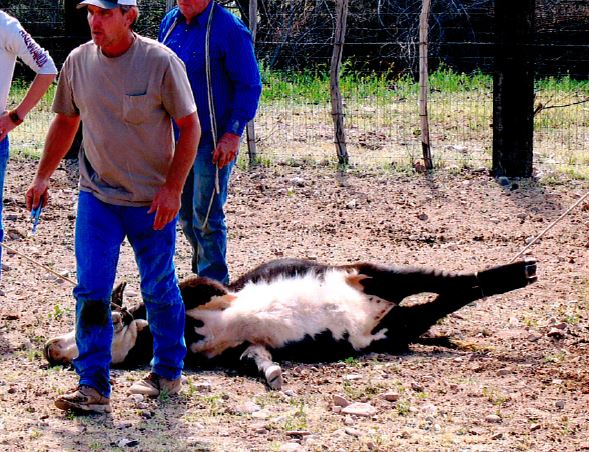 David Stambaugh will tell you one's brand is one's identity. Period.
Young David looked at his Dad wide eyed and mystified, and excited. His dad gave an approving nod.
At age 10 and for $10, David Stambaugh began his ranching legacy. Today his cattle herd represents the genetics of those original cattle from 37 years ago. This story reflects the traditions of the cattle industry across Arizona and highlights the extraordinary personal experiences of the people represented in Arizona agriculture.
Bill Stambaugh has helped his son, David, build
on the family's agriculture tradition.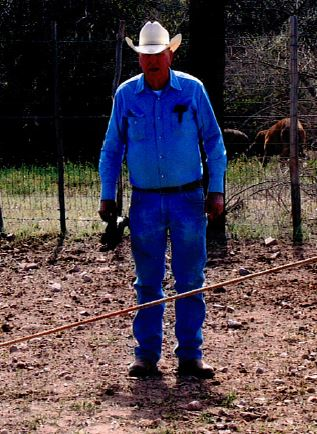 More than a Piece of Paper
Walking into Stambaugh's dusty and paper-strewn office reminds me of so many farm and ranch offices I've been in before. The special mementos include Grand Champion and Reserve Champion ribbons in beef or swine; a plaque or two for exemplary volunteer service to 4-H or FFA; livestock buyer plaques supporting 4-H and FFA; and framed pictures of life on the farm or ranch.
Sometimes it's a special piece of paper.
Stambaugh, ever so carefully, pulls out a letter in a file showing the letterhead of the State of Arizona Livestock Sanitary Board dated June 23, 1977. "Dear Mr. Stambaugh," it reads, "We are herewith returning Bill of Sale from Fred Upshaw to you, to transfer the Brand No. 7761. This document has been duly recorded in this office and the desired transfer in title to the above brand made on our records, as shown on the enclosed Brand Certificate No. 7761."
"That piece of paper and the actual bill of sale I have right here mean a lot to me," explains Stambaugh. "It meant the official beginning of my agriculture career. It represents my start. It means everything. Fred and Gussie did not have any of their own kids but they did have a lot of nephews and nieces. He could have handed his brand down to family but he chose me. There's no blood relation, but to me there is."
The Brand Represents the Family Legacy; History
Sit down with any ranch family and they'll be able to tell you the story or history behind their brand. A family brand, or brands, defines them; puts borders around them and identifies not just the cattle or livestock they raise but the family heritage they represent. Stambaugh's brand story is a bit unique in that the wisdom of an old man saw the potential of a young boy and helped inspire a career path, in this case agriculture.
Today, Stambaugh's operation includes cotton, wheat, other small grains, alfalfa and beef.
"It's all related," he explains. "You can often identify a rancher versus a farmer but in many ways there is no separate line. For me it's all the same. Agriculture is agriculture. It's hard to explain. Often, my kids' friends from the city have no clue what the real values in life are like hard work, caring for animals and more. Agriculture generates a lot of life lessons that non-ag families don't get to experience. My kids have been driving tractors since age 8, for example. What that paper generated 37 years ago meant to me? It's hard to explain. It meant that Fred trusted me with his property, then proceeded to sell me his cattle. As a result, he set the bar high for me to live a responsible life."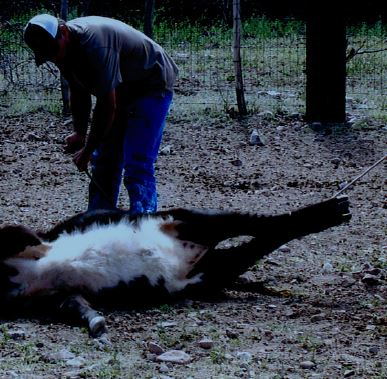 David putting the Bar 7 brand on his cattle.
Adds Stambaugh, "The Bar 7 brand does not sit on a mantle. It's being used today. It's not a trophy. It's a business; it's an identification. Period."
Editor's Note: Many are working in government and outside associations to improve both brand and inspection laws where indicated. Our heritage is looking over our shoulders.