Meet Arizona Agriculture's Daric Knight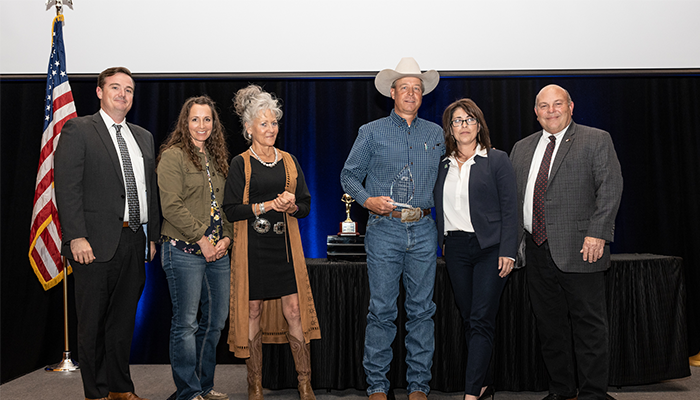 A 4th-generation rancher, Daric Knight operates White Mountain Herefords in Springerville, Arizona. In addition to the ranch, The Knight family has a hunting guide business as well as Knight Environmental Services, a natural resources business. Knight received Arizona Farm Bureau's Environmental Stewardship Award last month during its 100th Annual Meeting.
A member of Arizona Farm Bureau, Knight has dedicated his life to both conservation projects on his own ranch as well as overseeing environmental projects in his leadership position with the Apache Natural Resource Conservation District in Apache County. Knight has been involved with Conservation Districts for a cumulative 28 years and is the current chairman of the Apache NRCD and AACD Executive Committee Member. 
Knight has used his experience as an NRCD cooperator, board member, Chair, and a two-term former President of the Arizona Association of Conservation Districts, to effectively address the NRCD conservation needs. In addition to ensuring Natural Resources Conservation Service programs are active, available, and effective for NRCD cooperators, his influence and perseverance have been critical to persuading additional conservation organizations to invest in NRCD conservation needs. 
Due to Knight's leadership and ANRCD's success in collaboration with local governments and organizations, along with the ability to get projects implemented, the district now has federal, state, and county governments asking for the district's assistance in implementing their various conservation priorities.
Knight has spent countless volunteer hours to ensure these various organizations' projects are implemented. Knight's main emphasis is to ensure conservation projects are implemented on the ground by directing every possible dollar towards practice installation and minimizing the funding used for administrative oversight. 
The Boots on the Ground Efforts
Knight has done a great deal on the family ranch and other ranches as well. Knight and his family started off doing prescribed grazing management along with some small rock and brush structures to combat soil erosion. Since then, they have implemented fencing, wells, water developments, major soil erosion control projects, and large Grassland Restoration projects concerning juniper control. All these projects are done with EQUIP funds available through the local NRCS and the United States Department of Agriculture. 
One of the many conservation projects that are ongoing is converting to solar power to help sustain a constant supply of water to livestock and wildlife on the ranches. They have also used satellite mapping to view brush densities across the ranches and identify where to concentrate our grassland restoration efforts and have implemented projects to decrease soil erosion. 
For those who know him, they explain that every project Knight initiates, as well as in the leadership role of the ANRCD, is part of a larger conservation plan. It is a continuous plan for the land. Each piece of acreage brought into the ranch or lands managed are assessed for the right conservation program to improve and conserve the environment for years to come. 
Says Knight, "My favorite thing about the NRCD is the influence we can have on the natural resources in our local area. We are also able to more closely collaborate and partner with other state and federal agencies to make a conservation footprint across multiple landscapes and management jurisdictions."