Meet Arizona Agriculture's Donald Van Hofwegen Family
By Hillary Hibbard, Arizona Farm Bureau Intern:
An Interview with Donald Van Hofwegen, owner of D & I Holsteins Dairy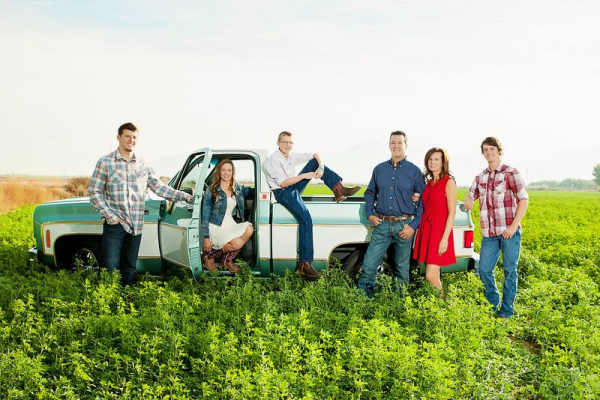 A New Series Begins...
Tell us about your farm and ranch
We milk 3,000 Holsteins cows in Stanfield, Arizona. This year we began to process our own grain to become more vertically intergraded.
What changes have you seen in your lifetime as it relates to farming and/or ranching?
I have seen that there is a more technical aspect in the dairy industry and there is a smaller margin. A lot more politics involved and it's not all about just going out and milking your cows, there is a whole other political side to it.
Why did you choose to go into agriculture?
I grew up in with my dad and It's something that I loved and always wanted to do and be apart of.
Will anyone in your family - younger generation - pursue farming and/or ranching?
I have 4 kids, 3 boys and 1 girl.
My oldest son, Preston, has grown up on the Dairy his entire life and has shown a lot of interest in the Dairy business and farming as well. Once he finishes college he plans to come back and work on the Dairy and go from there.
Angel, the next oldest and the girl, doesn't plan on going into the Ag business.
Tanner has shown interest in the Ag business as well but he is only half way through high school and is not sure what he wants to do yet.
Aren, the youngest child in the family plans to stay in the Ag business. He always rides around with me in the truck and is always asking questions about the dairy and the farming. He has shown much interest in Ag.
Would you ever consider growing an emerging crop or changing your farm or ranch model?
I would consider it, yes, if it is beneficial to my business as a whole.
What are your community activities? Why are you involved?
I'm involved at the church, leaderships, apart of my kids schools. I am part of the United Dairyman of Arizona board of directors. I want to be apart of things that I'm involved in so that I can make a positive impact.
What is one fact/experience/achievement no one knows about you?
I was apart of my basketball team in high school that won the first championship game.
What do you think you do really well? Explain.
Very detail oriented in my business, I communicate really well with my employees. I try not to settle, I strive for the most efficient operation. Very good at developing relationships in my industry.
Why are you a farm bureau member?
-If you joined for the insurance, after you joined what has Farm Bureau done that was beneficial to you and your farm?
Farm Bureau is a great advocate for the dairy industry, they have many resources which we can use to help support our industry. I did Join for insurance reasons originally.
How will the next generation of farmers have to operate?
They will have to operate in more of a technical role, along with using the futures markets in there business and as well becoming more vertically intergraded.