Meet Arizona Agriculture's Emil Rovey Family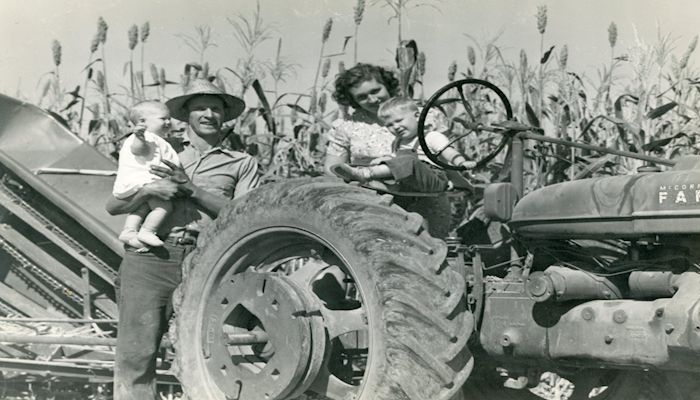 In agriculture circles, we often say at least one Rovey will be at an upcoming agriculture or Farm Bureau meeting. And, once you read Emil Rovey's story, you'll understand why. The Rovey family has deep roots in Arizona agriculture. They were farming in this desert state before it was a state. And, several of the children and their children's children have continued the agriculture tradition.
In November, Emil Rovey's family will be recognized with the 2018 Heritage Award for Emil's steady involvement and leadership in Arizona agriculture. While Emil passed away in 1998, the family's agriculture legacy lives on.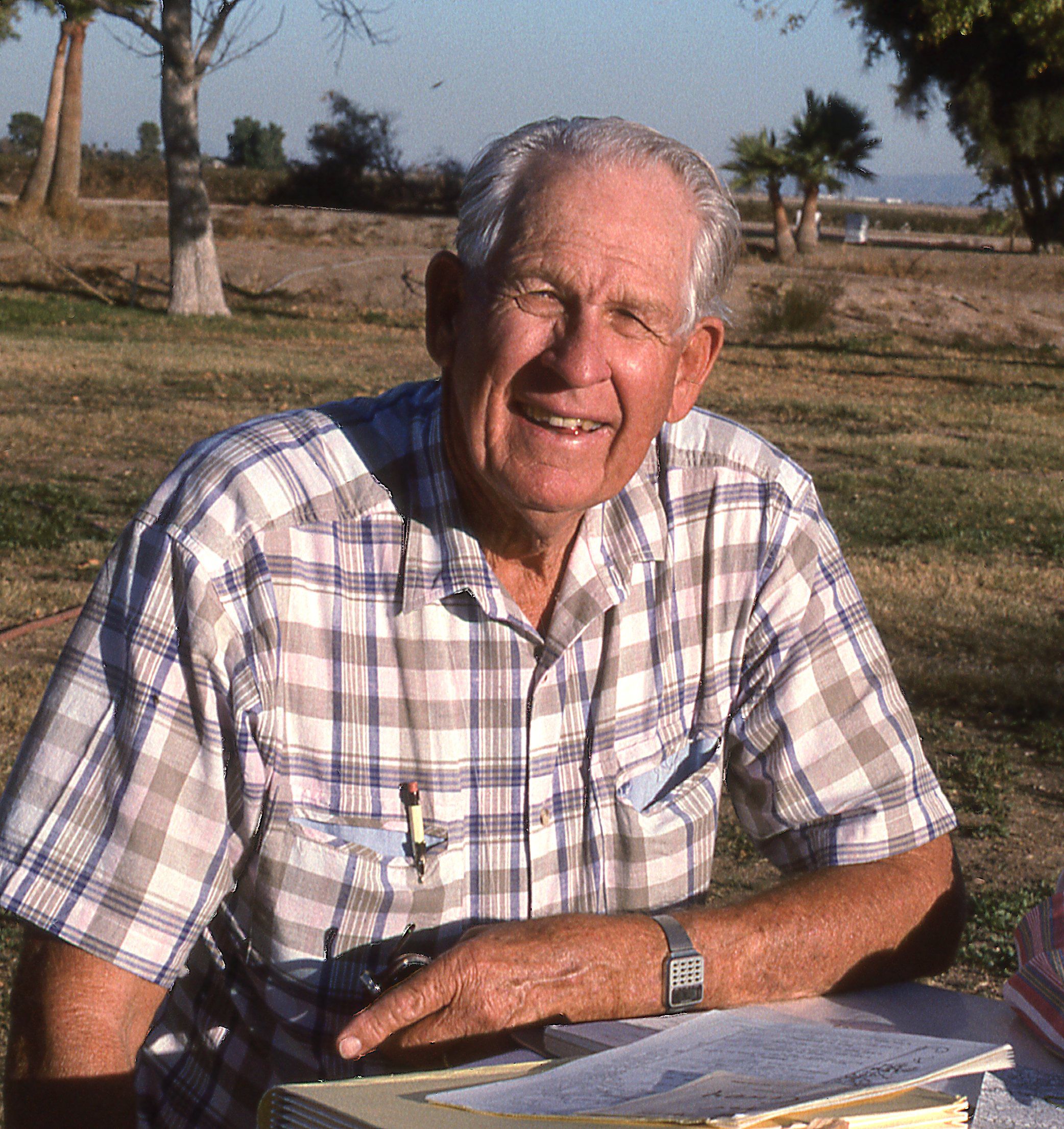 Emil Rovey
Arizona Farm Bureau's ongoing series of farm and ranch families.
Arizona Farming and Ranching Hall of Fame Executive Director Carole De Cosmo's oral history interviews.
The Rovey family roots originated in Illinois where a young farmer, Albert Rovey, married a German immigrant, Minnie Hartmann. Shortly after the birth of their twin sons in 1912, Minnie was diagnosed with tuberculosis. On the advice of her doctor, Albert and Minnie boarded a train to Phoenix, leaving their boys behind with relatives. Albert's animals and equipment on the Illinois farm were sold at an auction. Minnie spent the winter in the warm Arizona sunshine and regained her health. The next spring, Albert's parents each carried a nine-month-old twin from the train to rejoin their parents in Phoenix.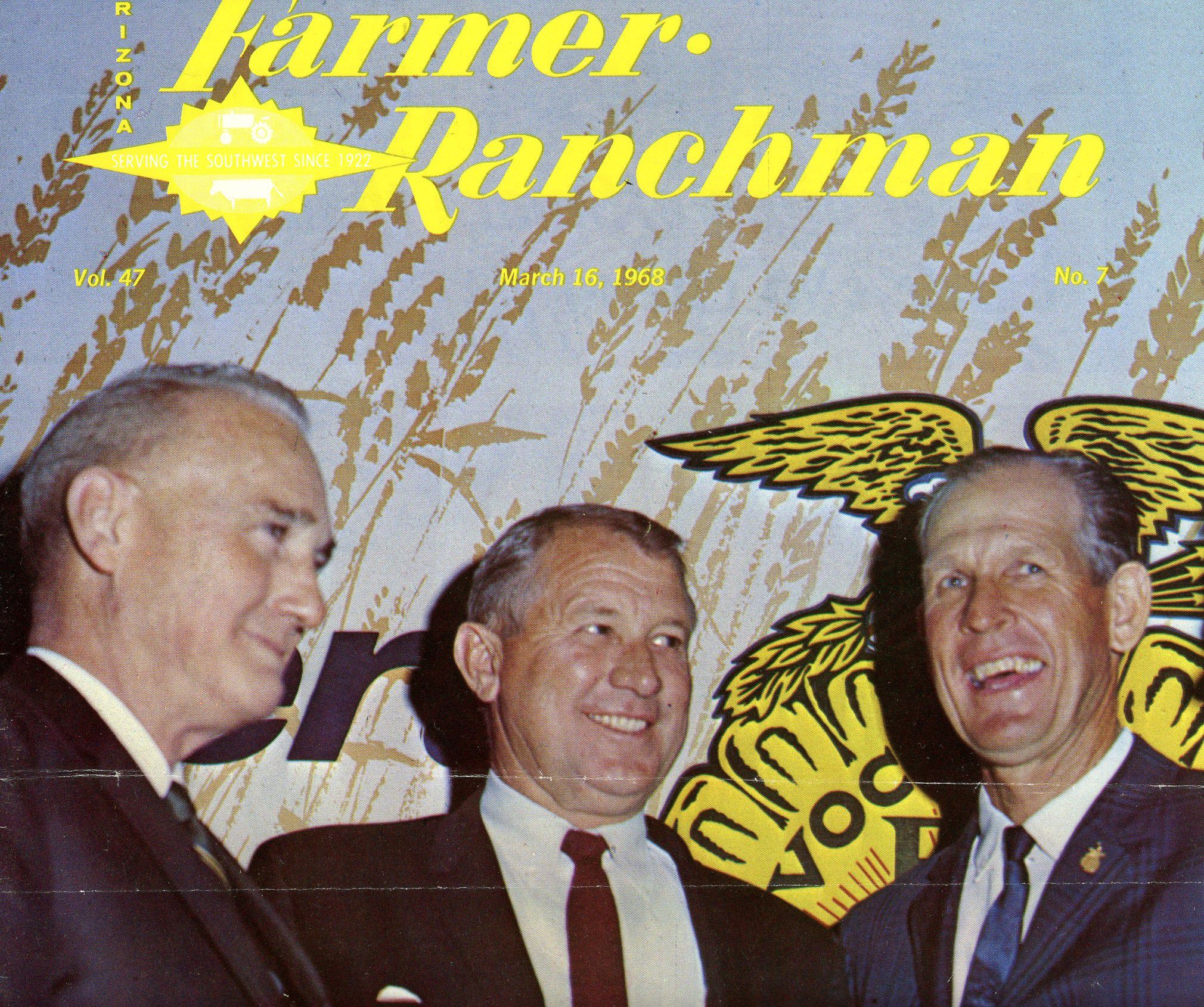 To say that Emil Rovey was dedicated to the land would be an understatement; agriculture defined not only what Emil did, but who he was. He was connected to the land at an early age and would continue his involvement with it for the rest of his life. Most likely, Emil inherited his passion for the land from his German grandfather whose motto was, "Grow more corn, to feed more pigs, to buy more land, to grow more corn…;" a philosophy Emil pretty much adopted as his own. It was this grandfather who, in 1913, purchased 80 acres on the northeast corner of Bethany Home Road and what is now 19 th Avenue and later deeded the farm to his son Albert. This is where Emil Rovey was born on February 16, 1916; where they continued to farm until 1951.
Emil's father, only 36 years old, died in 1921, leaving five-year-old Emil with his mother, his three brothers, a younger sister and the hired hand to keep the farm operating. They milked the cows by hand, hauled their milk to the creamery in 10-gallon cans and cultivated their crops with teams of horses and mules.
Emil followed his brothers to Washington School in Phoenix. Because he and his parents spoke German in their home, he had to repeat first grade, as he could not speak English well enough to advance with his classmates. By third grade, Emil attended Zion Lutheran School. He and the twins took the horse and buggy six miles to school, sometimes leaving milk at the Central Avenue Dairy on the way. The horse was tethered in a little barn at the school until the return trip home at the end of the day.
When Emil graduated from Glendale High School in 1934, the country was beginning to pull out of the devastating depression that began in 1929. Because of the economic conditions, he did a fifth year of post-graduate work at Glendale High instead of going straight to college. He was a member of the Future Farmers of America, on the livestock judging team, took part in the public speaking contest and was a member of the citrus judging team. With the help of Vo-Ag teacher A. Mark Bliss, Emil applied and was accepted into the College of Agriculture at the University of Arizona in Tucson, where he continued to distinguish himself. In 1937, Emil, his younger brother, Carl, and a group of other financially strapped agriculture students got together and rented a house, bought and built furniture, hired a cook and started the cooperative Aggie House, which is still operating today. Each of his children followed in his footsteps, going to the University of Arizona, and the boys all took their turns living in the Aggie House.
Emil graduated with high distinction from the College of Agriculture. He was a member of Alpha Zeta, the honorary agricultural fraternity and Phi Kappa Phi, the honorary scholastic society. After graduation, he was hired by the University of Arizona Extension Service, to become the State 4-H Club Leader. He traveled the state, meeting and encouraging young people, volunteers and 4-H faculty to "Make the Best Better." He remained in that position for four years.
In 1941, Emil married Helen Louise Beck, whom he met while attending the Lutheran church in Tucson. The union lasted until her death in 1982.
In 1943 Emil bought a 145-acre farm in Glendale. He always said, "We moved in the front door and the seller went out the back. That night we started milking cows." Emil was always a hands-on farmer, doing whatever needed to be done – irrigating, milking cows, driving tractors, going to town for parts, ordering water, paying employees or scraping lanes after it had rained.
But there was more to him as well. His life revolved around three things, his church, his family and his farm. Emil was a pillar of Grace Evangelical Lutheran Church in Glendale. Emil and Helen raised nine children, Albert, Sharon, Ronald, George, Dan, Larry, Paul, Rebecca, and Gretchen. Emil loved the land and its bounties. He liked seeing cattle in the corrals; he smiled when looking at water running evenly between the borders irrigating an alfalfa field; he took pride in seeing young cotton plants or corn emerge from the brown earth. His children, riding with their father in his pickup, often wished that he would keep his eyes on the lane in front of the truck, rather than admiring the fields beside them.
Emil continued to acquire nearby farmland as it became available throughout the 1940s, 1950s and into the 1960s. He was a lifelong member of the Glendale-Peoria Farm Bureau and a director for the Southwest Producers and Consumers Cooperative. His agricultural interests were broad. He helped organize the Co-op Dairy, a group of milk producers who later merged into the United Dairymen of Arizona in 1964. He was president of the American Dairy Association of Arizona from 1952 to 1959.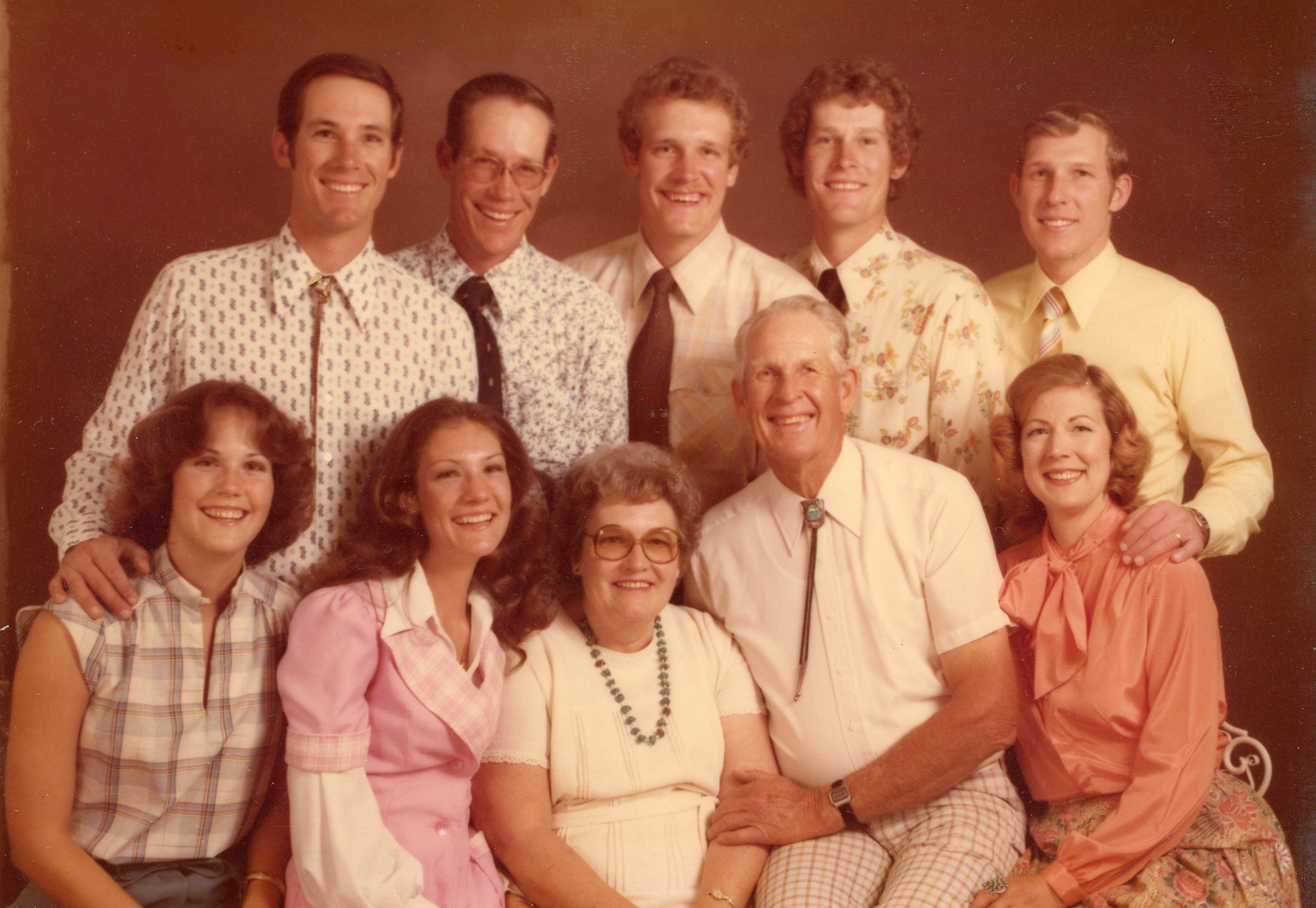 Emil and Helen's children.
As if crop production and dairying weren't enough, he got into the poultry business in the 1950s when he took the few chickens Helen kept in the backyard and grew them into a poultry operation with 24,000 hens at its peak. He was president of the Central Arizona Poultry Association.
In 1957 he added ranching to his resume when he bought three ranches in the Bloody Basin area. He ranched the area for 16 years, but sold not long after his son, Dan, was killed in an accident while hauling cattle from the ranch to the Glendale farm, just weeks before Dan was to graduate from Glendale High School.
Emil was honored as the Man of the Year in Arizona Agriculture by the state Future Farmers of America in 1958. The same year he was elected to the Salt River Project Council and continued to serve on the SRP Council and Board of Directors until his death.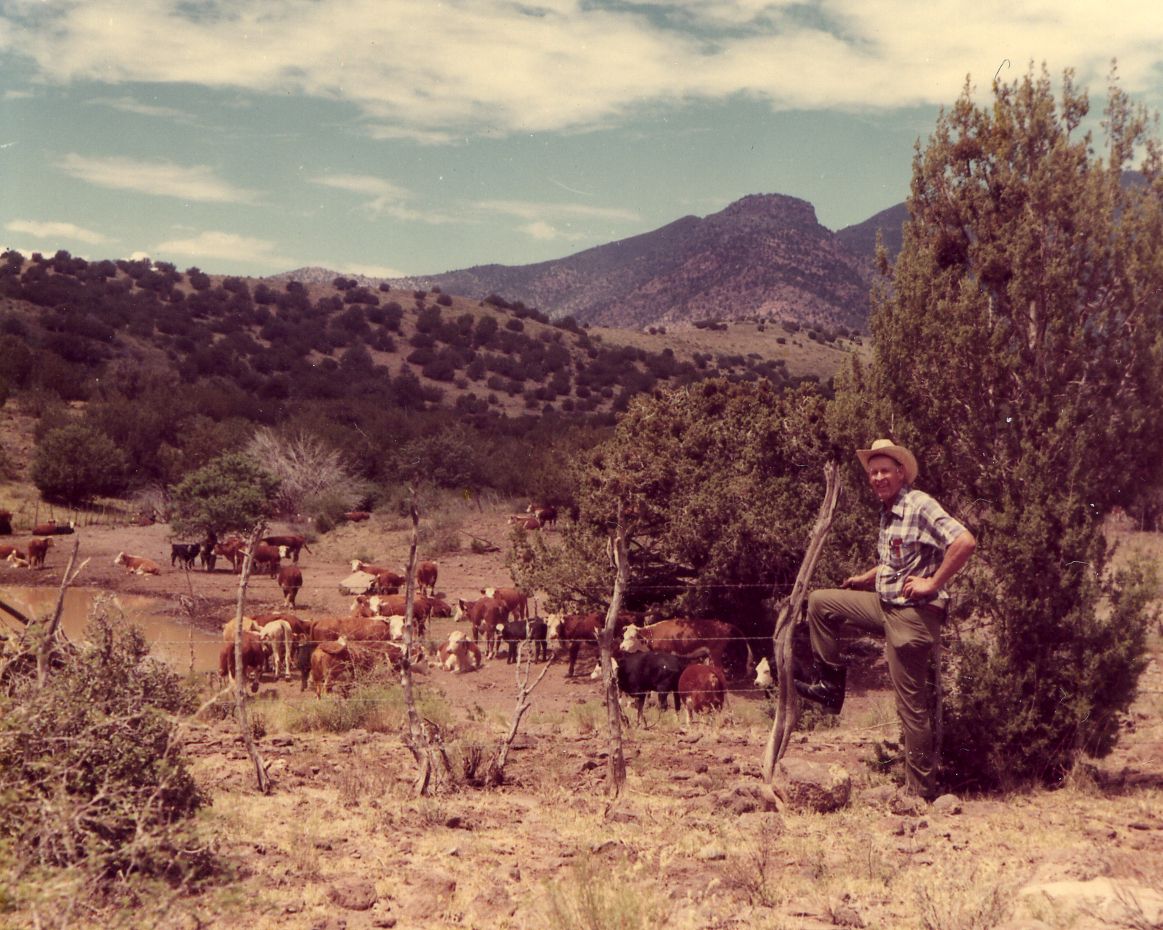 With all of his accomplishments, probably the one thing Emil was most proud of was his long-standing friendship with a group of international students from Scandinavia. That all started in 1954 when two Danish brothers knocked on his office door looking for work. During the next 30 years, approximately 200 international students found employment at Rovey's farm to learn American farming methods. Most of the students came from Denmark, so many in fact that there was a Rovey Society in Denmark, where alumni get together, have picnics and talk farming.
Following Helen's death, Emil married Ruth Block Haertel, a widow, and longtime friend. They enjoyed traveling in this country and abroad for fifteen years. Their trips took them to Denmark and the Scandinavian countries to visit their "Danish boys."
An accomplished photographer, Emil's lifelong interest in taking pictures has provided the Rovey family with a treasury of photographic reminders of their rich family history, traditions and heritage.
A big man with a big heart and ready smile, Emil M. Rovey, 82 years old, died peacefully while taking an afternoon nap at the family home on Northern Avenue on July 25, 1998.
Editor's Note: With a few minor updates, this article originally appeared in the Arizona Farming and Ranching Hall of Fame, Volume 1, book. Emil Rovey was a 2008 Arizona Farming and Ranching Hall of Fame honoree.
Join Our Family