Meet Arizona Agriculture's Gerald Flake Family
By Justen Ollendick, Arizona Farm Bureau Intern:For over a hundred years, the Flake family has been farming and ranching around the community of Snowflake in northeastern Arizona. As a fourth-generation native Arizona rancher, Gerald Flake has continued this agricultural legacy and is passing the heritage down to his children and grandchildren. Mr. Flake quietly embodies the rural values and the historic ranching traditions he inherited while happily embracing the innovations and new technologies that have come into the field.
An interview with Gerald Flake of Snowflake, Arizona.
Part of an ongoing series about Arizona farming and ranching families.
Tell us about your farming and ranching: In the late 1970's, I left my job with the Farmers Home Administration with hopes of operating my own alfalfa and cattle operations full time. While that was building, I had to look for another source of income as we had eight kids to feed. I operated hog farms for the Caldwell family who owned the largest hog production facilities west of the Mississippi River. With help from my boys, I was able to continue running my Hereford cattle herd as well as produce and sell alfalfa hay, corn silage, and pasture. Eventually, after all of the kids left, I was able to focus full time on my preferred vocation of ranching. In an attempt to generate more income from a limited amount of rangeland and irrigated pasture, I converted most of my herd from the traditional Hereford breed to a registered Red Angus.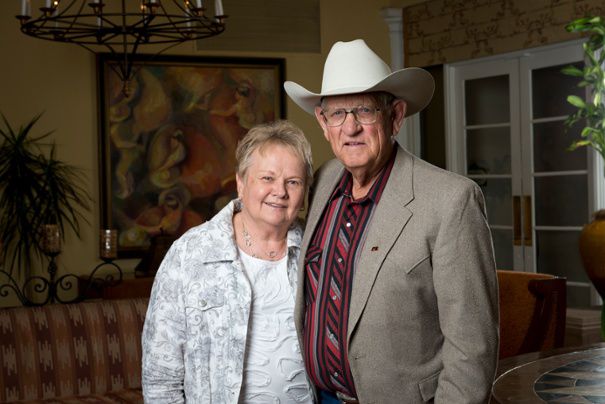 Arlene and Gerald represent more than 100 years of ranching in Arizona. The next generation of Flakes are part of this continuing legacy.
Why did you choose to go into agriculture? In 1878 my great grandfather William Jordon Flake, purchased the Snowflake Valley from James Stinson for cash and "Utah grade cattle." This farming and ranching operation has been in our family for over 100 years. It is safe to say I was born into agriculture.
What changes have you seen in your lifetime as it relates to farming and/or ranching? I have watched many ranchers in my area succumb to subdividing their rangeland off into 40-acre "ranchettes." I myself have made changes to adapt. We utilize EPD technology and the latest information on range nutrition and supplements. We have made extreme improvements in cattle handling facilities and range management.
Will anyone in your family - younger generation - pursue farming and/or ranching? Yes, two of our sons are working with us on the ranch and plan to continue its operation.
Would you ever consider growing an emerging crop or changing your farm or ranch model? I continually make changes to adopt new techniques into my operation. I leveled my irrigated farm land and developed it into larger parcels that are fed by a newer PVC pipe and valve irrigation design and replaced the antiquated, inefficient and labor intensive dirt ditch system that has been used for many decades. While previous generations have withstood the winds of the Little Colorado River Plateau, I partnered with a windmill power generating company to increase the production of my land, while preserving the traditional cattle operation. Being paid by the kilowatt makes branding in the dusty wind a little more tolerable.
What are your community activities? Though my farming and ranching operation keeps me busy, I have found time to serve the cattle and crop industries by serving in the Arizona Farm Bureau at the county and state levels. My wife Arlene and I have traveled to Washington, DC to lobby for the industry. I served for many years as the 2nd vice-president for the Arizona Farm Bureau Federation. I continue to be an active member of the group and Arlene currently promotes agriculture by volunteering in student education programs that help teach kids about the origins of their food.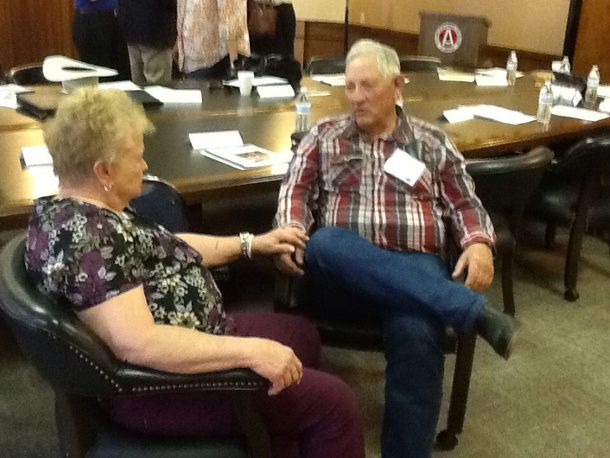 During a break at an Arizona Farm Bureau Board of Directors meeting, you can find this dedicated couple holding hands and chatting.
Currently we are serving as co-presidents of the Snowflake Heritage Foundation, which works to preserve the Heritage of Snowflake. As a result of that position, Arlene serves on the Pioneer Days Celebration Committee and the Tourism Committee, a subcommittee of the Snowflake/Taylor Chamber of Commerce. We also serve as tour guides for the historic homes in Snowflake.
We are also active in the Church of Jesus Christ of Latter-day Saints and spend time volunteering in the various organizations.
What do you enjoy doing? Taken from an earlier article: A Study in Leadership from One Arizona Agriculture Couple!; All types of engagement exist, but Arlene's love of sports might be a good example to start with. Says Arlene, "I loved being secretary to the athletic director at Snowflake High School and still love High School athletics." Perhaps this is because in her youth she was a softball fast pitch catcher and could have played on a semi-pro team, but chose not to since the team played on Sundays. And, that's not counting the fact that around this time she was also the drum major of the marching band in high school and went to Girl's State. One could get exhausted just reading all the things Arlene and Gerald have done and are doing. In fact, their list of service just keeps rolling on:
Gerald received the FFA Honorary Chapter Farmer Degree.

He and Arlene served an 18 month mission in Nebraska for the Church of Jesus Christ of Latter-day Saints and continue to be active with their church.

Gerald is also a member of the Navajo County Cattleman's Association.

Arlene is past president of the Silver Creek Performing Association and volunteered to coach softball and basketball with the Snowflake recreation program.

She is currently serving as the Snowflake Heritage Foundation president.

They both support the local sports teams.

Gerald was chairman of the Jr. Livestock Committee for the Navajo County Fair for several years

Arlene served as a 4-H leader in several different kinds of clubs
Why are you a farm bureau member? I grew up in a Farm Bureau family. My parents were members for as long as I can remember. FB is our representation with state and federal governments.
How will the next generation of farmers have to operate? New technology is becoming available every day. This increases productivity of crops and animals. These changes will have to be adopted with current proven practices to maintain a viable operation.