Meet Arizona Agriculture's Hiscox Family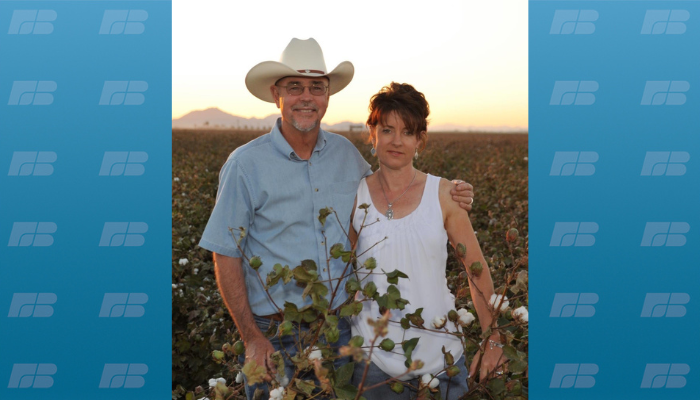 For my "Talk to a Farmer" Instagram series, I'm always on the hunt for farmers and ranchers to interview for the weekly show. In the meantime, Karen Geldmacher and a few others in the Arizona agriculture industry encouraged me to reach out to the Hiscox farm family from Pinal County. In obedience to this great counsel, I did. What a wonderful family I've met. It's as if I've known them forever.
And it turns out that my own parents know Noah and Brenda Hiscox of Coolidge, Arizona. They are fully embedded in the Arizona agriculture community, serving on Irrigation boards and other organizations. Add to this their family activities, hobbies that include raising parrots (Brenda previously owned her own pet store) and hunting and you have a couple that's never bored and always busy.
So, Arizona Farm Bureau hosted Noah Hiscox on our "Talk to a Farmer" Friday, March 24th and several insights he gave during the "live" interview in addition to comments pre and post made me think we need to share the Hiscox family story with a wider audience.
A farm profile of Noah and Brenda Hiscox, owners of Hiscox Farms GP in Coolidge, Arizona.
An ongoing series of our farm and ranch families.
Tell us about the Hiscox Farms GP family farming operation: We have 8 full-time employees. We farm about 3,000 acres on the San Carlos Irrigation and Drainage District lands. We plant on average:  300 acres of various varieties of ancient grains, 500 acres of alfalfa and 500 to 1,000 acres of short-staple cotton (depending on the annual water allotment we receive here in San Carlos).
We grow ancient grain varieties of wheat for Mediterra Bakehouse located in Coolidge, Arizona and Pittsburg, Pennsylvania. They then mill these grains into flour and bake artisan bread for Whole Foods and several high-end restaurants and resorts.
We also grow ancient grains for Hayden Flour Mill located in Queen Creek. Hayden supplies many different products from flour, crackers and porridge to pancake mix, noodles and Irish breakfast oats. Hayden supplies Trader Joe's and several retail shops and restaurants.
Hiscox Farms also grows for Grain R&D, located in Queen, Creek, as well, and they supply companies from pizza restaurants to micro-breweries across the United States.
Hiscox Farms General Partnership is a family partnership. My wife and partner, Brenda, help on the farm, and in the office and expertly care for our home. I love her with all my heart and even as difficult as I can be, she feels the same way about me.
Son, Jacob, another partner, is an eye doctor and he and his wife, Dr. Jamie, own and manage two clinics named Tucson Optometry Clinic, both located in Tucson, AZ.  Lastly, daughter Chelsea, is a wildly successful and popular dental hygienist, also in Tucson, Arizona, and she currently works at Tucson Dental Studio.
We have three fine grandsons and hopefully at least one of them wants to pursue a life of agriculture and I can hang in there long enough to help point them in the right direction.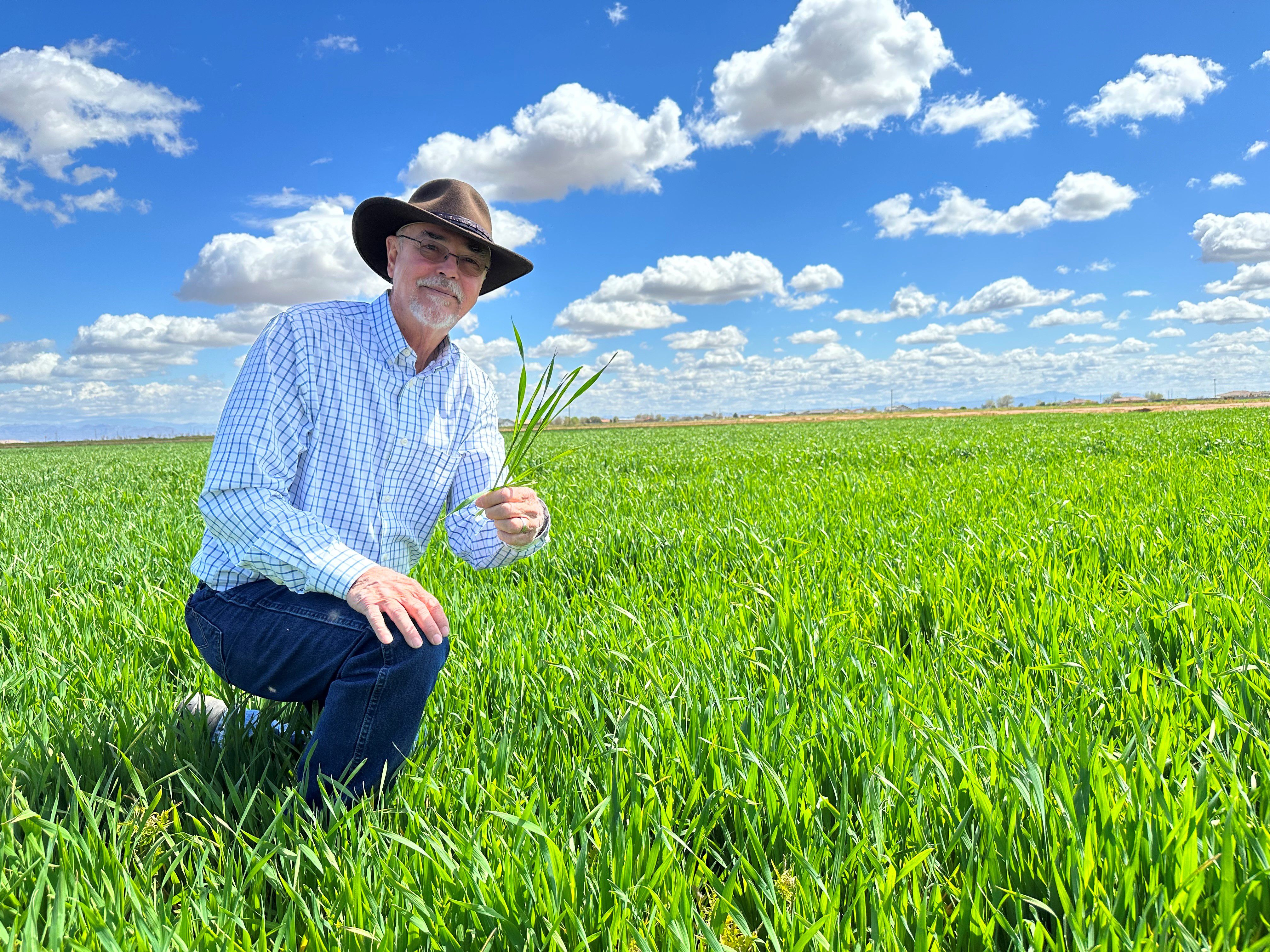 For ancient grain varieties, the Hiscox family grows for specific distributors, both locally based. While yields for ancient grains are not as robust as some of our modern grains, they serve a very niche market that continues to grow in popularity. 
Talk about your method of farming and how you've reduced water use and saved money: Hiscox Farms has been growing all its crops "on the flats" for well over a decade. As a result, we have been able to reduce tillage operations, eliminating several passes across our fields [less diesel and equipment use] with the net result of saving several hundred dollars in tillage.
We have also achieved irrigation water savings of approximately one acre-foot per acre and at the same time increased our yields. We witness God's miracles everywhere we look and with every seed we plant. By the grace of God, we will be able to continue in this most wonderful of all professions.
We harvest our own cotton with a CP690 round bale picker and help two other farms with their cotton harvest. We plant with twelve-row equipment and do all our heavy tillage with a large 550HP belted tractor. Our alfalfa is custom baled by Riggins Farms and our small grains are combined and trucked by Demaray Harvesting and Trucking.
Tell us more about your background, maybe something we don't know about you: I worked as a mathematics teacher in Tucson, Arizona after graduating from the University of Arizona in 1974. I taught from 1974 through 1978.
At the end of 1978, I returned to the farm to work with my father, Earle Hiscox, on his small farm near Florence, Arizona for a year.
In 1979 God blessed me and our family with a 200-acre farm lease on the Fred and Penny Pretzer farm. I planted 180 acres of short-staple cotton that year. It yielded 2 and a half bales to the acre and the price hit $1.00 per pound! I was 26 years old and was foolish enough to believe I could do anything, and that farming was a piece of cake! Easy!
We've farmed full-time ever since and I've discovered, each and every year, that there is nothing, not one thing, easy about farming. There is also nothing more challenging or rewarding.
There is no measure of good deeds I've ever done to have deserved that knock on my front door by Mr. Fred Pretzer and his offer of a 200-acre land lease. I will be forever grateful and indebted to my Lord and Savior for such an undeserved blessing and opportunity.
Tell us about the Hiscox Weather Theory: I have paid close attention to the weather for the last forty-five years and it has been my observation that wet and dry cycles, here in the Southwest, run in approximately 20-year cycles.
Prior to 1978, we had nearly two decades of dry weather. In 1978 it poured down rain all that winter and Coolidge damn /San Carlos lake, was completely filled for the first time in history.
Until 2000, twenty-plus years later, we enjoyed ample water allotments with reservoirs mostly full. Around 2001 we entered into a much dryer cycle and suffered dry-to-drought conditions for nearly 23 years.
Finally, now, starting summer and fall of 2022 and spring of 2023, we seem to have finally broken this drought cycle and are, hopefully, entering another couple of decades of wet weather with abundant water allotments here in San Carlos.
Let's hope I'm right!
Editor's Note: In all our back-and-forth conversations, the Hiscox family stresses, "all our success and happiness were freely given from God and we owe our loyal and gifted employees for most all of our farming successes."