Meet Arizona Agriculture's Hunt/Randall and Gorton/Vesci Families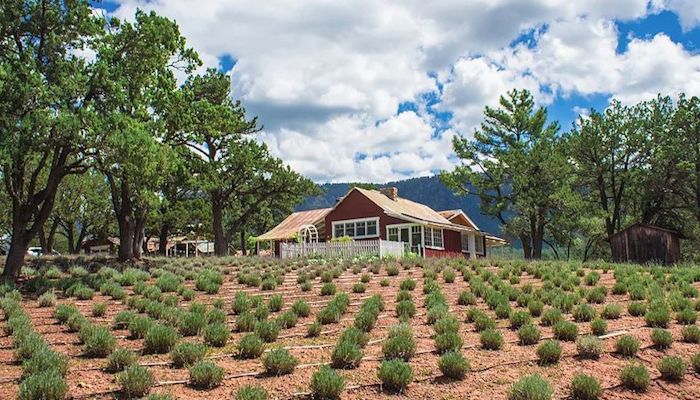 Recently, I sent out an email blast to our farm and ranch members asking who would be growing hemp this year. The jury is still out on that one as I got one or two farmers saying they were still evaluating their crop portfolio mix with hemp in or out of the mix.
Fortunately, one sentence at the end of the email caused others to respond: " In fact, if you're growing anything unique and that warrants a good story, let us know!"
And, bless my soul, Terry Gorton responded telling me all about their special story and Pine Creek Canyon Lavender Farm, Farm Bureau members and insured by Duane Ridl of Farm Bureau Financial Services.
From their website, you discover Terry Gorton and Rick Vesci are beginner farmers richly preserving the original history of the farm and in fact "bringing new life to an old farm" as their motto declares.
From their Website: "In the early 1880s Almay Moroni and Rosetta Hunt were headed to Mesa Arizona from Salt Lake Utah when they passed through Pine, Arizona. Rosetta saw her native Italy in the beautiful mountains and begged Almay to stay. They did, acquiring most all the land nearby. They raised huge family, farmed corn, and cattle and left a wonderful legacy."
Terry gave more detail when she first reached out to me. "In fact, the log cabin which today houses our lavender drying operation was built in 1890 as storage for the Hunt family. Almay and Rosetta's eldest son John met his future wife Annie Belle in second grade at the historic Strawberry Schoolhouse and when they married, they received a portion of the original homestead for their home--- and our Farm was born!
"The first hand-hewn log portion of our house was built around 1910, then added on to as John and Annie Belle added 7 children to their family. We are the first owners of this lovely farm outside the Hunt/Randall family. We feel blessed every day! We are currently under consideration as a National Historic Landmark.
"In 2015, we began the restoration of the old farmhouse as true as we could to John and Annie Belle (including our Lavender Kitchen where we use Annie Belles old kitchen to teach heritage food techniques and food preservation classes along with our culinary Lavender classes). We then added a new wing for modern conveniences!
"Our historic "Ditch" irrigation rights along Pine Creek gives us wonderful, natural spring water for our lavender and gardens. With such beautiful land and water, one day we asked ourselves---"what should we grow here?" and the answer to how we decided on lavender may surprise you.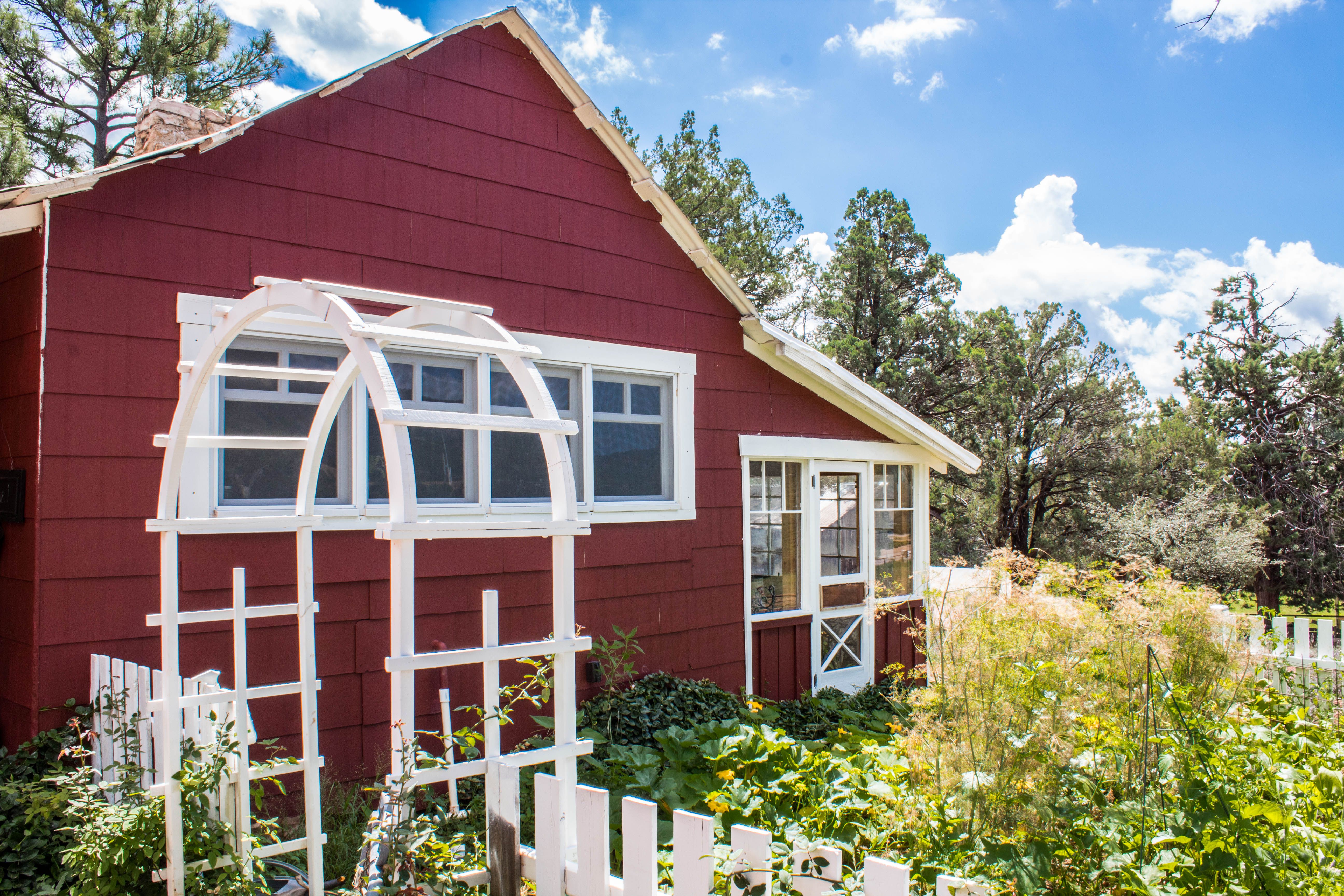 "After researching the most important question, "What won't Elk eat?" we came to the realization that lavender was the answer. We knew nothing about lavender however, we knew a lot about Elk invasions! So, we planted 5000 lavender plants. Our varieties included Royal Velvet and Provence, which are both culinary varieties, and Grosso which is one of the most beautiful and aromatic lavender varieties. Then we watered and weeded... and hoped. Now, here we are in love with Lavender or as Olivia calls it, "Lovender" and the Elk pretty much stay away. The lavender grows higher every season and we get to meet you all: our fellow "Lovender" friends enjoying this beautiful mountain valley that Rosetta first called home more than a century ago.
Tell us about your operation: We grow three varieties of Lavender in the mountains in Pine Arizona, Gila County at about 5,577-feet elevation. We grow, harvest and sell Lavender Flowers. And from our essential oil and dried flower buds, we also sell lavender products in our farm store located right here on the property---in addition to our Bob's Red Mill Cooking School located here too in our old historic farm kitchen that Rick remodeled into a cooking school kitchen for me.
Any farming practices that highlight water conservation, soil health or and other special practice you instituted to save money and improve the farm? (The idea to grow lavender to keep the Elk away, I love!) Yes, we worked with the Farm Services Agency representative, Paula Bain, out of Winslow. She was so helpful in introducing us to state and federal opportunities for information, technical assistance and a low-cost loan we used to buy the plants and install the original irrigation system. We are fortunate to have historic irrigation rights to our 120-plus-year-old farm, so we use water conserving slit tape with an underground storage tank and filtration system to irrigate our fields. We are a CERTIFIED NATURALLY GROWN FARM so we eschew any chemicals or chemical fertilizers since a lot of our lavender winds up in culinary products. Windy Hills Lavender Farm has helped guide us and we do a lot of business with them too.
The Elk do wander thru the fields and tear up our hoses still, but leave the Lavender alone, just eating the weeds left behind and their rich natural fertilization! (we only hand weed—a huge job!) Every year we do replace all the slit tape; a practice we realized was the most symbiotic with the Elk issues versus fighting them over their breaking hard pipe irrigation lines. Once we figured out they will come into the fields over our 5 and 6-foot tall, five rail pipe fences no matter what we did (we tried radios, wind dancers, impact lights, high-pressure water jets—and every fool thing folks said would be THE answer---I am sure most of you are laughing by now), we decided to call them the "gardener and fertilizers" and just replace the hoses. It just seemed easier, less frustrating and our farm visitors love seeing them!
What is your educational background (i.e. Degree(s), certifications, honors)? I am a political and campaign lawyer, although my undergrad work was in Environmental Sciences and I spent a lot of my career on environmental policy for Governor Pete Wilson of California. Rick has an engineering background which has really come in helpful and spent most of his other career in resort development. Our combined experience with zoning and entitlements was a huge help as farmers---working our way thru the County and State rules. So many rules—too many rules. If you have been there, trying to permit a farming and roadside stand operation, I know you understand!"
So, after several back-and-forth emails, I feel as if I personally know Terry and Rick. And, yes, a farm visit is planned. This profile shows the nexus between the beginner farmer and our historical agrarian roots so early in Arizona's history can have a clearly defined story, legacy, and future. No one is doing it more beautifully than these two.
An Interview with Terry Gorton, co-owner of Pine Creek Canyon Lavender Farm, LLC in Pine, Arizona
An ongoing series of our farm and ranch businesses.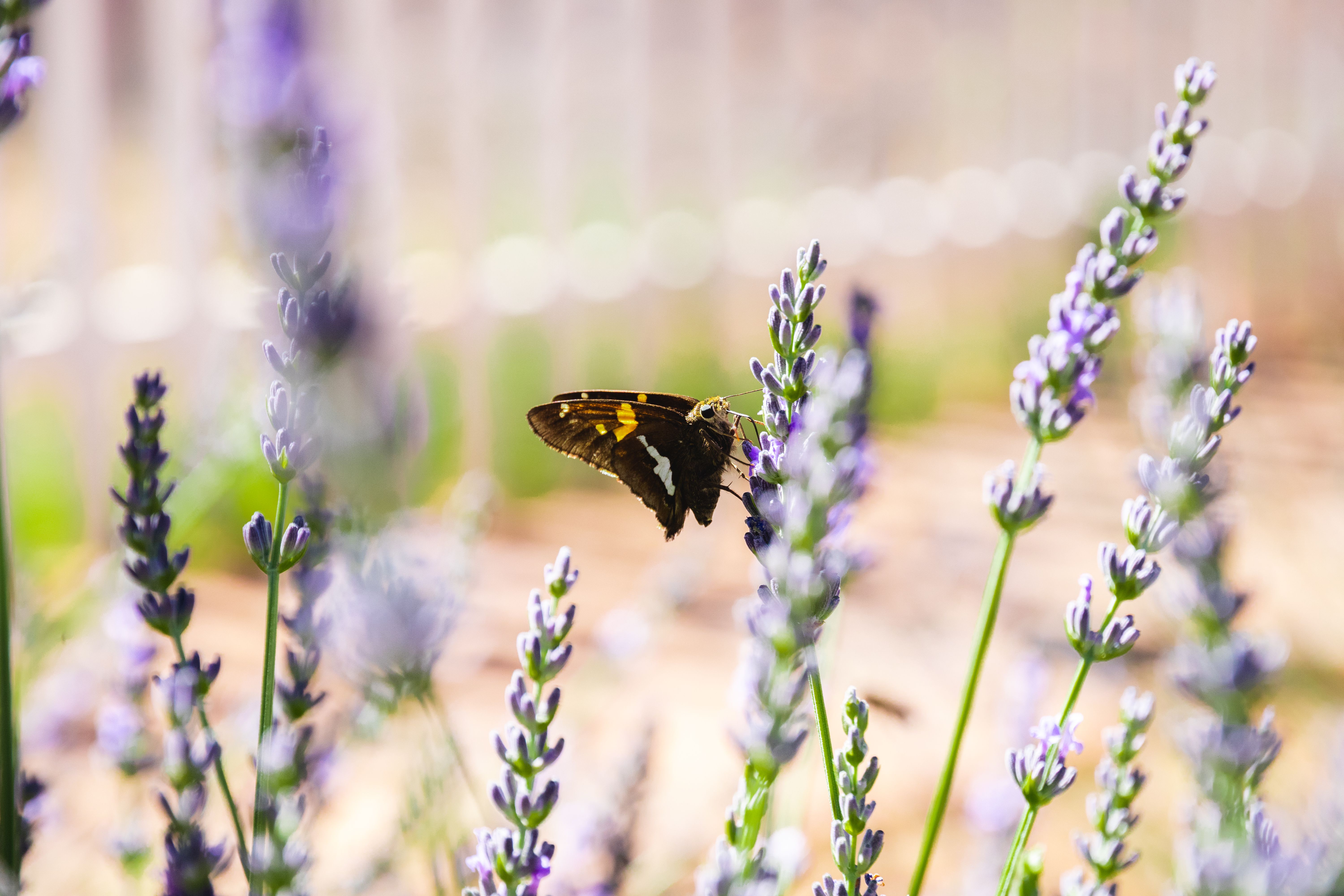 What are your community activities? We choose two nonprofits that we believe in to donate to every year. We so appreciate our Humane Society and especially, our local Fire Wise leaders. Since we live in a forest, we want to do everything we can to assist our leaders working on clearing around our community, building endless trails and making our community safer from wildfire. We are also asked to and speak frequently at local garden, library and church groups about lavender and business. We have donated the farm for various art groups. The Gila Community College did a day-long pottery firing event here and we are hosting a group of watercolor artists as I write this.
What do you love the most about farming, ranching, or the agriculture industry in general? We love the people, the county living, the stories about the pioneers who came before us making this all possible. We love our boys and their involvement (although we wish they did more farming with us!) and living by our gardens, lavender, and animals. Early farm mornings with a cup of Rick's cowboy coffee on the porch overlooking the meadow and mountains are pretty tough to take too!
What do you enjoy doing, and what is one fact/achievement that nobody knows about you? Well, everyone knows everything about us! When you live and work and have a store and school right at your home, your life is pretty open. We see hundreds of folks every weekend at our store and have a huge circle of friends and family close by. Rick is an amazing guitar player, singer, and songwriter and plays frequently for events and our local concert series, Porch In Pine. I love to paint (something besides barns and houses and farm stand signs pleeeease!) and do pottery and cook. Our lavender focused cooking, preserving and baking school grew out of our love of great food. We are serious about farm to table ideologies and take classes wherever we go.
Why are you a Farm Bureau member? Great company; great insurance. Our agent, Duane Ridl, was super helpful getting us the right insurance for our operation.
How will the next generation of agriculturalists have to operate? We will be able to use the new robotic weeding and plant management machines in the not too distant future, I think. That would be a great innovation.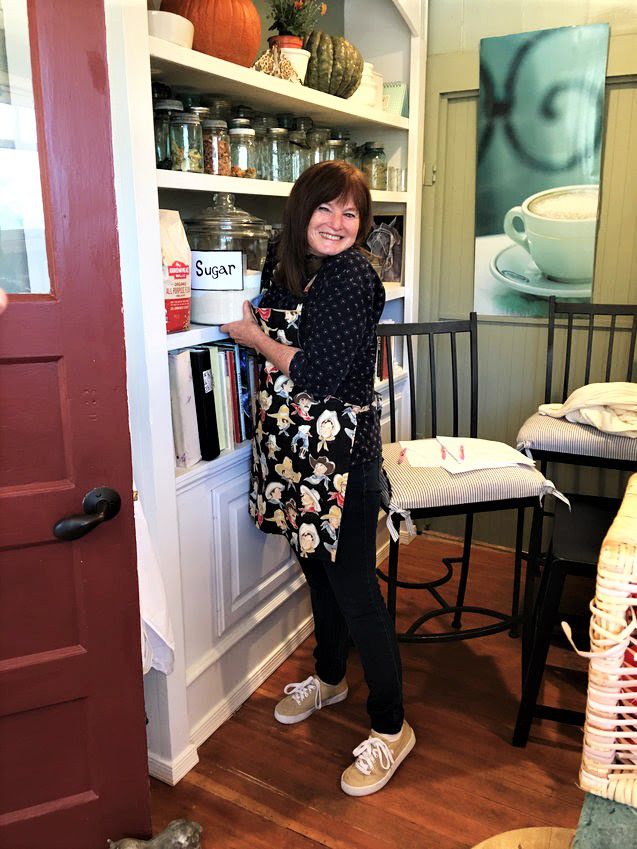 Terry teaching her cooking classes. Check their website for times to sign up for classes.
What is the best business advice that you've received and/or have given? Well, I will tell you the worst---our plant salesman told us the spring AFTER we planted that a good pre-emergent on our 45-year fallow soils---might have been a good idea! The best advice we have told to our sons---live the county life. It's still the best thing in this world. (we have 3 boys; Luke, a Navy Seal and team leader of the Navy Parachute Leapfrogs Team who bought a piece of land not too far from our farm; AJ, a solar expert and tech company executive who bought a 2.4 acre farm next to us and Andy, who designed our website, webstore and all our marketing information, who with girlfriend, Olivia, try to come every year for our June Lavender harvest. So---we hope they will all migrate home to the farm more permanently someday.
What business-oriented advice would you give young farmers/beginning farmers? The business of farming is a business as well as a lifestyle. The business side of small farming is just so much better with the increasing customer thirst for farm to table, locally grown, organic, humane raised and other important principles that have generated more respect and appreciation for the toil of farmers and also has given rise to increased pricing in the marketplace. It's a great time to be a small farmer!
Join Our Family