Meet Arizona Agriculture's Marguerite Tan
By Julie Murphree, Arizona Farm Bureau: Marguerite Tan grew up in the Midwest surrounded by agriculture and was always in awe of the corn and bean fields covering the landscape. Originally from an urban area of Indonesia, her father immigrated to the United States while her mother was from Chicago. And though she was not born into agriculture, she aggressively sought to become involved in it. And because this young aggie made it to Arizona, we're glad she's with us.
A profile of Marguerite Tan, environmental affairs manager for PFFJ Farm Operations, a unit of Hormel Foods.
Arizona Farm Bureau's ongoing series of Arizona's farmers and ranchers and agriculture professionals.
Give us your background? When I was eight, I started horseback riding. That was my door into agriculture--the stable owner farmed and welcomed my desire to be involved in agriculture. I became part of their family, worked on their farm, rode, trained, and showed horses. I cleaned pens, walked beans, de-tasseled corn, repaired equipment, drove tractors, worked cattle, and spent hours in line at the grain elevator. I did anything I could to be involved in agriculture. I went to the local college so I could continue farming while going to school. During college I became active in Farm Bureau, exposing me to farm and ranch policy development and government affairs. My involvement with Farm Bureau changed the direction of my studies and what I wanted to do after college.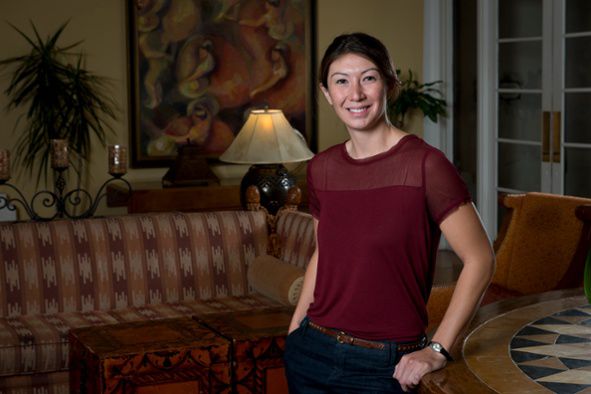 Marguerite Tan has been involved with Farm Bureau at an early age, currently serving in a leadership role in her county Farm Bureau and previously chair of Arizona Farm Bureau's Young Farmer & Rancher Committee. She plans to stay active.
Several years after college I moved to the Western United States. This expanded my opportunities and experiences in agriculture and regulatory and legislative development. I leaned that producers – farmers and ranchers -- often do not understand the challenges facing their counterparts in other parts of the country. I also became aware of the many agricultural issues that are region-specific, but regulated at a Federal level through one-size-fits-all rules.
I have been actively involved in Farm Bureau since I was 18, participating at the county and state levels in multiple states. I love teaching others about agriculture, working in the industry that provides the food, fiber, and by-products that impact all of our lives, and still take every opportunity to do work on farms and ranches!
Though not a farmer, what professional role do you serve in the agriculture industry? I manage the environmental affairs at the PFFJ Farm Operations, a live animal production unit of Hormel Foods. PFFJ owns and operates swine farms, row crop farms, and feed mills in multiple Western states. My job entails regulatory compliance, environmental sustainability, nutrient utilization, regulatory impact analysis, and rule development oversight – everything that relates to improved care for our animals, the environment and society.
I am also responsible for legislative and community outreach coordination at each of the farm locations--educating our legislators, community leaders, and community members about the farm operations, pig production, and the challenges that face our industry.
I monitor and take an active role in the development of new rules and legislation that will impact our industry. I take advantage of stakeholder processes: writing comments, obtaining party status as necessary, contacting legislators and making legislative visits, and garnering support from other industry groups (swine, ag, and non-ag). I develop management strategies for proposed legislation, regulation, and citizens propositions that would negatively impact the farm operations. I also work with and educate other stakeholders, such as the local communities, about rule and legislative proposals that might impact them.
I am very involved in my State and County Farm Bureau and multiple industry organizations. I serve on several committees that assist local, regional, and state agencies develop rules, regulations, and management practices for the ag sector that fulfill State and Federal requirements, such as non-attainment mandates and total maximum daily load limits. My goal is to ensure that new requirements not only protect the environment, but are reasonable and implementable for ag operators.
Farm Bureau assists my efforts in every state that my job with PFFJ takes me to: helping me network with others, representing my interests at stakeholder meetings, identifying proposals which might impact the farm operations, helping with regulatory and legislative challenges, and providing me access and connections to elected officials who represent districts which encompass my farm operations, despite my lacking a constituency connection.
In addition to my work at PFFJ, I serve as a consultant to farms and ranches across the United States. Working for multiple ag sectors in different regions has given me first-hand experience with the problems and conflicts created by one-size-fits-all regulations. To overcome these challenges, producers must work together to develop solutions which work for all stakeholders. To do this, producers need to learn about and understand each other's challenges. This has made me passionate about teaching producers about ag production and challenges faced by their counterparts in other regions.
Farm Bureau has been vitally important in this, proving producer contacts and serving as a platform to organize ag industry tours which visit other regions nationally and internationally. Farm Bureau also provides a nation-wide network of producer members who have experience and expertise with specific challenges, such as dust regulation, that other producers can utilize.
Why did you choose to go into agriculture? I was very involved in FFA and 4-H through high school; I loved learning more and teaching others about agriculture. In college, I started honing my skills as an ag industry advocate and learning about ag policy through my involvement in Farm Bureau. Farm Bureau educated me about current issues, taught me how to network and develop personal relationships with elected officials and regulators, and how to communicate in a way that would make an impact on the public's understanding of agriculture. With Farm Bureau, I educated others about agriculture, represented the ag industry during community events such as the County Fair, Sweet Corn Festival, and local rodeos, and made legislative visits to discuss challenges facing the ag industry.
After college, I further utilized the skills that I had developed through my involvement in Farm Bureau. I worked as a consulting engineer and with the University Extensions program, assisting farmers with regulatory compliance, permitting, and farm management. I served as an arbitrator between stakeholders and regulatory agencies to develop solutions which would be agreeable to all parties. I educated communities about how producers protect the environment, dispelled myths about ag production, and worked as a mediator between producers and community members who did not want ag operations "in their back yard."
How do you positively promote and impact the agriculture industry? I work closely with Farm Bureau and other industry organizations as an "agvocate" at events such as farmers markets, grocery stores, and sports competitions. I teach consumers about how their safe, healthy, and affordable food is produced, how producers protect the environment, and the other impacts that agriculture has on their lives outside of food, such as medicines and computer components.
I am actively involved in student education: volunteering with Farm Bureau's Ag in the Classroom activities, and working with FFA and 4-H students, as well as rodeo and fair queens, to develop their ag advocacy skills. Many students who represent agriculture have very limited or no ag background; they often believe common ag myths. Leveraging Farm Bureau's Ag in the Classroom curriculum and ag advocacy training, I teach them how to check facts and find credible information, about conflict industry marketing techniques, and develop their "agvocacy" skills. This education is invaluable to both the students and the ag industry.
I maintain personal relationships with elected officials and regulators, fostering an open line of communication and understanding. I teach them about our production practices, the benefits to consumers, employee safety, the environment, and our livestock. I make regular trips to have face-to-face conversations with elected officials, regulators, and the staffers who advise them about proposed rules and legislation. I also bring together natural resource-based industry groups in agriculture, forestry, wildlife, power, and mining to discuss challenges that all of us share. There is added strength, accountability, and available resources when multiple non-related industries band together on specific issues. We can work together to develop positive outcomes.
I love sharing my passion for agriculture and constantly find opportunities to "agvocate." I frequently travel via commercial planes, and will engage my fellow travelers in conversations about agriculture. Fellow travelers are a great captive and receptive audience. Similar to most of the public, most of PFFJ's 400+ employees do not have ag backgrounds. Our employees are the faces of our farms. I took the National Pork Producer's Project Main Street program into our barns and trained all of our employees to be "agvocates." It has been a very successful program that has empowered our employees. Our employees share accurate ag information within our communities as well with their family and friends.
What are your biggest concerns regarding agriculture and what would you do to contribute solutions? Overreach and overregulation by government. Regulatory burden is a complex issue. It can come in many forms, including new regulations, revisions of existing regulations, Congressional action, Court order, and Presidential orders. Addressing it requires a multi-faceted approach through education, legislative action, and industry cooperation. Farm Bureau provides a vital platform to keep producers abreast of new rules and legislation, representing producers at the table, teaching producers how to become involved, and garnering producer involvement. I utilize Farm Bureau's resources to assist me in managing regulatory burden.
The easiest way to "manage" regulatory burden is to prevent problematic regulations from being written. I do this through two means: 1) Being involved in the electoral process. The political climate has a very large impact on the quantity and type of regulations that are developed. I impact the political climate through fundraising for candidates who support agriculture and business, volunteering for campaigns, and contributing to political action funds. 2) Educating local representatives (county commissioners, mayors, town council, etc.), legislators, and regulators. I proactively invite these groups to tour the farm operations. During the tours, I teach them about raising pigs, how we protect our employees and the environment, our contribution to the local economy, how regulations have affected us, and how proposed regulations will impact us in the future. They can see on-farm examples of the impacts of poor regulation. I foster my relationships with them after their site visit by staying in contact throughout the year and encouraging future face-to-face interactions, including additional farm visits, and attendance to Farm Bureau's Legislative Lunch and Legislative Ag Fest, which are also fantastic opportunities to develop relationships with legislators outside of my district.
Another way to prevent regulatory burden is to take part in the rule development process. Regulations are here to stay. They will always need to be updated, revised, and added to keep up with the times. I am active on environmental regulatory committees in multiple states. These committees report to the State's environmental agency and are responsible for developing reasonable and implementable regulations that address an assigned problem, such as poor air quality. I receive input from ag industry groups and producers on what they can reasonably do on their operations to contribute to solving the problem. Farm Bureau's Policy Development process opens a dialog with other producers, helps develop solutions to problems, and creates a united voice that can be used in the rule development process. Many times, we can avoid new or more stringent regulations by creating voluntary producer programs which address the problem, such as the Region VIII EPA's Ag Stakeholder Committee, that I am active on, which provides the EPA feedback on their proposed rules.
I spend hours each week mulling over the Federal Register, which lists Federal notices, proposed rules, final rules, and issuances of the President, to identify rules which may impact my operations. I subscribe to similar state publishing services, commission notice and meeting list serves, and employ lobbyists and industry trade organizations at both the state and Federal levels to keep me abreast of rules that are of interest to me. Having a large network of contacts in Farm Bureau, regulatory agencies, trade organizations, non-ag industries, and with legislators has proven very beneficial to me as well--they will frequently identify rules that I have missed. When I have identified a rule that concerns me, I perform an analysis to determine what its impacts will be on my operation and on other operations and industries. I involve individuals, other operations, agricultural and non-agricultural industries, and trade organizations who might be impacted. Together we develop a strategy to manage the rule proposal.
Regulatory burden greatly impacts the communities that we live in, too. Towns and school districts manage many operations that are frequently impacted by regulations, including construction, fresh water systems, sewers, and waste water treatment facilities. Communities typically lack personnel to track and take action against rules that will negatively affect them. I have developed good relationships within the communities in which I operate. I flag rule proposals that might impact the community and bring the community into the stakeholder process. I help them prepare comments, add their support to comments that I have already drafted, and include them in my management strategy. There is strength in numbers. Communities can bring quantity to the table.
Most importantly, overcoming regulatory burden requires that stakeholders be actively engaged in the process. Regulatory burden can be minimized through management. A small time commitment can yield a big impact, but stakeholders do not always know how to become involved. Farm Bureau has developed a great set of user-friendly tools to help encourage involvement. In addition to using Farm Bureau's tools, I walk individual stakeholders through the process, teaching them how to submit public comments, letting them know when meetings are being held, and guiding them in contacting their legislators about the negative impacts a proposed rule will have on their operations.
As a young agriculture professional, what are your aspirations for the future? In the next five years, I plan to expand the employee ag outreach programs, like Project Main Street, into other Hormel locations, including the corporate offices. We are a company founded on agriculture; our employees should be knowledgeable about agriculture and the ag commodities that go into our products. I am strategizing to expand my ag policy and regulatory development efforts into more states and strengthen my Federal development efforts. All Hormel products start with a farmer or rancher. We must continue to support production agriculture and work to create a regulatory climate that fosters agribusiness success, not just for our corporate ag operations, but for all producers we purchase commodities from. I will continue to work with the corporate marketing department and sales teams to develop effective marketing campaigns that do not negatively impact the ag industry, and provide accurate information about agriculture to the buyers of our products.
I want to further my relationship with the EPA through selection onto the Farm, Ranch, and Rural Communities Federal Advisory Committee and the USDA's Ag Air Quality Taskforce. Working together, we can develop solutions that are agreeable to all parties, and take a proactive approach to challenges that will face us in the future. My professional society, the American Society of Agricultural and Biological Engineers (ASABE), develops many of the engineering standards used by the EPA and NRCS within their rules, regulations, and guidance. Through my continued participation in ASABE on standards committees, I can continue to develop reasonable, science-based standards for agricultural equipment, facility designs, air and water monitoring, etc. With my leadership role in ASABE, I will continue to identify areas that research is needed (such as water reduction technologies within production agriculture), help secure funding for the identified research areas, and network researchers with ag producers to ensure that the research is useful.
I plan to continue my active involvement in the various ag organizations, focusing especially on activities that bridge the gap between agriculturalists in different regions. But more importantly, I will continue and expand my involvement with non-ag organizations to advocate for agriculture, network with others who do not have the same background/political views, and further my personal and professional development. Over the next five years, I will continue my participation on my local Resource Conservation and Development District as a board member. Involvement provides me the opportunity to make decisions related to local natural resources utilization, build relationships within the community, address misconceptions and educate others about agriculture, and fund new conservation practices that will help manage climate change impacts into the future.
Civic leadership is also vital to the success of our businesses and communities. I intend to use my leadership skills to bring private, government, and non-profit groups to the table to solve pressing societal needs and issues. We must encourage and facilitate community involvement and develop solutions that work for all stakeholders. Of significant importance to me over the next five years is the future of power generation. Rules, regulations, policy, and laws frame society. I will continue to work for a frame that does not hinder the future of agriculture. I believe that the agricultural industry can provide the solid foundation necessary to build stronger communities, support economic development, and address societal needs.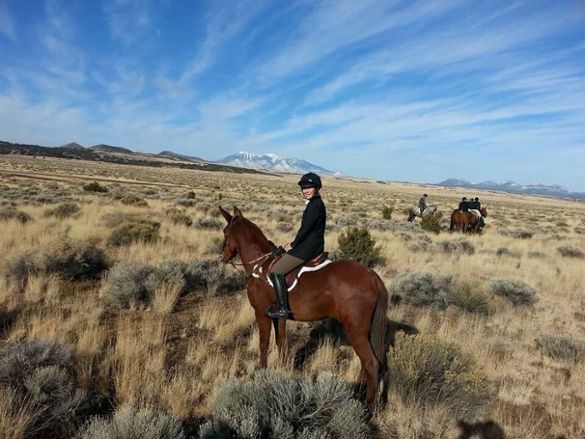 In Tan's spare time, one of her most enjoyable hobbies is fox hunting which includes training the horses, mules and donkeys she uses for the sport.
What is one fact/experience/achievement no one knows about you? I fox hunt (mounted red coats galloping behind a pack of hounds, jumping over hedge rows, pasture fences, and ditches) -- in Arizona though, the quarry are coyotes, not foxes.
What do you think you do really well? I love mules and donkeys (it's a personality thing). I enjoy training and riding long ears, and even prefer them as a fox hunting mount to horses!
Why are you a Farm Bureau member? Farm Bureau unites our voices as producers, keeps me up to speed on important ongoing and emerging issues which impact agriculture, and represents my stakeholder interests at legislative and regulatory meetings.
To be specific about how it relates to what I do for PFFJ, Farm Bureau assists my efforts in every state that my job with PFFJ takes me to: helping me network with others, representing my interests at stakeholder meetings, identifying proposals which might impact the farm operations, helping with regulatory and legislative challenges, and providing me access and connections to elected officials who represent districts which encompass my farm operations, despite my lacking a constituency connection.
Within Farm Bureau, I want to increase my county's participation with Ag in the Classroom and involvement in community-service organizations, including our local food banks. My county has many producers who are not active in Farm Bureau; I think it is an invaluable organization. My goal is to increase both membership and participation within the county through activities, education, and farm and ranch tours. Farm Bureau is a grassroots organization; policy development at a local level is the foundation on which Farm Bureau is built. Engaging more producers in policy development will give us a stronger, broader foundation. I have been on my County Board for the past seven years; I have been serving in different positions to learn the multiple aspects of my County Farm Bureau.
Editor's Note: To quote Arizona Farm Bureau's Government Relations Director, "Tan is one of our most global and cosmopolitan members I know." Tan is currently competing with other professionals at the national level in American Farm Bureau Federation's Excellence in Agriculture award.