Meet Arizona Agriculture's Morin Family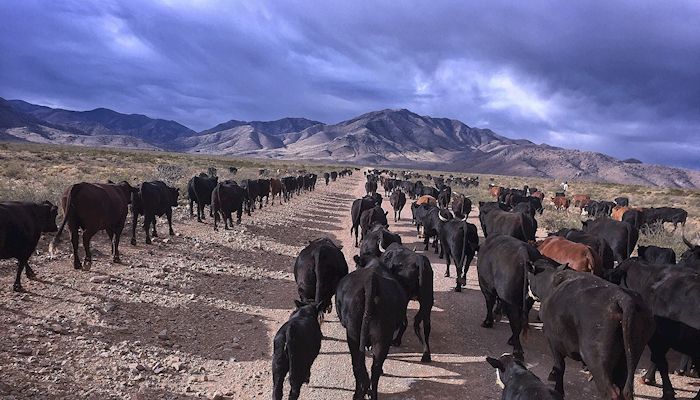 In the last 6 months, I have been asked three different times to share my ranching story. I wasn't sure if I would share it, or that I wanted to. Eventually, however, I did put all my thoughts on a keyboard. I have edited this piece, again, and again. The result is a ranching story about resilience, family, and what matters most to me. Enjoy, Amber Morin.
A story about ranch life by Amber Morin, ranch family partner with Morin Ranch, LLC – San Simon, Arizona.
Part of an ongoing series about Arizona farming and ranch families.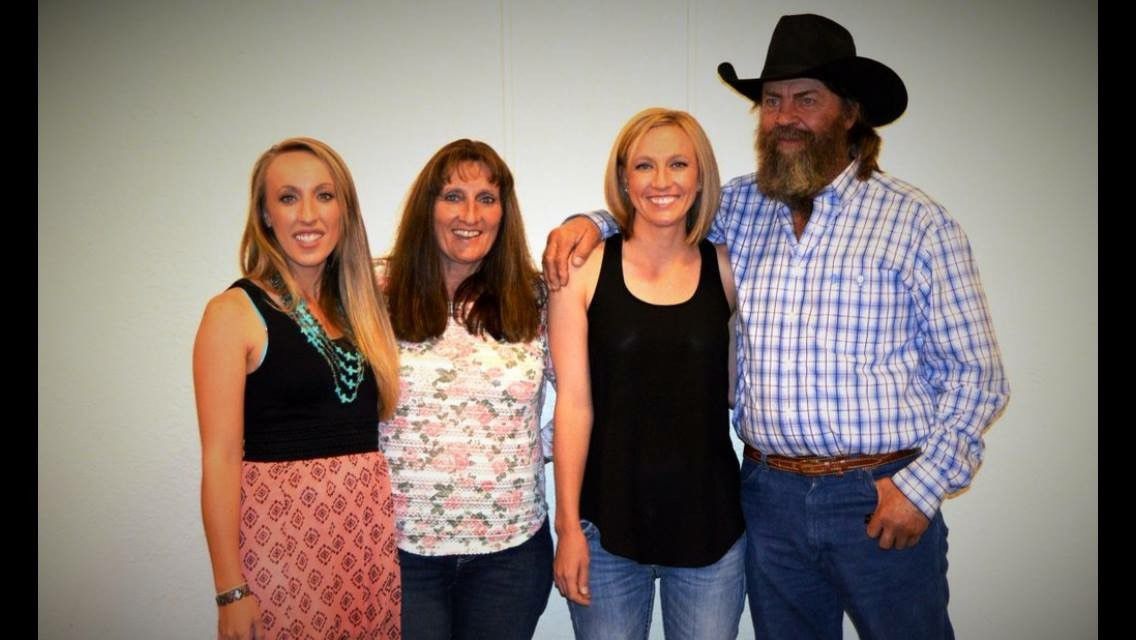 The Morin Family from Left to Right: Amber, Eva, Richelle, and Howard.
The public's idea of the cowboy and ranching is somewhat romanticized. The fact is, however, there are times, that ranching is not romantic at all. It is real life. It is hardship and heartbreak, financial crisis and praying for rain, it is giving it your all, going for broke, and persevering through it all. This is the story of the cowboy and ranching as I know it, and it reminds me of the story of us all.
It began in the Spring of 1991. I was barely one and a half and my sister would have been four, the day my parents began moving all their possessions in the back of stock trailers to the ranch they had just purchased in partnership with the family. The creek was full that Spring. The rains had been good. My mom drove the last car she ever owned through the creek, as water was running through the floorboards, while I sat in my car seat. I was probably crying. I know for a fact my mom was in tears that day too. She didn't know what her and my dad had signed up for, only that it was going to be hard.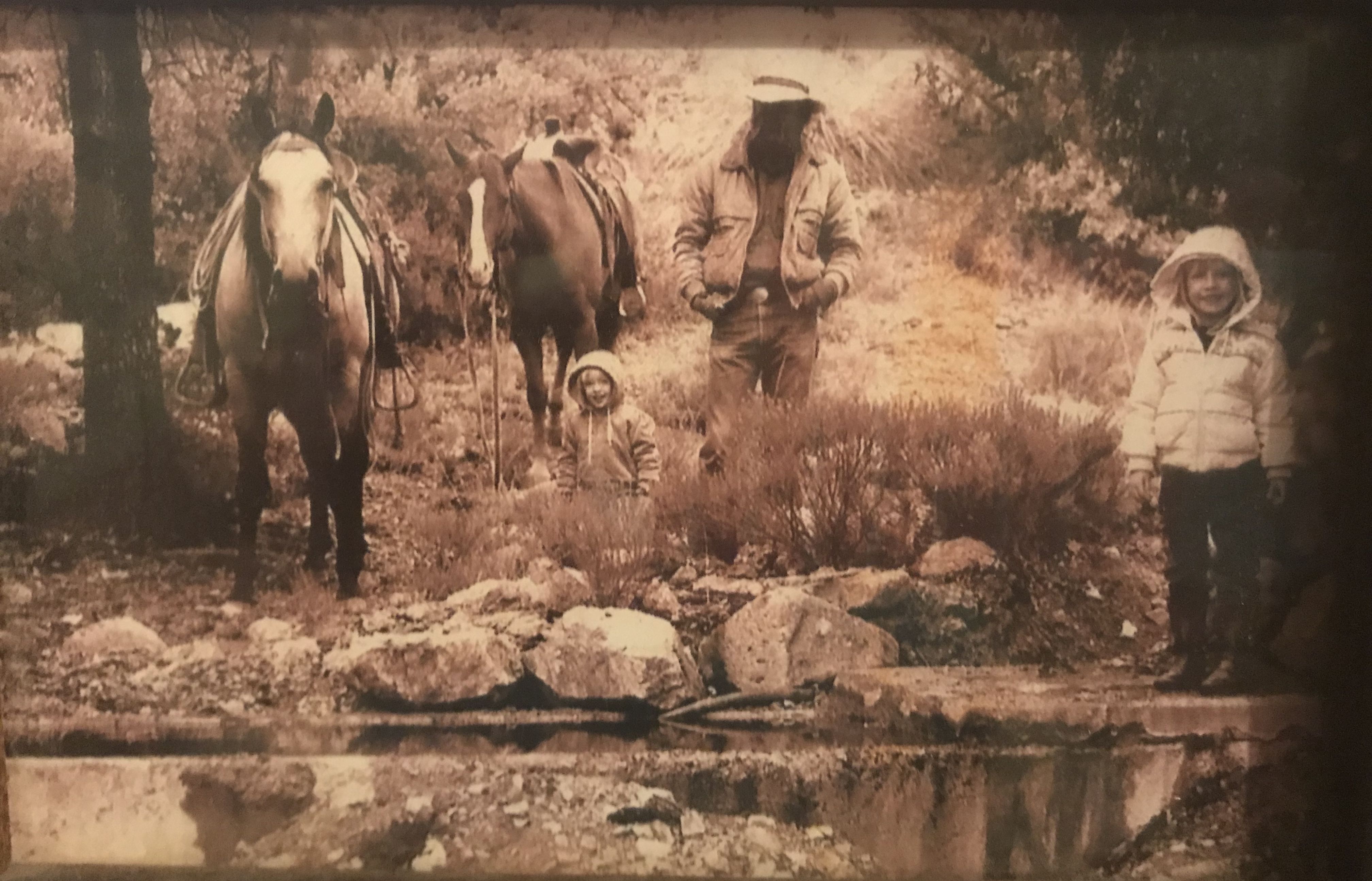 The early years ...
Richelle and Amber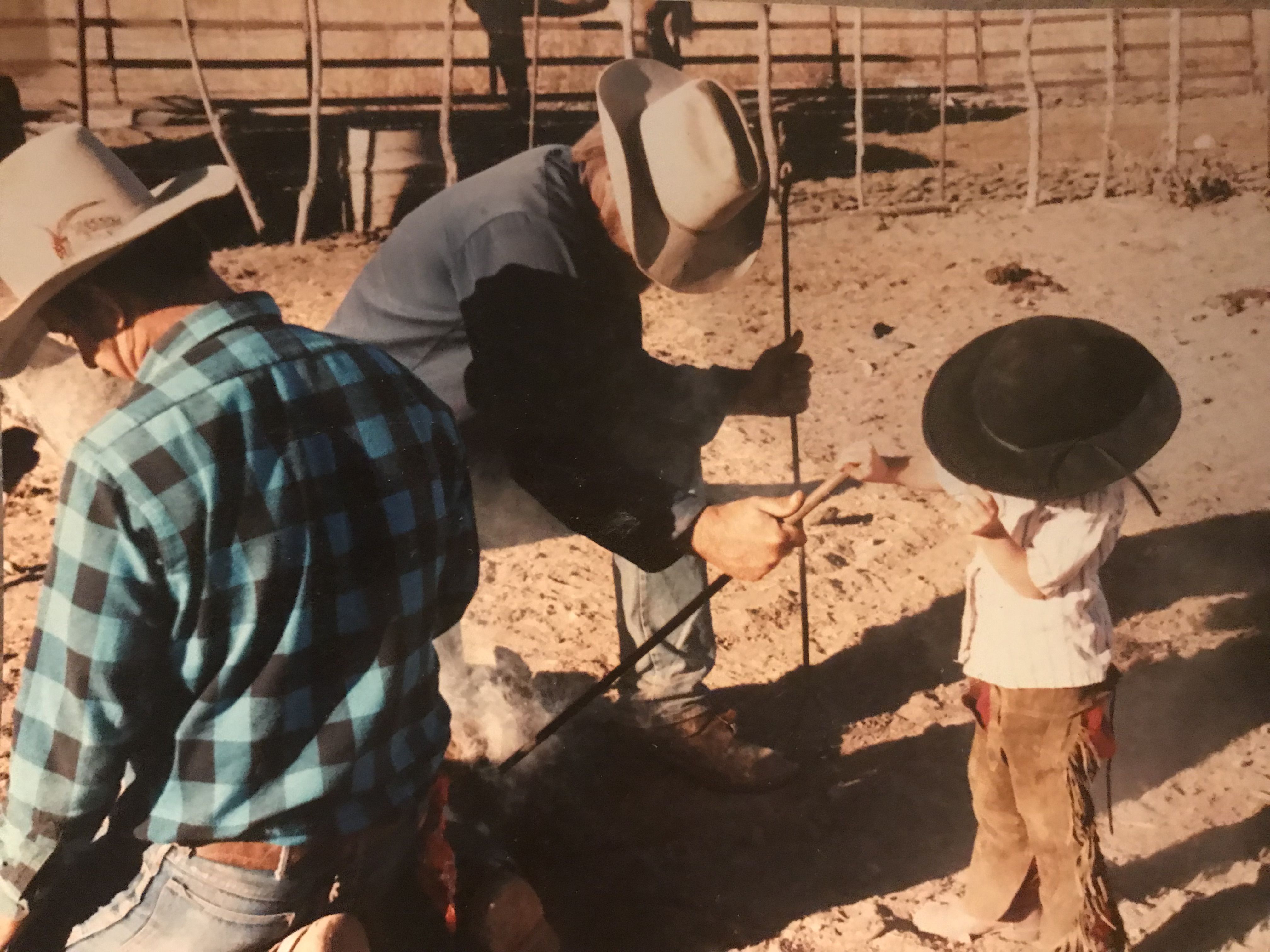 Richelle helping her daddy brand.
It didn't take long for everyone who signed on to the business partnership to feel the stress. Being the youngest person involved, I mostly remember sensing the stress, but not understanding it. Looking back, now, as an adult, it was worry – worry about cash flow, health insurance, establishing who made the decisions, trust, and how to take care of little kids when taking the risk of a lifetime. Annual ranch loan payments of sixty thousand dollars coupled with wild toothless cattle, run-down infrastructure, bad wells, and children in tow would have been a lot for any family. There's no doubt, it was a lot for mine. In time, a restructuring of the business took place.
After that, my parents began to focus forward. They got better cattle on the ranch and improved the state lease water lines and forest allotment trails. Mom continued to work off the ranch so we could have health insurance and a little extra cash. My sister and I fell in line with their moving forward. We always helped. It did not matter if it was building fence, checking water lines, pulling wells, attempting to break horses, branding and moving cattle, we were for the most part, besides the help of the Klump Family, my dad's only ranch help. Lucky for him, we didn't charge, but I am sure we drove him crazy. Actually, I know we did.
Eventually, another business reorganization took place. Our partners retained their portion of the ranch and my parents theirs. I know this put them at ease, but with a long-lived drought, their stressors didn't go away. The joke around our house was that we were running a non-profit and barely paying rent, which was pretty accurate. Thankfully, my dad's good business sense to pay on time, all the time, and sometimes in advance earned him a good reputation with the bankers. Even though the numbers barely left us in the black, the bank always got paid. This did mean, however, that there were times growing up that a candy bar was a luxury and vacations were rare. My parents didn't have new trucks or equipment. To make the ranch a success as first-generation ranchers, sacrifices were made.
In 2015, twenty-four years after my parents choose to make the biggest decision of their lives and their children's, they made the final payment on the ranch. It felt like it was just as much my success, as it was theirs. After all our hard work, the financial stressors, relationship strains, and the droughts we overcame the odds. I know I became my own hero that day, but it wasn't just because we were now officially ranch owners. It was because we never quit. We didn't quit on ourselves, and most importantly, we didn't quit on each other, not even on the hard days or on the days we didn't like each other.
Howard and Eva on the ranch.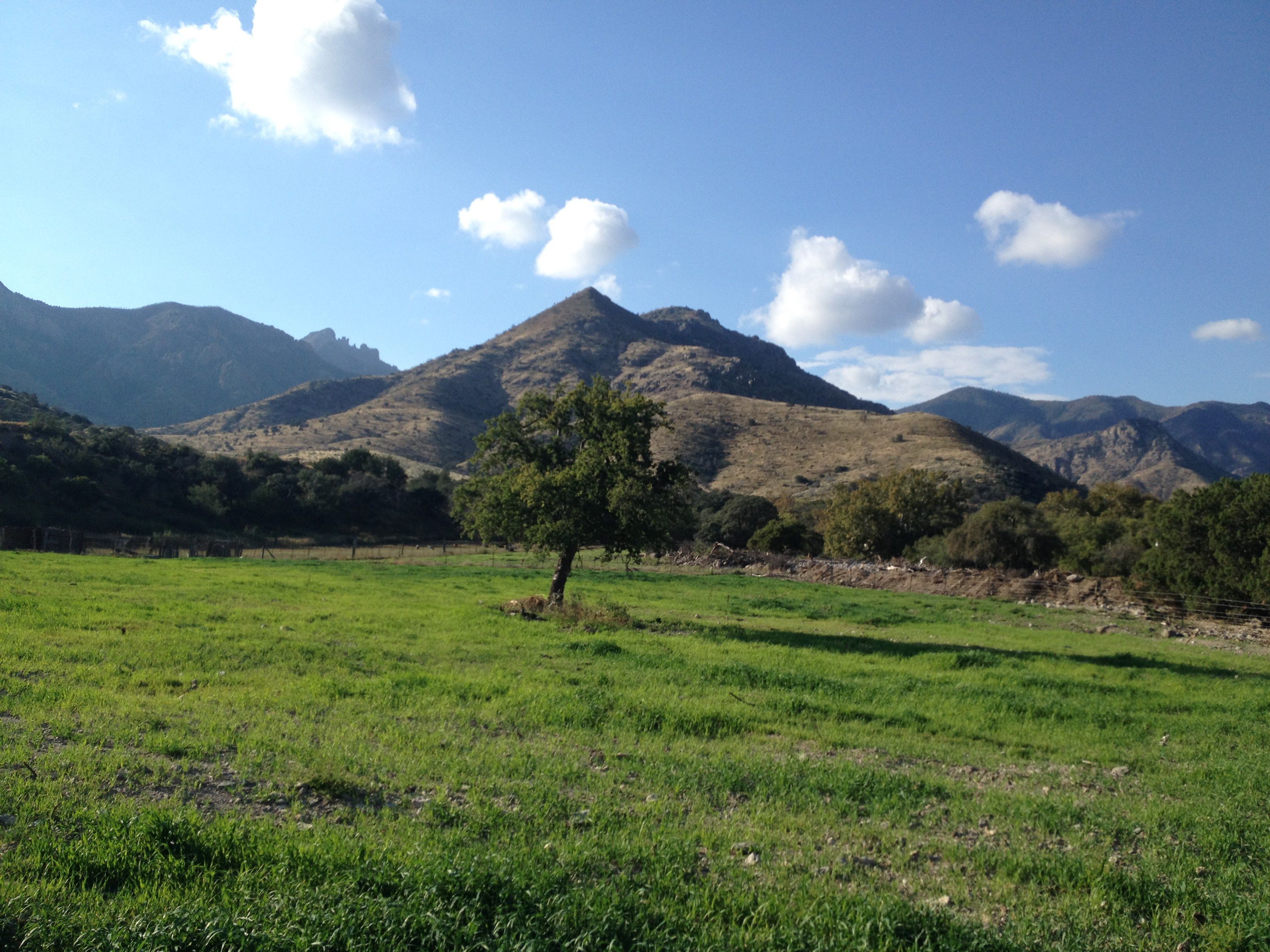 The Ranch, Morin Ranch, LLC.: Their Dream Came true.
This idea is more clearly articulated in the words of Jim Rohn, "Set a goal for what it makes of you to achieve it. Do it for the skills you have to learn and the person you have to become."
Purchasing the ranch was difficult and humbling. It changed my parents and helped shape my sister and me. As we invested in our goal, we became more determined, hardworking, reliable, and in the long run more grateful for each other. Each day, we gave our best. And, for all of this, I am immensely proud. This is success to me. I am grateful that my family chose to pursue their dream, difficult as it was. I have learned a lot, not just about ranching, but about commitment, perseverance, and the importance and blessing of having a strong team, also known as family!
1. Why is your entire family members of Arizona Farm Bureau?
While ranchers and farmers are busy taking care of their business operations, Farm Bureau is handling the marketing, education, and lobbying on their behalf. We are members because our membership matters to the long-term success of our industry. We consider it a smart business investment. It is the same reason we are members of other agriculture organizations.
2. If you had an entire audience of American Ranch kids, what would you tell them?
I would tell them to dream big and know their "why." It's their why that will drive them when things get hard. That their dreams won't work unless they do. Success will not happen overnight, to be prepared for that, and celebrate the small wins. That if they're not seeing results, change the strategy, but never change their dream. Network, network, network, network. Get involved in local ag organizations. People really do want to help you. To surround themselves with people who lift them up, encourage them, and believe in their dreams as much as they do, if not more. To make time for people who matter to them, a lot of laughter, and a little fun every single day. In short, be happy and work hard while pursuing your dreams.
3. Tell us one thing nobody knows about you, besides being a rancher?
Campbells Soup heirs created an amazing scholarship program called the Dorrance Scholarship Program that put me through college. This opportunity gave me the experience of international travel and was integral in my professional and personal development. So, while I often encourage people to eat beef, I also encourage them to eat Campbells Soup too!
Join Our Family