Meet Arizona Agriculture's Pacheco Family
By Julie Murphree and Lauren Scott, Arizona Farm Bureau: The Pacheco family probably has one of the oldest family histories in Arizona. They arrived from Spain in the 1750s. In 1818, Ignacio Pacheco applied for and was granted registration of the Diamond Bell brand - possibly one of the first brands registered in Sonora, Mexico and Southern Arizona.
Their first forefather, Joseph Pacheco, arrived from Spain (1750's) with brother, Juan Salvio Pacheco, who went to California with Juan Bautista de Anza.
Joseph Pacheco's son, Ignacio Antonio Pacheco, was born in the Presidio of Tubac in 1775. In 1826, Ignacio Antonio Pacheco was elected Mayor of Tucson (2nd).
Service to the community continued when Nabor Pacheco served as a police officer for the Town of Tucson in 1885, and later as constable for the Tucson Justice Precinct. In 1904, Nabor was also elected the first native-born Tucsonan to serve as Sheriff of Pima County. After leaving the Sheriff Department, he was appointed Chief of Police in Tucson. His engraved Colt .45 pistol is on display at the Arizona Historical Society in Tucson.
Jesus Maria Pacheco, born October 10, 1868, owned a construction company and is responsible for much of the street and heavy construction work that was done in Tucson at the turn of the century.
Grandfather, Arthur B. Pacheco, Jr., served in the army as a surveyor in Korea just before the Korean War. He later graduated from the University of Arizona with a degree in Animal Husbandry. His dream of becoming a rancher was not realized when his grandfather, Don Higinio Aguirre of the Aguirre Cattle Company sold 6 sections of land in Red Rock and Marana.
Partly as a result of shifting away from ranching, farming became the focus with the managing of 90 acres of land in Marana. The managed farms increased with the addition of Evco and Apex Farms. In 1980, Art Pacheco created a business partnership with two of his sons, Lyall and Patrick. The business grew and has since farmed as much as 3000 acres.
Fast forward a few generations to Daniel Pacheco – fourth generation, graduate of U of A and a former Pima County Farm Bureau President. The two brothers, Lyall (Daniel's uncle) and Patrick, farm 1,600 acres.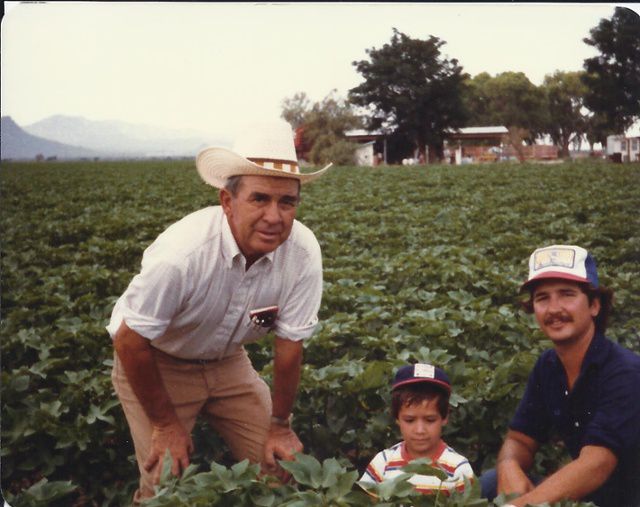 Three generations of Pachecos. In this photo, daniel (the little boy) is with his grandpa (left) and dad, Pat.
The Pacheco family also has an extremely long history of volunteer service to the industry and certainly Farm Bureau. Grandfather Art and sons Lyall and Pat have all received Pima County's Farm Bureau Service to Agriculture recognition and recent generations have been board members on the county and state levels. Additionally, generational involvement in other organizations like Arizona Cotton Growers is reflected in their history
And, the Pacheco's have a long history of conducting agricultural research in partnership with the University of Arizona and its Cooperative Extension.
Finally, the Pachecos are even generational in their involvement with Project CENTRL. Pat Pacheco was a Class 2 member and Daniel Pacheco is Class 18.
And in the midst of all this, the Pacheco family was recognized with Arizona Farm Bureau's 2015 Heritage Award, presented to them earlier this month during the organization's annual Convention and Trade show.
Arizona Farm Bureau President Kevin Rogers (far right) presents the Pacheco family with the 2015 Arizona Farm Bureau Heritage Award.
An interview with, Dan Pacheco – Marana, Arizona
Part of an ongoing series about Arizona Farming and Ranching families.
Tell us about your farm, ranch, or agribusiness operation(s): We are based in Marana, which is just north of Tucson, and we are currently farming about 1,600 acres. This year we had 775 acres of cotton and about 750 acres of wheat; that's pretty much the base of it.
What changes have you seen within your operation? Have they been for the better? Well, margins are always getting tighter. Commodity prices are at a real low right now. What we are seeing here in Marana, specifically, is a lot of urban encroachment.
What is your educational background (i.e. Degree(s), certifications, honors)? I graduated from U of A with a degree in environmental science. Largely because I enjoy being outdoors and I enjoy taking pride in the environment, but I decided my junior year that I didn't want to be stuck in a lab or deal with environmental law so I just stuck with farming. I was too far in to get out so I finished my degree program and decided I wanted to be a farmer.
Will anyone in your family – younger generation – pursue farming, ranching, or agribusiness? No, none of my kids are real interested in it, partly because we would have to move as a family just to find land that will be in agriculture production for a while. A lot of the land here in Marana is already owned by developers. Our irrigation district is starting to be taken over by the town, so we don't know how long we will be here in Marana. It could be 10 years, it could be 20, we don't know.
What are your family's community activities? It's kind of a family affair with us in terms of our activities. [The list reflects generational service]:
ART PACHECO
SERVICE TO AG
FB BOARD MEMBER,
AZ COTTON GROWER BOARD MEMBER
PIMA COUNTY FARM SERVICE AGENCY BOARD MEMBER
PIMA COUNTY EXTENSION BOARD MEMBER
RESEARCH AND PROTECTION BOARD MEMBER
CORTARO WATER USERS ASSOCIATION BOARD MEMBER
LYALL PACHECO
SERVICE TO AG
PCFB TREASURER AND BOARD MEMBER
PIMA COUNTY FARM SERVICE AGENCY CHAIR
ARIZ COTTON GROWERS BOARD MEMBER
PIMA COUNTY EXTENSION BOARD MEMBER
NATIONAL COTTON Incorporated BOARD MEMBER
PAT PACHECO
SERVICE TO AG
PCFB BOARD MEMBER
ARIZONA COTTON GROWERS BOARD MEMBER
COTTON RESEARCH PROTECTION COUNCIL BOARD MEMBER
CORTARO WATER USERS ASSOCIATION BOARD MEMBER
PIMA COUNTY EXTENSION BOARD MEMBER
NRCS BOARD MEMBER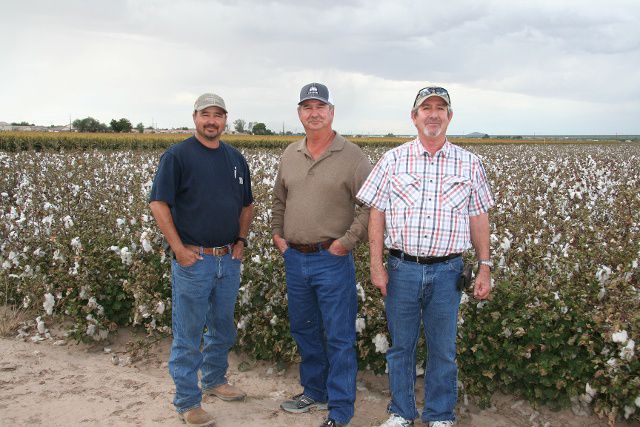 Daniel Pacheco with his dad, Pat, and Uncle, Lyall, on their farm where they grow cotton and wheat.
What do you love the most about farming, ranching, or the agriculture industry in general? I love that we produce things that are necessary for humanity. I love that it's a very honest and hard-working lifestyle. It's not like you're pedaling things off on people. I enjoy being outdoors and I love watching things grow, and reaping the bounty. I just enjoy the beauty of farming and growing plants and producing something that's needed.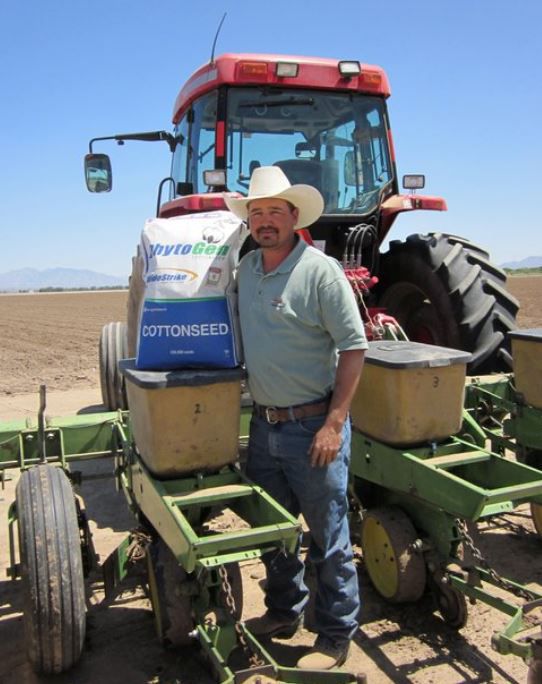 Daniel Pacheco appreciates the fact that farming is a very honest and hard-working lifestyle.
What do you enjoy doing, and what is one fact/achievement that nobody knows about you? I dabble in guitar, musically I like Eric Church, and I love to read, specifically historical fiction.
Why are you a Farm Bureau member? I'm a Farm Bureau member because I think that they are doing great things. I've worked on farms since I was eight years old, and since that time I've seen housing and retail taking the place of our farms. It just seems like farmland is disappearing very quickly. The average age of the farmer is really high, and I don't see a lot of young people looking to take those positions. All the while our world population is growing at an exponential rate. With the loss of farmers and farmland, I just don't see how we are going to sustain ourselves in the long run. I think Farm Bureau does a lot to educate the public on misconceptions that hurt farming, and other regulatory and trade issues that affect our ability to stay in business. I was involved in a leadership program called Project CENTRL and after meeting a lot of our elected officials and town managers, it just seemed like even those that we look up to for leadership don't see the value in farming, and I think that's very bad. I don't see how we can sustain ourselves by taking away agriculture. Farm Bureau is one of the few organizations truly helping us sustain farming and ranching in one form or another.
How will the next generation of agriculturalists have to operate? I think there is a lot of public misconceptions that need to be corrected, just because I think a lot of environmental and regulatory laws are harming our ability to produce food and fiber in this country. We are starting to rely on other countries more for our food and I know from personal experience that they are not held to the same food safety and quality standards that we are regardless of whether you farm conventionally or organically. This kind of goes back to the last question, but if we as a nation can't provide ourselves with food I think that really hurts our national security. We see what happens when the oil prices go up, and how it hurts our economy, and I just fear the day we can't produce our own food.
What is the best business advice that you've received and/or have given? Or, what business-oriented advice would you give young farmers/beginning farmers? One very simple thing: there are a lot of different ways to produce food and fiber, and the best thing for a young agriculturalist to do is to talk to other members of agriculture so that we are not making the same mistakes, and so that we learn from each other and be the best we can.
Do you have anything else you'd like to add? One thing I can say is being a farmer is sometimes more of a lifestyle choice. I'm sure there are plenty other easier ways to make money, but it is honest, hard work and I think that in my case, it's a family tradition that I'm proud to be a part of.