Meet Arizona Agriculture's Richard Rogers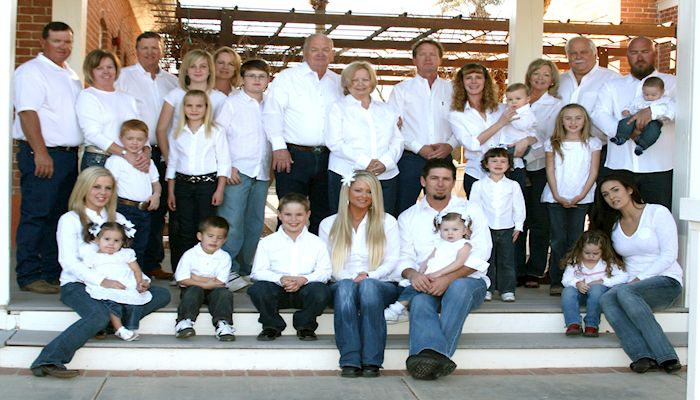 Richard Rogers, a 3 rd generation farmer, comes from a long history of agriculturalists. His family continued the tradition by starting the 4 th and 5 th generation of agriculturalists. I sat down with Richard to really understand the part Farm Bureau played throughout his life. As his granddaughter, this interview helped me appreciate my grandfather, the family business and the organization I work for even more.
Richard discusses the ups and downs of farming and the importance of family support needed to make this career work. He reminisces on the path of starting the Arizona Young Farmers and Ranchers program and some of the biggest changes to him in agriculture over the last 80 years.
And while Arizona Farm Bureau has profiled our family before, this article focuses on grandpa.
An agriculture profile of Richard Rogers, of Maricopa County .
An ongoing series of our farm and ranch businesses.
How did you get started in farming?
When I was about 10-12 years old, I would go with my older brother and drive a tractor for him. I would go on the weekends when I wasn't in school and walk along and pull a ditch sprayer for him so he could spray the ditch. He even let me drive the tractor. I would have to push down with both feet on the pedals to get it started. Shortly after that, my dad went back into farming in 1951. My brother, Shagg, had been farming since he got out of the navy in the mid 1940s. Shagg was about 20 years older than me. There is me, my brother Frank, my brother Leroy, then my sister Dorothy, then Shagg, and finally the oldest, my sister Viola. As I got older, I would go with my dad out to the farm. He would drive the cultivator. I would go chop weeds for him on the weekends when I was not in school. Finally, I got older and big enough to drive the cultivator. Then my dad would just come check on us to make sure we were ok. That is the way I got started.
From then on, I got married at 19, had a family, and Kevin, my son; your dad, would drive the tractor for me when he was 12 or 13. He would drive the tractor while digging the sugar beets. He would take the tops off the beets and it just went on from there. Everyone got older and kept helping along. We grew alfalfa, cotton, wheat and safflower.
What do you think some of the biggest changes are that you have seen in agriculture over the years?
The first piece of equipment I had was the international cotton picker, 1 row at a time. Later they came up with a 2 row and then a 4 row. And now today they have a 6 row where we used to put the cotton in the modules. Now they put it together like a big donut. They put the donut on a loader and take it into the gin. At one time, we had about 100 trailers. The gin would get slowed up and we would have to wait. Today, there is no waiting. The cotton goes to the gin and they are ready to go. These new pickers are expensive. While they can be more efficient, they are so expensive you must really consider if you can buy one or if you are going to hire someone to get it done. It is done both ways.
The insecticide and herbicide are some of the biggest changes, too. Also, the varieties of cotton. We have some now that you can spray right over the top to get the weeds out, round up does that. Of course, you must buy the special seed. It takes a lot of the hoeing weeds out of it. It makes it much more feasible to do it. Everything got bigger, tractors got bigger, faster, and more efficient.
How important is it to have family support if you are in the business of agriculture?
If you are going to farm, it takes a lot of time. You just do not have an 8-hour job. It takes all day and a lot of times both days on the weekend. You must be dedicated to make it work. The farm must come first most of the time to be successful. All four of my kids, Kandi, Kevin, Kenneth and Kris, have worked on the farm in my family. When the kids were small, my wife, Alice, would bring the kids along and they would either ride on the trailer or whatever I was doing, digging or irrigating. The family was all a part of it. They were right there with me.
How did your family stay involved over the years?
All my brothers worked together. Shagg liked cattle. He worked on the idea that he had to buy and sell cattle every day. Working the market every day, he thought he could control it a little bit. My brother, Leroy, worked as a veterinarian doctoring cattle and getting them ready to go. He would send them out to feedlots after four to five months of getting fattened up and healthier. While they were doing that, I was growing cotton and whatever else we had to do.
How did you get started in Farm Bureau?
That's a good question. I've been a member since I was 25 in 1962. We had Farm Bureau insurance. Floyd Hawkins was the state president at the time. Cecil Miller was vice president. Cecil came to me one day and said he wanted to start a group for the young farmers and ranchers. He gave me a list of probably 15 to 20 of the young farmers and ranchers around who were already members of Farm Bureau. He put a meeting together and we all got acquainted. Jim Clark was a farmer in Parker at the time. They made me the president and him the vice president.
Then we had to go to see if we could have a group recognized nationally. The first meeting was in Georgia. Then we had to attend another meeting in Fargo, North Dakota the next winter. Finally, when the national young farmers and ranchers had their meeting in Chicago, we went and got Arizona recognized as having a group for the first time ever. Those three meetings started the young farmers and rancher program. Cecil Miller was the big push behind it. It wasn't too many years before he became president for about 20 years. We have been in this program ever since. We took advantage of their member benefits and it just grew on from there. We bought more insurance and kept going to meetings. We would have monthly meetings with the west valley group. As time went on, they merged into the counties.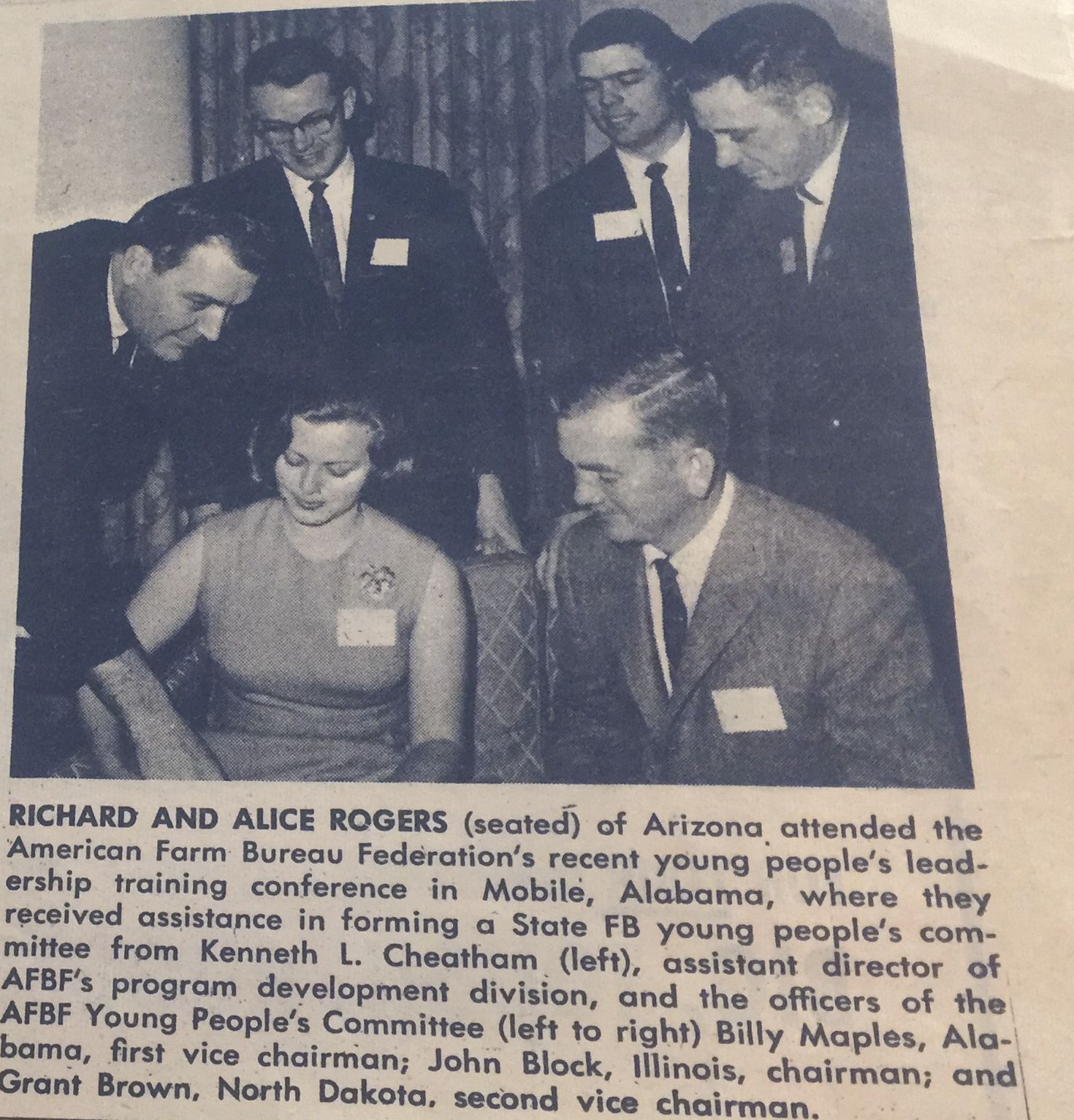 Arizona Farm Bureau's first Young Farmer & Rancher Chair Richard Rogers met with national leaders in 1967 to kick start the program.
They still have a young farmer and rancher program today, strong as ever. All because of you.
Because of Floyd and Cecil. They wanted to get some young people involved. That's what got us started.
I know your kids have stayed involved in Farm Bureau, too. Correct?
Yes. Our son, Kevin, started out, then went through all the different leadership positions, and became the state president. Our son, Kenneth, was very active and was a county president at one point. Kris carries a membership but has never taken part in the officer roles. He has been busy trying to farm. My daughter, Kandi, carries a membership and has FB insurance.
Why do think other people should be involved in Farm Bureau?
It all comes back to their programs. Insurance programs, investments, and everything else they have to offer. When you get together with all the other people across the state who are also in agricultural business, you have good discussions back and forth about what is working and what's better. I would say a lot of people stay members just because they have insurance with them. But they are a great organization. They have a lot of representatives in Washington D.C. to help fight for us.
What advice would give to young farmers and ranchers?
They must have support. They must be connected somewhere. With the price of all the equipment and everything you need; you must have some help getting started.
You must want to do it if you are going to try to farm. It comes down to what you really want to do because, like I said, it's not an eight-hour job. It's a good life. It's a hard life.
It's like I told all of my children when they started, "You're not doing it for me. If you're not liking farming, don't just keep doing it for me. Do it because that's where you want to be." That's when Kenneth decided he was done farming. Kandi stayed doing the books. Kevin is running the Scottsdale farm. Kris runs the Loan Butte farm towards Sacaton.
What are some of your hobbies?
I do a little fishing, a little hunting, and I still like driving equipment, even though I'm retried. I spent two days working on the older tractors this month and got them both running. The John Deere and the international tractors, the green and red ones. I was raised on the red ones and spent the majority of my life working on the green ones using them in the fields. Little bit of blue tractors. We had blue ones for a while about 10 years ago. When my son-in-law, Dennis, changed his job from John Deere to Bingham, we bought a few tractors from him. I still got a little one that has a loader and backhoe on the back. I tell everyone that one is still mine.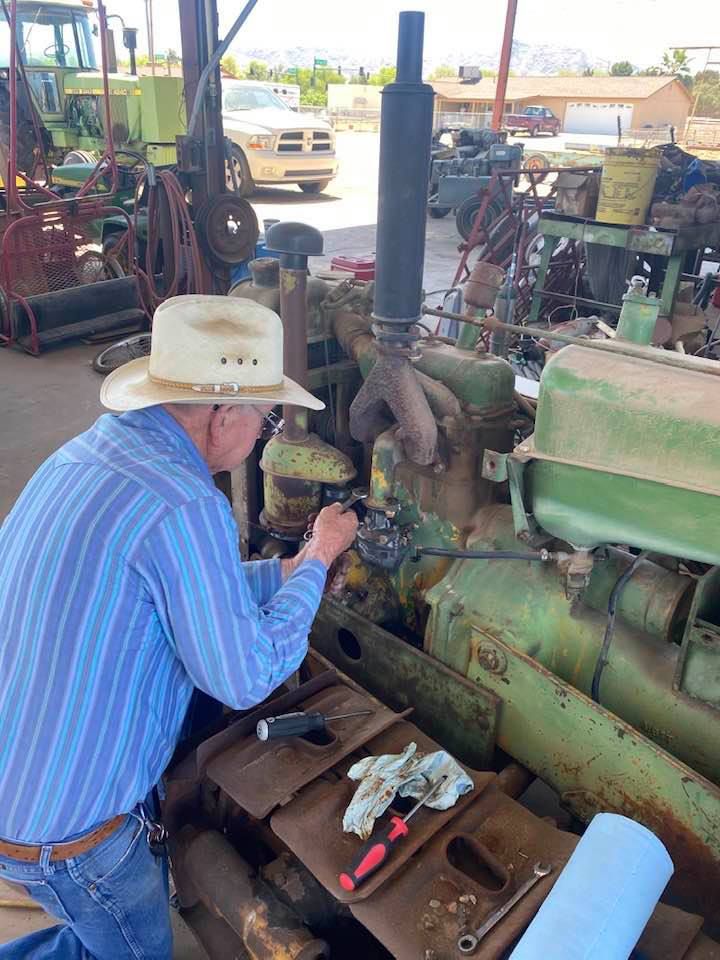 Richard Rogers working on his tractors. This year he successfully got two of the old tractors to run again.
What is something not many people know about you?
Maybe you can answer that yourself. I still get up early and go around and go drive a tractor. If I want to go to the farm, I do that. Just to look and see what's going on. We got good men that take care of all of it. Kevin takes care of Scottsdale while Kris takes care of Lone Butte. They built houses on practically everything we had in this area. So, between the houses and the big storage areas where they have the warehouses, I just enjoy driving around and seeing the land. See where we used to farm and what used to be. I enjoy being with all the grandkids and great grand-kids and watching them work and grow up and out. I think back to some of the struggles Alice and I had when we started. Life goes on.
What are you up to these days?
Whatever I want. I'm 82.
Join Our Family