Meet Arizona Agriculture's Sherrie Hanna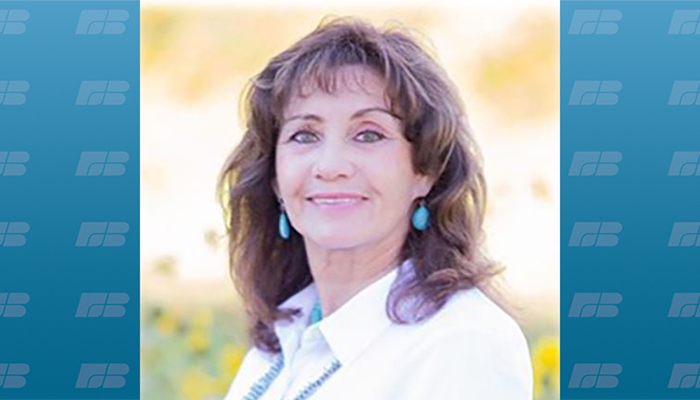 Native Arizonan, Sherrie Hanna, moved from Winslow to Prescott at a young age. From then on, she became a loyal community supporter and advocate for her town.
Hanna sits on numerous boards and supports many community organizations, including Yavapai County Farm Bureau. She appreciates the western lifestyle through and through. Becoming a board member and Women's Leadership Chair of the Yavapai County Farm Bureau only furthered her love for her community and gave her another avenue to grow her network.
An agri-business profile of Sherrie Hanna, of Yavapai County.
An ongoing series of our farm and ranch businesses.
Tell us about your agricultural background.
Prescott's western culture became very prevalent to me growing up in Yavapai County. I am not originally from a ranch family, but most of my friends were. Some weekends I would go stay at their ranches; it would be a weekend because they lived further away from town. I went to school with a young man named Dennis Young, who's family used to own Young Farms. They hosted many events out there.
One of their biggest attractions included a turkey farm. It was fun to go to Young Farms because everyone knew one another in the community. Attending events at Young Farms and visiting my friends' ranches made me appreciate the lifestyle.
How did you get your start in Farm Bureau?
My involvement in Farm Bureau began when I met Sharla and Gary Mortimer, the people who happened to purchase Young Farms. I thought, that is just wonderful. The community did not want to lose Young Farms to developers.
My husband passed away in 2013. I worked an extra 2 years and retired in 2015. I longed to get involved in organizations I could not when working. Farm Bureau was one of those. Sharla asked me to be involved in Women's Leadership. I did not know what all this entailed when I happened to attend a meeting and she asked me to be the Women's Leadership Chair. I went ahead and said yes. I feel if I am going to do something, I am going to jump in with both feet.
This great opportunity got me involved at the local and state level. I learned the ins and outs of the Farm Bureau works and made many new friends.
What agricultural issues are most important to you right now?
We see going through COVID-19 how important our food supply is. People see the importance of agriculture now more than ever, whether big or small. The smaller scale farmers popping up provide a crucial service in their local communities. They feed their family and help feed other families. I did not realize all the Farm Bureau did for all sizes of operations. They give better agriculture insurance and can also help people just starting with their farm or ranch.
There is a big push to start metering wells that currently hold agriculture exemptions in Yavapai County. People think agriculturalists might get water for free. But they must pay for the well, pay to keep maintenance, and pay if it breaks down. Agriculturalists pay taxes like everyone else. Some think agriculture receives special treatment because they use more water than a standard home. But a farm or ranch is providing a service. They are not just a regular house on a well. I am not for metering the wells. Metering will eventually take over and we must fight to protect our food sources. If farmers and ranchers paid regular prices, they might go under. Water is our most precious resource. We need to make sure our farmers and ranchers get the extra help to continue to provide their great service.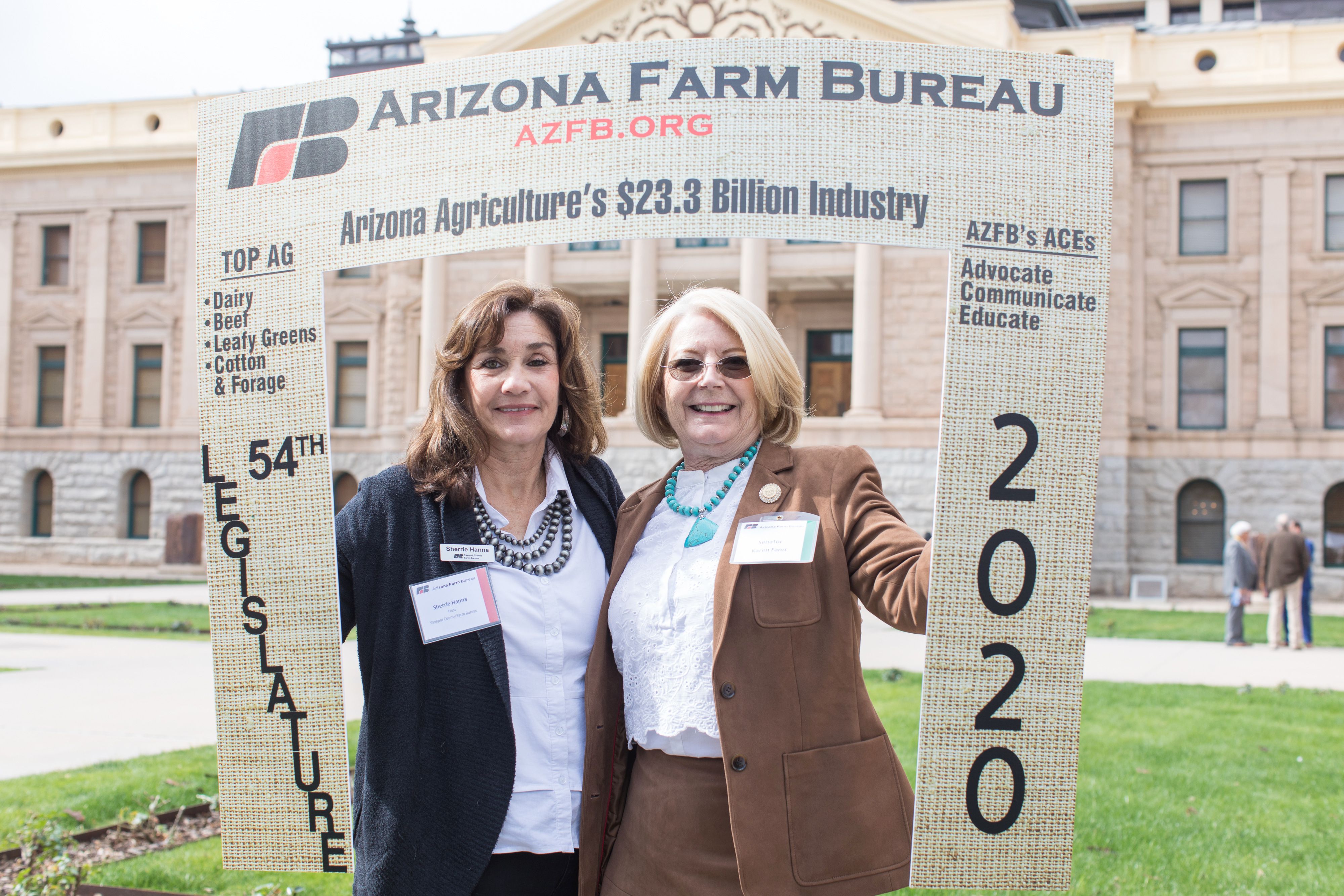 Sherrie Hanna (left) joined Arizona Farm Bureau and Arizona Legislators for the Annual Ag Fest.
What is your educational and work background?
I attended one year at Yavapai College, then went to work at Cudahy foods. They had a big meat processing facility. I worked for the canned meat department and for the vice president of sales. I would randomly buy food they processed at the store and ensure the items were high quality. I did a lot of meat marketing and got to work some in the processing plants as well.
Then I worked for Greyhound Corporations. We did all the tours for the Phoenix area and Las Vegas chamber of commerce. We took people in to visit all around the state and put together tour packages.
When I married my husband, Johnny, we moved to Texas for him to play baseball. I worked for Texas Tech University as the assistant to the director of Texas Tech Programs. I worked with all the sororities and fraternities to book all their events at the university center; I worked with community groups and colleges wanting to wine and dine professors; I oversaw seven student employees; my job was a lot. It was a constant. I happened to be in my early 20's working at a university so sometimes it felt like I was like a regular student.
Our biggest fight: leaving Texas. Our family was here in Arizona, but the friendliest people are in Texas. We traveled all over Texas with Johnny playing ball and grew to love the state.
We came back to Prescott and I got a job as a legal assistant at a local attorney's office. Instead of going back to the law firm once my youngest was born, I became a substitute worker and then eventually a regular employee at the post office in town. I worked there for 32 years and then I retired. Johnny worked as a motor cop and a Prescott City Councilman.
What community activities are you involved with?
I am a Downwinder. Back in the 1950s and 60s when the government did nuclear testing, the fall out came to northern Arizona. Downwinders are at risk for 19 forms of cancer. Downwinders get free cancer screenings for the rest of their lives. My husband, a Downwinder himself, got diagnosed with cancer and did receive compensation. This enabled him to get great care during a challenging time.
I am a big Downwinder advocate. I work a lot with Congressman Gosar and I also worked with Senator McCain when he was alive. Gosar, from Flagstaff, is also a big advocate for Downwinders. I am working with him now on a bill since the current bill for Downwinders is going to expire. We need to reup the funding.
I host a large golf tournament each year, called Guns and Hoses, in honor of my husband. He was a police officer and friends with many firefighters. I split all the proceeds between the Prescott firefighter charities and the Prescott Police Explorer Program. I also give a scholarship in my husband's name that goes to a Prescott High School senior going to Yavapai College majoring in criminal justice or fire science.
I also just got appointed to the Yavapai County Industrial Development Authority Board. The mayor appointed me to the City of Prescott Council on sewage and water.
Other associations I am involved with include Arizona Cattle Growers, Board of the Western Heritage Foundation, Prescott Kiwanis, Cow Bells, Prescott Rodeo Association, Prescott Chamber of Commerce, Western Heritage Foundation Board, Prescott Parks and Recreation Board, the Acker Trust Board and the Republican Women of Prescott. I was also featured in the Women in Prescott Business Living Magazine.
What do you enjoy doing and what is one fact/achievement that nobody knows about you?
I am a doer. I get out there. I do not talk about it, I do it. I am a go getter and very competitive, which is why I played a lot of sports in school. My dad used to say, "If you're not going to give 110%, don't bother doing it." This advice stuck with me.
Why are you a Farm Bureau member?
I love the people in farming and ranching, the lifestyle in general. It is a wholesome group of hard workers and I just admire them. When I look at Sharla and Gary Mortimer, they work so hard and I know they love what they do. You see the hard work and passion at Mortimer Farms. They love bringing joy to the community. People come from all over the state. Mortimer Farms keeps a family atmosphere and family traditions alive in the community.
What is the best business advice that you have received and/or have given?
It all goes back to my upbringing. If you are going to do something, go learn as much as you can to be the best you can. Do not waste your time and effort if you are not going to do your best.
What business-oriented advice would you give young farmers/beginning farmers?
Get involved with Farm Bureau. You must put in your money and effort, but Farm Bureau is there to help you get going. The Mortimer's have taken advantage of Farm Bureau to help them gain a presence across the state. Being a part of Farm Bureau helps you get connected with other people in farming and ranching. From there, you can share issues and new ideas about what is going on in each commodity. Those conversations may spark an idea and help someone else.
Do you have any other final thoughts?
We have so many people moving to Arizona unfamiliar with agriculture and western heritage. It is our job to educate and give them exposure by inviting them to our rodeos, ranches, and operations. We must put people in office who support the lifestyle their constituents cherish.
Editor's Note: Sherrie Hanna is running for Yavapai County Board of Supervisors for District 1. To obtain more information on Sherrie Hanna, go to https://hannaforsupervisor.com/.