Meet Arizona Agriculture's Tina Thompson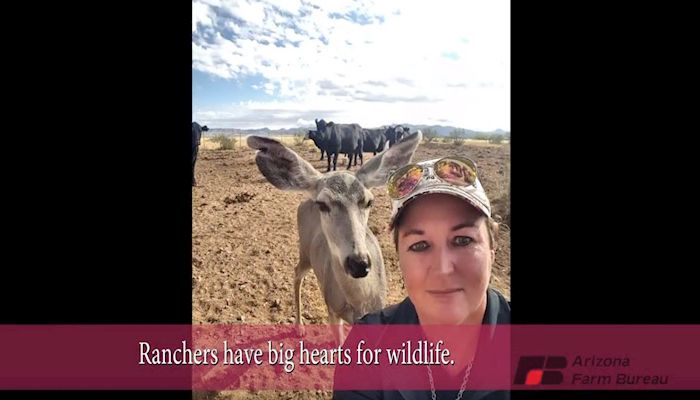 Every Arizona ranch story is unique and rich in history. Tina Thompson's story is no exception. A ranch family that settled in Arizona in 1879, this family's commitment to the environment, quality beef and family are the common denominators you'll discover when reading about other ranch family operations in the state.
Tina Thompson's story is also sprinkled with lots of commitment to industry groups … well, certainly another common denominator among our Arizona ranch families.
An Interview with Tina Thompson, a southern Arizona rancher.
An ongoing series of our Arizona farmers and ranchers
Tell us about your operation and a bit of the history: I grew up on the ranch that my husband and I now own and manage full time. We raised our son on the ranch and now have a wonderful little granddaughter! I am the 5th generation carrying on the ranching tradition and our granddaughter is the 7th. She is starting her own little herd already. Our son lives and works nearby and helps us as much as possible with the ranch and cattle work.
Our ranch is located at the foothills of the Chiricahua Mountains in the South East corner of Arizona. My Great, Great Grandparents, Brannick, and Mary Riggs and numerous children, homesteaded here in 1879. The story goes that after they had spent a couple of years in the Fort Bowie area they were headed to the California Gold Rush but when they came to this beautiful country the women declared that they wanted to stay right here! And so, they did! I am very thankful for that. They came with milk cows but then quickly started raising beef cattle and sold beef to Fort Bowie nearby. They were here during the time of Geronimo and the Apache raids and unrest but had befriended the Apaches and were always a safe house during times of Apache Warfare.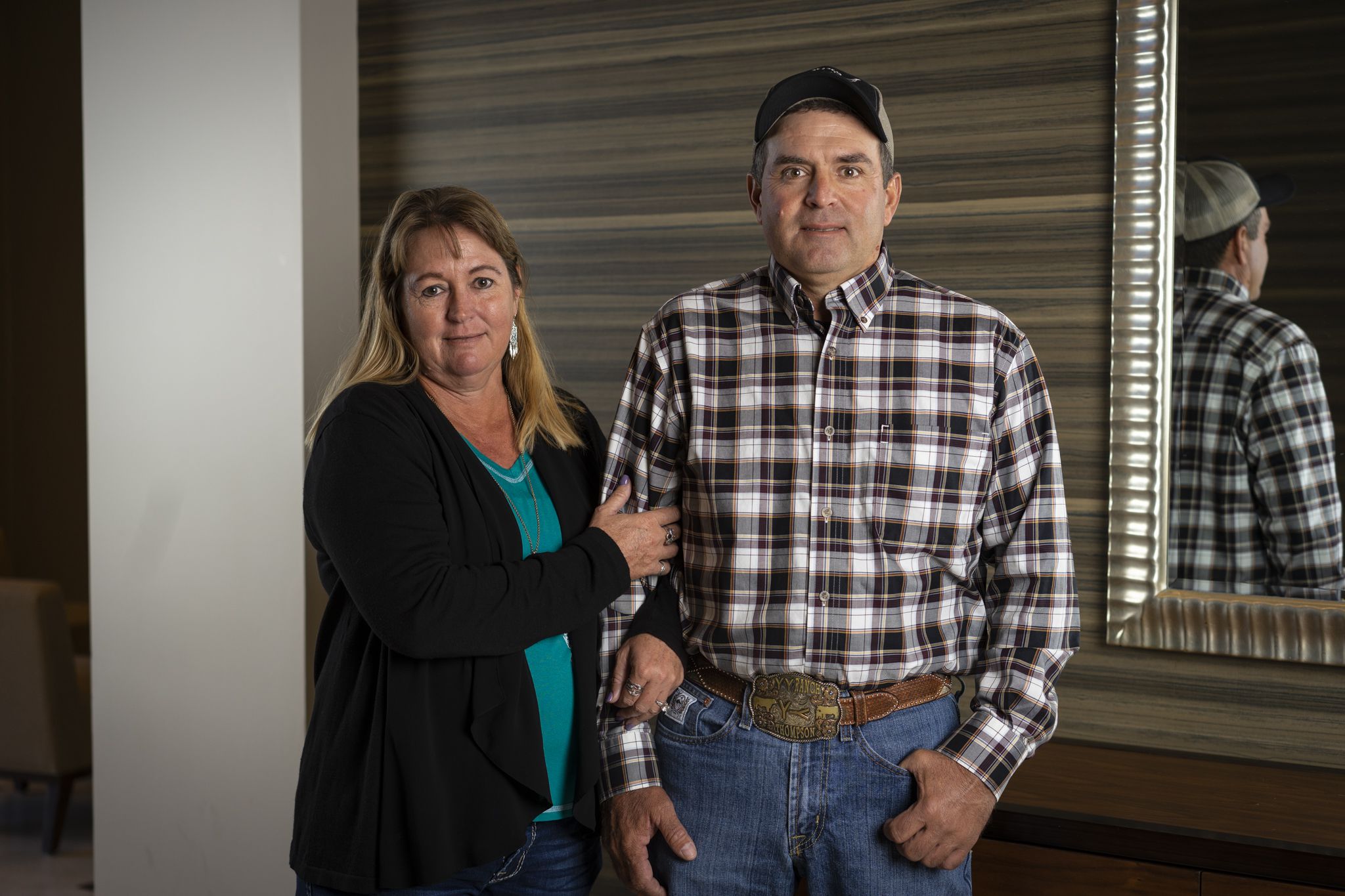 Tina Thompson and her husband, David.
When Geronimo surrendered for the 3rd and final time and traveling back to Fort Bowie the cavalry stopped here at the homestead and stayed overnight in the old school house. This was terribly frightening to my Great Grandfather who was a young boy at the time and he spent the night under his bed! The ranching tradition started here, and several members of the family were part of the Chiricahua Cattle Co. of Cochise County.
What breed of cattle do you raise? I grew up with Polled Herefords. My Great Grandfather, BK Riggs, was one of the first ranchers in our area to bring in Herefords and my family proudly raised quality Polled Herefords until the 1990s. When my husband, David, and I became involved with the family ranch we saw the need and benefits of changing to Black Angus. We are mostly Black Angus now with still some Polled Hereford influence. To help meet our demands for top quality Black Angus Bulls we started our own Registered Black Angus herd. Our son and Daughter-in-Law, Cory and Gabbe Thompson, also have a registered herd here and are very involved with the operations of the registered herds.
What kind of conservation work have you done on your operation? We spend a lot of time dealing with a lack of water. We have a pasture that my Great Grandfather, BK Riggs, named "Tickle Gizzard" because "There isn't enough water in this country to Tickle a Cow's Gizzard!" This is a constant struggle for us. My father, H. Robin Riggs, started putting in extensive pipelines and storage tanks in the 70's that we have continued to build on and improve.
We are in a beautiful area at the foothills of the Chiricahua Mountains but if we weren't here providing water from wells and pipelines, there would be no water available to wildlife for most of the year. We have installed and maintained 18 ½ miles of pipeline. Along with 37 drinkers, 10 wells that we use and 21 dirt tanks.
Monitoring, repairs, and maintenance of our water system consume most of our time. I am very thankful that my Grandfather and Father, Herbert and Robin Riggs, did a lot of Mesquite removal during their time of management. Because of their diligent brush removal work, we have good grassland pastures without much brush encroachment. We work to maintain healthy grasslands by having smaller pastures and rotate grazing to allow for each pasture to have time of rest during the growing season. We have drilled two new wells in the last three years. One only resulted in 2 gallons a minute but one we drilled in May 2018 pumps a good 6 gallons or more a minute. This well has been a lifesaver and has given some relief in times of water storage loss due to broken floats and such.
What in terms of conservation work is next for your operation? As mentioned earlier, we have 21 dirt tanks with most of them built over 70 years ago and have filled in over the years. During the drought, we have managed to clean out 4 of them. Dirt tank water is not only a benefit to our cattle operation but a lifesaver to a lot of the smaller mammals and reptiles that are unable to use our drinkers. We are working to get all our dirt tanks cleaned out so there can be a reliable year-round source of water for cattle and wildlife. We are also looking at replacing an old trick tank system on our forest allotment to improve water reliability there where it is not reliable now.
What sort or technologies have you implemented on your ranch and how have they changed over the years? We have gone away from windmills and are now using solar power on four of our wells. Along with our elaborate pipeline system, we have installed some new technology in one of our main water storage tanks to monitor the water level. This monitoring system works off cell service and logs data onto a website that we can check into and see what our water levels are. Every year we have had float valves break (often with the help of a Black Bear) and dump 12 to 20 thousand gallons of our precious water within 24 hours. Even though we check the tanks and drinkers every other day we can lose all our storage in 24 hours putting us in a major crisis of watering cattle. Until this summer when we drilled a new well we were only able to pump about 2 to 3 gallons a minute. We totally relied on water storage to keep up with 160 head of cattle in that area.
This new monitoring system alerts us right away when we are losing water, so we can find and fix the problem before we lose all our water storage.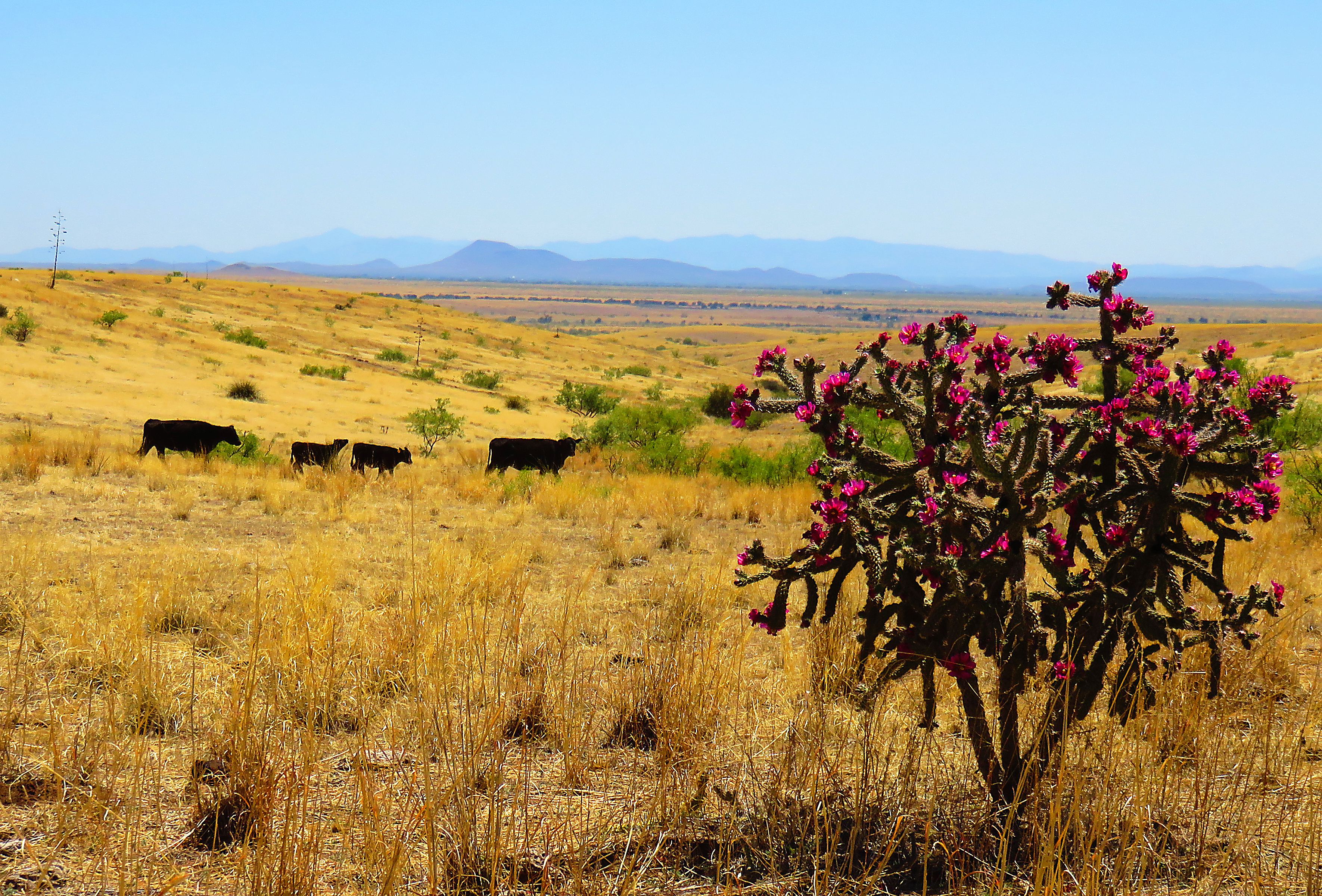 Out on their ranch. Photo taken by Tina Thompson.
Why are you a Farm Bureau Member? For many years I have relied on Farm Bureau's input in deciding who and what to vote for, especially their insights on propositions. In the last few years, I have seen the political pull Farm Bureau has in the state and in D.C. While I am a big supporter of NCBA too, I see that Farm Bureau is better recognized and more influential with our politicians on both sides of the aisle. I also appreciate their Ag in the Classroom programs and think that is very effective. And their support and involvement with FFA.
What involvement do you have in Natural Resource Conservation Districts (NRCD)? I was recruited by Richard Riggs who was a long time and well-known champion of our local NRCD. He was ready to retire and asked me to consider taking his place. It was a huge honor for me since I have a lot of respect and admiration for him and the work he has put into our NRCD for so many years.
Richard recruited me in 2010. I became an official board member in September 2010 and have been active ever since. [ Tina Thompson is District Supervisor for the Willcox- San Simon NRCD.]
What changes have you seen in the Willcox-San Simon NRCD since you joined? We have become a lot more involved with AACD and working with them in partnership programs. We have put a lot more emphasis on recruiting members and updating our membership list. In the last two years, I've been pleased to see that there is more interest from other agencies in involving local NRCD's in conservation programs. We have also become more active in providing local work groups.
Through our Resource Center for Environmental Education, we have greatly increased interest and participation in our Annual Riggs Field Day. By getting donations for Buckles and other prizes from the local businesses that are involved in agriculture, we have increased attendance and interest from our students and advisors to come prepared for a good competition. Next year we will have to up the difficulty in questions because students have been studying the material so well that it's become too easy for a lot of them!
Tell us something about yourself that not many know: Thanks to social media I don't know that there are many people that don't already know about me! Perhaps, if they don't follow me on Facebook and Instagram they wouldn't know that I am an amateur photographer with the goal of using my pictures and videos to promote ranching, the cattle indu, try and agriculture.
I did receive the AACD 2018 Outstanding Supervisor award last summer. This was for my NRCD position and work. I am now 2nd vice President for AACD.
Join Our Family