Meet Arizona Agriculture's Tommy and Sammie Caywood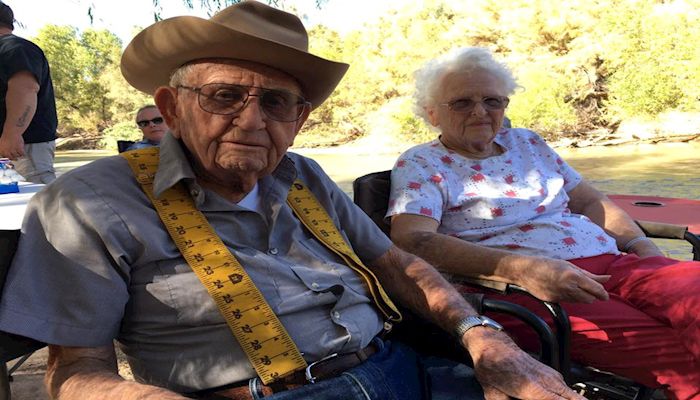 This fourth-generation farm family from Casa Grande is perhaps one of our strongest Arizona farm families advocating for the continuous education of the public about modern-day farming. Their grandfather purchased the land (247 acres) at 11-mile corner in Pinal County around 1930. Son, Tommy Caywood, grew up on the farm, graduated from Casa Grande Union High School in 1940 and then continued his education at the University of Arizona in Tucson (he was in the Aggie House). He never finished his agriculture degree because WWII broke out and he went into the Navy serving on the USS Cimmaron, a Naval Tanker stationed in the South Pacific. After returning to Casa Grande, Tommy purchased land near Stanfield and soon married Sammie Darr (in 1948) where they farmed until 1980. After selling the farm in Stanfield, they continued to farm the 11-mile corner place.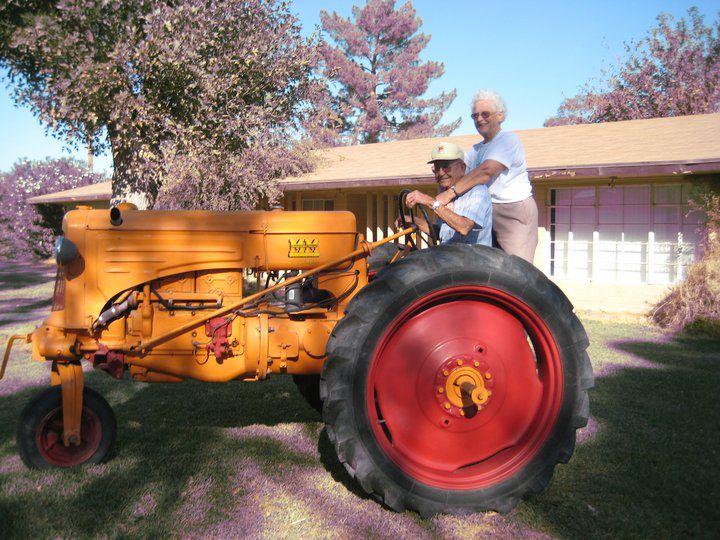 Tommy and Sammie Caywood on one of their vintage tractors.
The grandson, Travis Hartman, began farming alongside his grandparents around 1995. Travis also became a Firefighter, Paramedic and is Captain for his shift at the Eloy Fire Department. Travis' mom, Nancy Caywood, worked for the University of California Desert Research and Extension Center in El Centro, California where she started the FARM SMART Program in 2001, an agricultural literacy program. On February 13, 2014, that program reached 100,000 attendees. Nancy retired officially from the University of California in June 2013 but returned for the Winter Visitor Program in 2014. In 2011, The Caywood family decided to add Farm Tours on their family farm in Casa Grande.
They have been very successful and will hopefully continue to grow. There are no farm tours in the area and many winter visitors spend the winter here and are very curious about cotton. During their tours, visitors watch a PowerPoint presentation on "Cottons Long Journey: From Seed to Fiber," they check out farm equipment including a cotton picker and module builder (they start them and show how they run), and they go on a hayride around the Caywood farm with a stop at the cotton field where they crack open green bolls and harvest some cotton. They conclude the program with door prizes and hand-outs. To date, thousands of winter visitors have enjoyed the Arizona farm story thanks to the Caywood family having only begun seven years ago.
An interview with The Caywoods of Casa Grande
Our ongoing series profiling Arizona's farm and ranch families
Tell us about Your Farm: Tom and Sammie (Darr) Caywood farmed at 11-Mile Corner east of Casa Grande and in the Stanfield area.
DID YOU GROW UP ON A FARM OR IN A FAMILY CONNECTED TO FARMING? Yes . Tommy lived on the family farm since he was 14 years of age located at 11-Mile Corner . Sammie was born and raised in Casa Grande (no ties to ag until she met Tommy).
WHAT GOT YOU (TOMMY) INTERESTED IN AGRICULTURE?
Lewis Storey, Tommy Caywood's Father
J.R. Storey-Tommy Caywood's Uncle, Lewis Storey's Brother
WHAT PERSON HAD THE MOST POSITIVE IMPACT ON YOUR LIFE AS IT RELATES TO FARMING: The Storey Brothers, Lewis, and J.R. Storey, along with Tommy's cousin Jerry Storey.
When Tommy and Sammie started to branch out and farm on their own, Tommy's cousin, Jerry Story, (J.R. Storey's son) and his wife, Ida, did the same. They both were brought up together learning the farming trade and ended up buying farms within six miles of each other in the Stanfield area. Even though their businesses were separate, they farmed together by sharing equipment, knowledge, and equipment. They kept each other going.
WHERE IN ARIZONA HAVE YOU (TOMMY) OR YOUR FAMILY FARMED OR WORKED, AND FOR HOW LONG?
Mainly in Casa Grande, Arizona. Tommy's mother and father (Lewis and Margaret (Babe) Storey) farmed around 1600 acres in the 11-Mile Corner and Eloy areas along with Lewis' Brother J.R. Storey. They were known as Storey Brothers Farms. Storey Road is named after them. The original land was purchased in 1930 and they grew cotton, alfalfa, wheat, maize, and corn. Tommy worked on the family farm driving tractors, irrigating, loading airplanes with "dust" (DDT with Sulphur, Ben-Hexachloride), cutting weeds and any other jobs necessary. After graduating from Casa Grande Union High School in 1940, Tom moved to the University of Arizona Aggie House pursuing a degree in Agronomy. Pearl Harbor was bombed on December 7, 1941, and WWII broke out. The following September (1942), Tommy joined the Navy and served 3 ½ years. Tommy was assigned to the U.S.S. Cimarron while at Sea. This farm boy had to grow his sea legs!
After his time served, Naval Officers encouraged him to stay and continue a military career as Chief Petty Officer but Tommy was determined to get back on the farm to pursue his dreams. After returning to Casa Grande, Tommy went to work on the family farm loading 115-pound grain sacks on and off of flatbed trucks. He rode the planter when planting cotton making sure none of the "poop shoots" (planter bins) plugged up. This was the days before precision planters. He also irrigated, hoed cotton, drove tractors and filled any job that needed to be done. His dad taught him everything he needed to know to be a successful farmer. His dad was tough! He would give Tommy the old tractors (that required hand cranking) so no favoritism was shown to the hired help who got the tractors with starters.
In 1947, Tommy leased 160 acres (the Blair Place located about 6 miles south of 11-Mile Corner) growing cotton, maize, and wheat. In 1948, Tommy married Sammie Darr and they leased the Blair Place along with the Blake Place (east of Casa Grande on Early Road). Caterpillars (wooly worms) devastated their barley crop but it made a miraculous recovery after irrigation.
With the help of his parents, Tommy and Sammie bought their own farm in 1950 located east of Stanfield (Anderson and Clayton Roads). They farmed cotton, wheat, barley, and alfalfa. This farm was 320 acres. They eventually leased 640 acres next to their farm before selling their land and retiring 1979. Tommy has been farming since he was 14 and is now 96 years old. Even though he is technically retired, he continues to coach grandson, Travis, and answers farming questions.
Tommy's parents, gifted the original 247-acre farm located at 11-mile Corner to them which is still in the family with Tom and Sammie as operating managers, Nancy and Patty Caywood, Owners and Travis Hartman (Nancy's son) leaser and farmer. The family farming tradition continues!
WHAT IS YOUR CONNECTION WITH FARM BUREAU? TELL US ABOUT YOUR LEADERSHIP IN FARM BUREAU IF YOU HAD ONE
Tommy and Sammie have been members of Pinal County Farm Bureau for many years. They also carry all their insurance through Farm Bureau. Storey Brothers were also members of Pinal County Farm Bureau for many years.
HAVE YOU READ OR HEARD STORIES ABOUT THE EARLY DAYS OF FARMING IN ARIZONA, OR THE EARLY WORK OF FARM BUREAU? IF SO PLEASE SHARE?
Yes. Tommy lived in a tent at the site where Coolidge Dam was being built because his family, including grandparents, worked on the Dam Construction project. He lived there for approximately three years. Tommy was five-years-old when the family moved to the site (1927-1930). Over the years, both Tommy and Sammie have watched Coolidge Dam/San Carlos Lake fill with water and they have witnessed many droughts.
Both Tommy and Sammie have witnessed many changing in farming practices.
· From old wooden cotton trailers to wire trailers, to module builders and finally cotton pickers that make round modules in the basket of the pickers.
· Hand picking cotton to mechanical picking. Tommy and his cousin, Jerry, laughed at the first cotton picker because it looked like a herd of cattle had gone through the field. They never believed mechanical cotton pickers would sell but they each bought one two years later.
· From thinning cotton by hand to precision planting, thus eliminating the need for hand-hoeing
· From seeing tall cotton to short cotton plants that produce just as much if not more cotton.
· Dirt ditches to concrete line ditches (some with ports) to prevent water seepage.
· Regulations on farming, though, have become more stringent.
· The use of pesticides and herbicides are being reduced because of GMO, otherwise known as biotech, seeds
· Equipment has become more sophisticated, more precision-focused.
· The use of computers and technology.
· From open cab equipment to air-conditioned cabs with Bluetooth.
· GPS on equipment.
· Drones.
· Can't work on equipment because the technology requires training, equipment and tools specialized for specific equipment.
· Licenses to use chemicals.
· Very difficult to stay on top of new or modified rules and regulations to meet compliances and avoid penalties.
WHY IS FARM BUREAU IMPORTANT TODAY?
Across the United States, farmers are dealing with more government rules and regulations and we depend on Farm Bureau to help us stay in business. From our local county Farm Bureau, we can express our concerns which will be brought to the State Farm Bureau. We appreciate the fact that our Annual Dues go toward the good of farming. From our own farm to Washington, D.C. we feel Farm Bureau is working for us. As farmers, we do not have time nor resources to stay on top of issues. We feel we wisely invest our dues so that Farm Bureau lobbyists and lawyers can help us stay in business. Farmers are busy keeping food and fiber growing in the fields and it is a job that requires 24 hours a day, 7 days a week. Having to advocate for our own farming concerns makes the job harder and that is why it is important to attend our local Farm Bureau meetings and letting our voices be heard on the county level.
WHAT ARE THE MOST IMPORTANT ECONOMIC, BUSINESS OR TECHNICAL ISSUES THAT HAVE AFFECTED YOU AND YOUR CAREER IN AGRICULTURE?
Banks have made crop financing very difficult and most don't offer it anymore. It used to be a given that we would go to the bank and receive a crop loan and pay it off at the end of a crop cycle. If we cannot finance our own cotton, we find it has become easier to get financing through cotton companies rather than banks. Plus, trying to comply with rules and regulations imposed on us.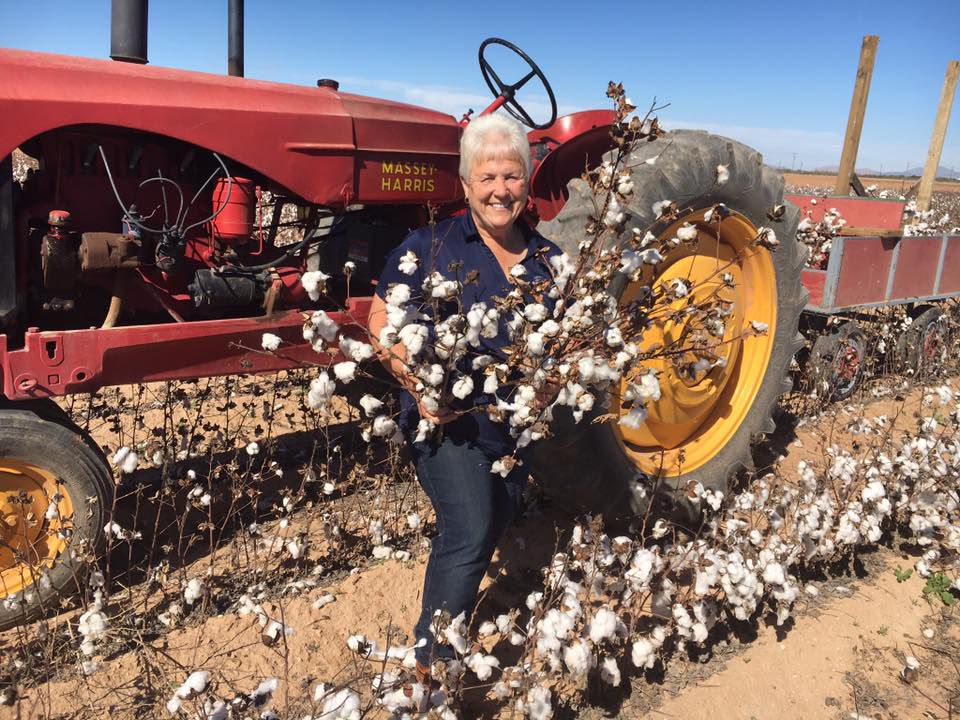 Daughter, Nancy, is a high-energy, passionate advocate for agriculture has been in the business of educating the public about farming for many years.
WHAT ARE THE MOST IMPORTANT LAND, WATER OR RESOURCE ISSUES THAT HAVE AFFECTED YOU IN YOUR CAREER OR AGRICULTURE?
Water and the lack of it! Under the San Carlos Irrigation District, we receive an allocation as to how much water we will have to farm from year to year. This is only a paper allocation. If there is no water in the dam (including this year), we must fallow land and pay taxes on two-acre feet of water for our 247 acres at 11 Mile Corner. This year, water costs are $74.00 an acre-foot. Times that by two and it equals $248.00. Multiply $248.00 by 247 acres and that equals $18,352 for water that we will not receive this year but must pay for or a lien will be put on our property.
As of June 25, 2018, there are only about 200- acre-feet of water behind the dam. Our canals are dry, and we have planted no cotton. There are 70 acres planted in alfalfa and we will watch it either go dormant or die. If we don't pay, they seize our land. This money is used to pay back the original loan (1928) to build the dam plus cover employee costs and canal maintenance costs.
The dam should hold 1.2 million-acre feet of water. This has never been a viable source of water, but our forefathers signed an agreement with the government stating they would never drill wells and rely on San Carlos Water, but it has never been a viable watershed. This is a 90-year-old contract that never had high-tech hydrological studies and yet the rules still hold true and cannot be broken. Add the Arizona Groundwater Management Act of 1980, which also states that no new agricultural wells can be drilled in our area, the outlook for water on our farm is very bleak. Money was allocated in 2011 to begin a canal lining project from Diversion Dam in Florence to all the canals in the San Carlos Project but the Bureau of Indian Affairs would not release the funds until just recently. This lining project is slated to begin in October 2018. If these canals would have been lined beginning in 2011, we would qualify for Central Arizona Project Water as well as well water from wells owned by the San Carlos Irrigation District. It is very heart wrenching to be unable to plant and watch our alfalfa shrivel up and die knowing there was and is a solution.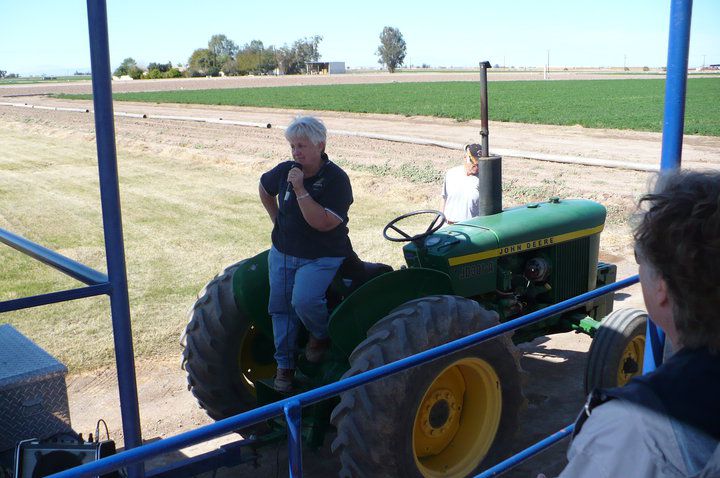 Nancy Caywood will even fire up the equipment to show winter visitors just how farm equipment works.
When Arizona is considered "out of the drought" and farm water is available, this usually doesn't include the San Carlos District because the water for our irrigation district comes from Western New Mexico and Eastern Arizona and precipitation amounts are usually low, yet we seem to be overlooked and lumped in with the rest of Arizona.
WHAT ARE THE IMPORTANT ISSUES YOU SEE FOR THE FUTURE OF FARMING?
Water! With a growing population and lack of agricultural knowledge by the non-farming public, people feel farmers are wasting water. We once heard we waste so much land and water on alfalfa! They have no knowledge as to how alfalfa benefits their food supplies! They don't relate water to their food source. People feel food will always be available. Agriculture is freedom and if human and animal food supplies become dependent on other countries, we are surely going to have major problems.
With our farm in the San Carlos District, we would like for our watershed to be recognized as a drought area in times of drought rather than to hear Arizona is not in a drought. We feel excluded. The future of farming is different in the San Carlos Irrigation as we are totally reliant on an unreliable watershed that we have no control of because we can't drill wells or rely on Central Arizona Project Water because of unlined ditches. There is no water being banked through recharge to help us either.
SHARE SOME INTERESTING HISTORICAL TIDBITS YOU ' RE FAMILIAR WITH ABOUT YOUR COUNTY FARM BUREAU AND/OR ARIZONA FARM BUREAU. ESPECIALLY IF YOU WERE PART OF THE EVENT/DEVELOPMENT/ADVANCEMENT OF A PROGRAM, ETC.
Tommy: I was not so directly involved with Farm Bureau but have served on many agriculture boards that related to issues our local and state farm bureau were also dealing with. I served on the West Pinal County Natural Resource Conservation District from 1960 until June of 2018. My daughter, Nancy, has replaced me on this board. I served on the Pinal County Industrial Development Authority for more than 40 years. I have been active in 4-H and FFA with my children and grandchildren thus receiving recognition from both organizations.
My wife Sammie and I gathered information on many wells in the Maricopa and Stanfield areas. We would write down the make of the engines and try to determine the horsepower to know how much electricity it took to pump water. This included both gas and electric motor wells and the electrical motors were operated under Arizona Public Service in which farmers were paying retail rates. Farmers wanted to pay wholesale rates. Arizona Public Service questioned their motivation and asked why farmers wanted wholesale vs. retail rates. The answer was farmers could not afford the water. Power for gas engines came from Southwest Gas Company. It would be to the advantage of Arizona Public Service and farmers to sell/buy power at a wholesale rate. Tom and Sammie along with other farmers affected by these high prices formed a new Electrical District (ED 1) and began planning a trip to Washington, D.C. to visit Congressman DeConcini and other politicians for the purpose of finalizing Electrical District 1. Tommy Caywood was elected as the first President of Electrical District Number One (now the Maricopa-Stanfield Irrigation District). There is an electrical sub-station named in his honor located on Russell Road south of Highway 287. He received recognition in 1987 for his relentless and untiring effort to help secure an allocation of Federal Hydro-Electric Power from Hoover and Davis Dams.
Tommy served on the Arizona Agri-Business Council Board for many years. Plus, Governor Rose Mofford appointed Tommy to serve on an Environmental Board. Tommy was inducted into the Casa Grande Chamber of Commerce Hall of Fame in 1992 and Sammie Caywood was inducted in 2018. Tommy was inducted into the Arizona Farming and Ranching Hall of Fame in 2011. Tommy continues to serve on the 11-Mile Corner Gin Board.
All these recognitions indicate Tommy and Sammie's lifelong dedication to farming in Arizona and their many years of dedicated service. Even though his affiliation with Farm Bureau is mainly through membership, these ag-related organizations are indirectly affiliated with Farm Bureau dealing with similar issues. His dad, Lewis, Uncle J.R. and cousin Jerry, as well as Tommy and his family, have all been members of Pinal County Farm Bureau. We so strongly believe in Farm Bureau.
Join Our Family