Meet Arizona Agriculture's Whit and Kelli Lann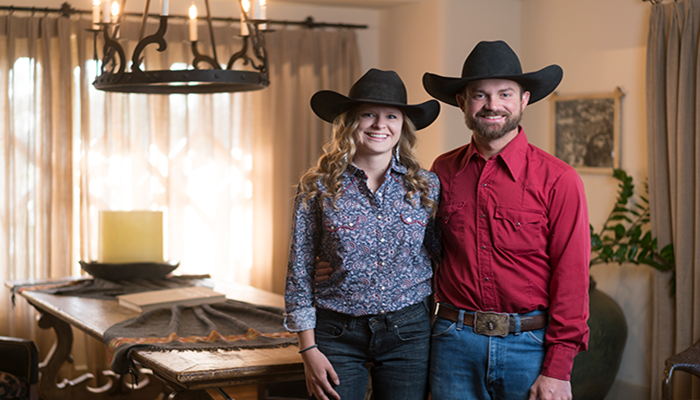 It is true when someone says the future of agriculture is bright. When looking at a young couple like these two, you have proof that the future of agriculture is in good hands.
Kelli and Whit Lann are a young couple who live, work and ranch in Apache County. Living completely off the grid, this young couple knows and values hard work. Whit is a fifth-generation rancher and works on the Door Key ranch in St. John's, Arizona that is 100% family-owned, with his father, sister and wife, Kelli.
An interview with Kelli Lann, partnered with her husband, Whit, and the Lanns in a cow/calf operation – St. Johns, Arizona.
Part of an ongoing series about Arizona Farming and ranch families.
Tells us about your family's ranching operation?
"Whit's father owns the ranch in Apache County and has been ranching his entire life. Whit is a fifth-generation rancher and works with his father. The family has always ranched in different parts of the country, but Arizona just turned out to be the ideal place of opportunities for their ranching operation and decided to permanently make Arizona the home of their ranching operation."
Whit, his father Don, and his sister, Rosemary, are the ones who primarily run the ranch, and Kelli, when she is not working at her full-time job with the power plant, is at the ranch doing what she can to help.
The Ranch is 100% family-owned and operated. Their JXM brand has been in the family for over 120 years. The Door Key brand is the main brand for the ranch and has been in the family since the 1800s.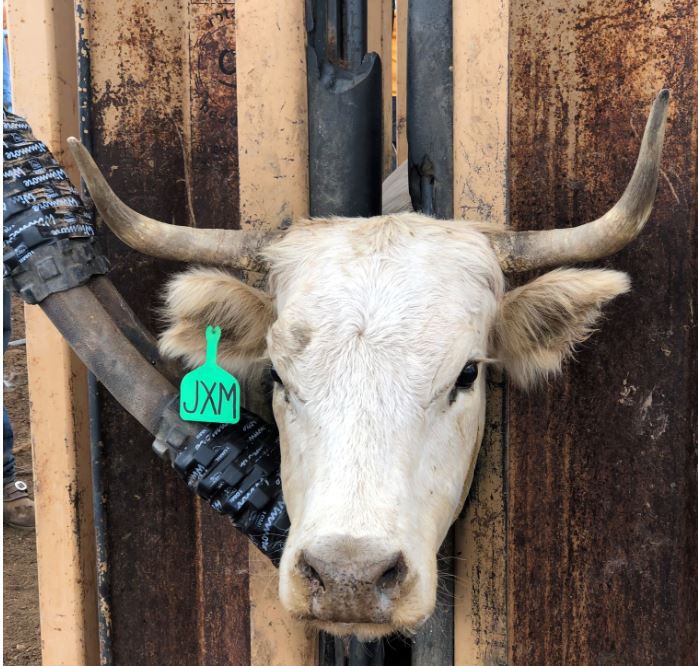 What are your community activities?
Whit is a part of the Natural Resource Conservation Service (NRCS), where he is an advisor to the board. Both Whit and Kelli are also involved in their local church and help with outreach events and activities. The couple is also extremely involved with the Apache County Farm Bureau as well as Young Farmers and Ranchers. Whit just passed the role of Apache County Young Farmers and Ranchers Chair down to his sister, Rosemary.
Tell us about your education…
Whit and Kelli both went through the Northern Arizona Vocational Institute of Technology (NAVIT) Program in school that partners with Northland Pioneer College that let them earn their associate degree.
Whit earned his degree in Mechanics and he is an ASE certified mechanic. Whit and his sister Rosemary, both are certified and do all the work on the ranch on the trucks and equipment. Whit is also self-taught when it comes to electricity and solar because the couple owns a solar business as well.
Kelli also attended the NAVIT Program and received her associate degree in elementary education.
What do you love most about ranching and agriculture?
"Definitely the work ethic that comes out of it, it's so refreshing to be able to go out and put in a hard day's work and know that you actually did something. There are tangible results."
 "It's nice to have something to show for it. it's just refreshing in today's society where a lot of people don't have a good work ethic, or they go to a job and it doesn't really show tangible results."
What is the best business-oriented advice that you have received and or given?
"ADVERTISE! Because word of mouth only goes so far, to get your business and your name out there. Even hiring someone to advertise is a good option, at least initially so you can get into a good process of getting your name out there."
What advice would you give to young farmers/ranchers/ and agriculturalists?
"Don't Quit, don't give up, stick it out because it's definitely worth it! Being able to provide food or a commodity for the people of the world is a dying thing as a small business owner, or a family starting out. So, stick it out it is 100% worth it."
 "Also, always be open to advice that people are going to give you but take it with a grain of salt, there will be a lot of tough times, but it will still be worth it."
Why are you a Farm Bureau Member?
"Farm Bureau is doing a lot of advocating that we can't do when we are out on horseback gathering cows. We can't always be there having a voice in the kind of issues that are going on, because we are boots on the ground, and it's an organization that helps the people who are out in the field have a voice and make sure that their voice is heard."