Meet Arizona Agriculture's Smallhouse Family
By Julie Murphree, Arizona Farm Bureau: Diversity and adapting to change is the name of the game for this 130-year-old ranch in southern Arizona. The young couple that run it and represent five generations of farming and ranching know a thing or two about sustainability.
Last year, Carlink Ranch, owned and operated by Andy and Stefanie Smallhouse, celebrated 130 years of operation in the same family. Their story is a true farm and ranch story to celebrate.
An interview with Stefanie Smallhouse, Redington, Arizona
An ongoing series of Arizona's Farmers and Ranchers.
Tell us about your farm and ranch operation: Carlink Ranch is a diversified cow/calf operation that includes growing forage crops and a saguaro wholesale nursery and custom mesquite lumber milling business.
Stefanie Smallhouse represents the fifth generation to own and operated Carlink Ranch. 
You Have quite a history too, correct? In July of 1879, the Arizona Territorial Newspaper headlines were all about the Earp brothers. Everyone knows their story, but few know of another pioneering family who would also arrive in Southeastern Arizona that same year. William Henry Bayless, Andy's Great-great Grandfather, moved his ranching operation from Highlands, Kansas to Arizona seeking out a drier climate for his asthma and fulfill a beef contract with the nearby military fort. It didn't take long for him to realize that the Chiricahua Mountains were not the place to make a home, as Apache Indian raids were a regular occurrence. In 1884 he moved further north along the San Pedro River and settled his operation for good in the area of Redington, Arizona. The town of Redington has its own storied past, as an active stop over for folks traveling to Tucson, with a general store, a one room school house, a post office, and stables. 
Last year the Carlink Ranch celebrated 130 years of operation in the same family and we believe our ranching story epitomizes sustainability.
The ranch was surrounded by homesteaders in the valley, but many sold out over the years and William expanded the ranching operation all the way from Redington to Oracle. Even then we were very diverse raising beef and lamb while operating a store in Tucson which sold meat, ice and general goods. Nearly from the beginning the Bayless' farmed acreage next to the river, diverting a very old surface water right from the San Pedro River.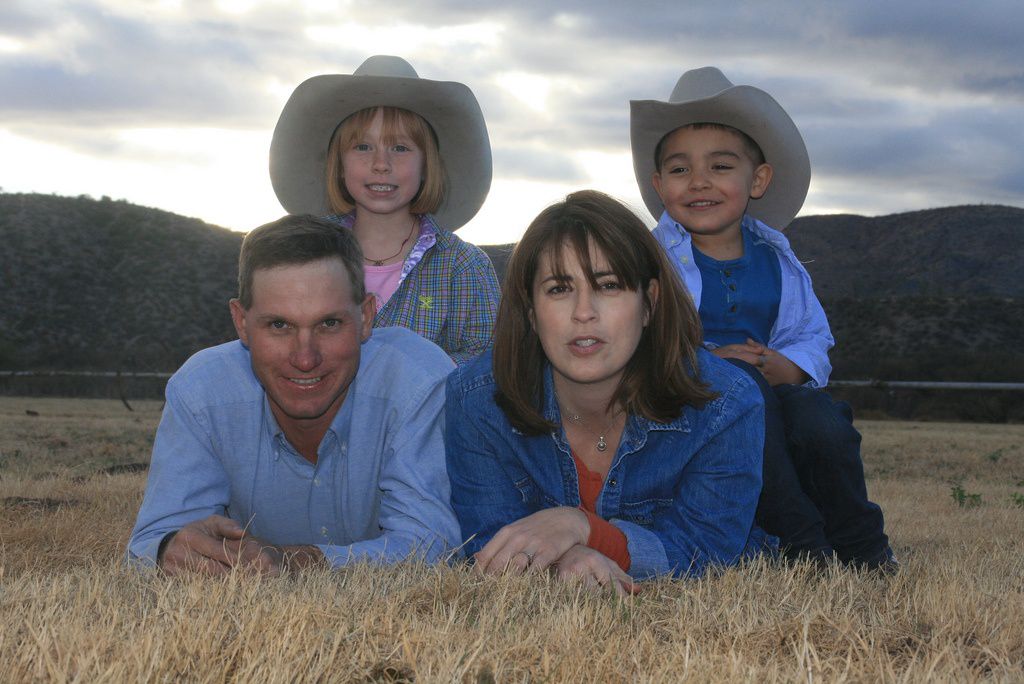 Andy and Stefanie Smallhouse, with their two kids, Hannah and Johnny, are part of Arizona Farm Bureau because of its family oriented, grassroots focus. Says Stefanie, "We are Farm Bureau members because the organization is a welcoming organizations with a broad and diverse membership."
What changes have you seen within your operation? Have they been for the better? Having been in operation for so long, there have been many changes. I would say most for the good. As times change, so must your operation. Technology improves and we have embraced many of these advances. In the early 20th century, Andy's Great-great Grandfather and Great Uncle urged the passage of the Taylor Grazing Act because they could see there were too many cattle on the range and there was no control over grazing. Early on, we had more public land parcels on the ranch until Andy's Grandfather encouraged that they be traded out for State Trust Land parcels; for which we are very grateful!  We have always tried to make use of the invasive mesquite on the ranch. Initially in the 50's the family used it to make charcoal and ship it to California, but now we mill it for high end lumber. We started out with a few acres of farmland but then cleared many more acres to sustain us through the droughts and better our cattle rotation during the growing season. We have grown everything from kabocha squash and pumpkins, to wheat, cotton, oats, and alfalfa. We started with Hereford cattle, then transitioned to Black Angus and now we are bringing Hereford genetics back into the herd. We have implemented vaccination and herd genetic programs into our operation and become certified for natural beef and the Whole Foods animal welfare compliance program. In the last few years we have started growing saguaro cactus in greenhouses for wholesale to a local nursery. We are always willing to try new ventures to offset the challenges of this industry, the good ones hang on and the bad ideas teach us what we need to focus our attention on and improve.
What is your educational background (i.e. Degree(s), certifications, honors)?
Stefanie Smallhouse: Bachelor of Science Degree – Wildlife and Range Management – New Mexico State University
Andrew Smallhouse: Bachelor of Science Degree – Animal Sciences and Range Management – New Mexico State University
Will anyone in your family – younger generation – pursue farming, ranching, or agribusiness? It's a little early to say as our kids are pretty young, but we hope that at least one of the two will want to carry on as the sixth generation to keep this operation going. It's likely that they will both play a role in some way whether that is day to day, or just providing moral support. When our son was younger he used to play with his pedal tractor by lying underneath it and working on it instead of driving it; so I think he is ready for the job. My daughter testified before a navigability hearing for the San Pedro River when she was only 10, and so I think she is qualified as well!
What are your community activities? We live fairly far off of the beaten path, but we try to stay involved in community events and volunteer quite a bit with the school and the local swim team. I serve as the President of the Mammoth STEM Elementary School PTO and both Andy and I are often recruited to help out with parades, field trips, pumpkin donations, school projects, etc. We host a field trip for the District's 4thgrade classes in the fall where the school kids learn all about farming, ranching, water conservation, and desert wildlife.
What do you love the most about farming, ranching, or the agriculture industry in general? I consider those who grow food and fiber in this country to be a pillar of our society and provide strength as a nation. A country who cannot feed itself is either teetering above an uncertain future or beholden to those who can. There is no room for excuses or self-pity in this industry. Whether you contribute through research, education, agri-business, or actually plant the seed and gather the livestock, this industry moves forward and meets challenges head on. We as growers embrace technology because we know we must not only feed the citizens of our country, but those less fortunate around the world. Just in the same way that we must overcome multiple problems every day on the ranch, we as an industry must always look for the better, faster, more efficient ways of growing food. That is inspiring!
What do you enjoy doing, and what is one fact/achievement that nobody knows about you? We all enjoy just being out and about on the ranch, but Andy loves to get a round of golf in every once in a great while, and I love to read and go junking.
Andy in his younger years was a competitive desert cross-country motorcycle racer and can still make a loop around the entire ranch way faster than he should. He was also Homecoming King at New Mexico State University in 1996.
I recently earned certification as a lifeguard through the American Red Cross so that I could volunteer lifeguard for my kids' swim team during the summer. It was one of the most mentally and physically challenging accomplishments I have done in my life. I have also crawled into a bears den in the middle of winter to help tranquilize the mother and take scientific measurements of her cub…..also a very physically and mentally challenging effort….perhaps dumb as well.
Why are you a Farm Bureau member? We are Farm Bureau members because the organization is a welcoming organization with a broad and diverse membership. We feel a kinship to everyone in this industry no matter what you produce or how you contribute. We are all working towards the same goal. Grow food and fiber efficiently so that no one goes without, make it safe so that moms don't worry about what they feed their kids, and make it affordable so that dads can actually spend time with their families. The grassroots nature of Farm Bureau ensures that everyone has a voice and that voice can be heard all the way from Cochise County, Arizona to Washington D.C. and beyond. What we have learned from Farm Bureau can be applied in the pursuit of success in any area of our lives.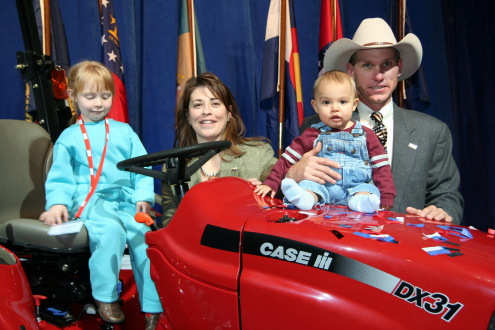 In 2008, Andy and Stefanie Smallhouse were Runner Ups in the American Farm Bureau Young Farmer and Rancher Achievement Award.  They competed with 30-plus other young farmers and ranchers to make it to the Top 10 and ultimately place just behind the winners. Their achievement earned them a Case IH DX Compact Tractor. 
How will the next generation of agriculturalists have to operate? They will have to do more to open up their operations to the public. This is hard, because our businesses are also our homes and where we find comfort and solace from the craziness of life. They will have to communicate with the consumer in a more personal way, not just through the facts and figures of what we do. They will have to be more relentless than ever when it comes to ensuring that the industry can be sustainable, which means getting off of the ranch and farm and out of their comfort zone to speak up for what they do and engage.
What is the best business advice that you've received and/or have given? Or, what business-oriented advice would you give young farmers/beginning farmers? For the elder generation, impart your knowledge every day; your successes and your failures. Involve the younger generation in your decisions so they feel ownership and a commitment to see the operation go forward. For the younger generation, always look for ways to diversify. This will help you get through unstable markets, unpredictable weather, and changing consumer values. Be involved in the organizations which advocate for your business.