Nearly A Dozen Reasons to Eat Arizona Leafy Greens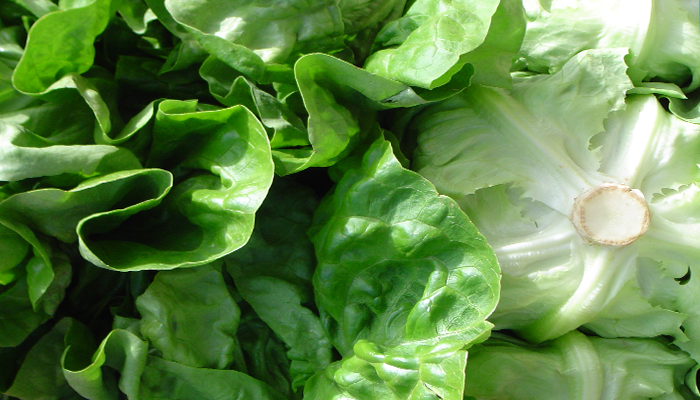 A 2019 Centers for Disease Control (CDC) study found that only 12.3% of U.S. adults consumed recommended levels of fruits and 10% got the recommended levels of vegetables. Data showed that overall, Hispanic adults had the highest rate of meeting fruit consumption recommendations, while men had the lowest prevalence, and adults ages 51 and older were best at meeting vegetable consumption recommendations.
Ultimately, we have a long way to go to eat more fruits and vegetables and certainly our leafy greens. And I'd suggest we eat more Arizona leafy greens since our Arizona farmers are so good at producing safe and nutritious leafy greens. 
First, Let's Figure Out How Many Servings of Fruits and Vegetables.
Our nutrition experts recommend 4 to 5 daily servings of fruits and vegetables. But, if you're like me the next question you're going to ask, but what's a serving size? Dr. Glenna McCollum-Cloud, MPH, RD, Project CENTRL Class IX and former national President of the Academy of Nutrition and Dietetics, gives simple advice: "Look at the size of your fist? It really isn't very big, is it? Next time you go to eat a meal, remember your stomach is about the same size as your fist so your portion size does not need to be super-sized but simply the size of your fist." 
But, if you want a specific breakdown based on the main food groups, here's the breakdown of recommended servings per day for several kinds of foods for a 2,000-calorie diet with examples of servings sizes of foods within each group:
Grains:

 6 ounces (oz) per day. Serving sizes = ½ cup cooked rice, pasta or cooked cereal; 1 oz. dry pasta or rice; 1 slice bread; 1 cup ready-to-eat cereal flakes.

Vegetables: 

2 ½ cups per day. Serving sizes= 1 cup equivalent of vegetables is 1 cup raw vegetable or vegetable juice, 2 cups leafy salad greens.

Fruits: 

2 cups per day. Serving sizes = 1 cup equivalent is 1 cup fruit or ½ cup of 100% fruit juice (orange juice, etc.) or 1/3 cup of a fruit juice blend.

Protein foods (meat, poultry, fish, dry beans, and nuts): 

5 ½ oz. per day. Serving sizes = 3 oz. cooked lean meat, poultry, or fish; 2 egg whites or 1 egg; ¼ cup cooked beans; 1 tbsp. peanut butter; ½ oz. unsalted nuts/seeds. Note that ¼ cup cooked beans = 1 oz. protein equivalent but ½ cup cooked beans = 1 vegetable.

Fat-free or low-fat dairy foods (milk, yogurt and cheese): 

3 cups per day. Serving sizes: 1 cup equivalent is 1 cup milk or yogurt, 1½ oz. natural cheese such as cheddar cheese, or 2 oz. processed cheese.
 Arizona Ag Facts about our Arizona Vegetable Production
We may be a small agricultural state and we might be more known for our desert vistas. But, our Arizona agriculture statistics on vegetable production and leafy greens specifically are pretty impressive too. 
As the latest U of A economic study indicates, Arizona Agriculture is a $23.3 Billion industry. The vegetable production part of this number is $2 billion alone. 
The month of November is always "Arizona Leafy Greens Month." It celebrates the 

kickoff

 of Arizona's leafy greens season, with abundant growth, 

harvest

 and shipments of Arizona-grown lettuce throughout the United States and Canada.
The desert southwest is the only place in the U.S.A. that can grow these tender crops in the wintertime, providing a fresh, wholesome, home-grown source of vegetables.
Yuma County ranks in the top 1/10th of 1% of U.S. counties in vegetable production.
Daily between Thanksgiving and Easter, 1,000 to 1,200 semi-truckloads of leafy greens leave Yuma to deliver all over America and Canada so all of us can enjoy our leafy greens even during the wintertime. 

Nearly 20% of Arizona's leafy greens are produced organically and 80% conventionally to meet consumer interest in both farming methods.

Americans eat an estimated 130 million salads a day.
Endive

Escarole

Spring Mix

Cabbage

Romaine Lettuce

Butter Lettuce

Arugula

Iceberg Lettuce

Green Leaf Lettuce

Red Leaf Lettuce

Baby Leaf Lettuce

Spinach

Kale

Chard

Radicchio
Yuma County is considered America's winter salad bowl. But lots of leafy greens are coming from Arizona's Maricopa and Pinal Counties too.
Here's why you and I Need to Eat More Arizona Leafy Greens
I've bought in seriously on how healthy these leafy Greens are that I even add them to my scrambled eggs each morning, especially Kale, mustard and collard greens. Here the overview of the health benefits of leafy greens. 
Eating more leafy greens is healthy for you! Leafy greens, especially the dark green ones, are packed with phytonutrients, protein, vitamins, minerals, and antioxidants. 

The darker leafy greens are rich in A, C, E and K, and broccoli, Bok choy and mustards are also rich in several B vitamins.

Kale contains more Vitamin C than oranges.

The Vitamin K contained in dark leafy vegetables is good for protecting bones from osteoporosis and helping prevent inflammatory diseases.

Romaine lettuce is one of the five lettuce types and an excellent source of folate and vitamin K.

Bok Choy, though celery-like in appearance, belongs to the cabbage family.

Collard greens have been studied for their ability to lower cholesterol.

Cabbage dates to the 1600s. Some drink juiced cabbage for stomach and intestinal issues.

The most appealing benefits of dark green leafy vegetables are their low calorie and carbohydrate content and their low glycemic index.

Spinach is a natural hydrator with raw spinach 91% water. It's an excellent source of vitamins A, C, and K, folate, potassium, and fiber.

Eating more leafy greens is healthy for you! Leafy greens, especially the dark green ones, are packed with phytonutrients, protein, vitamins, minerals, and antioxidants. To get you more in the mood to eat leafy greens, here are some cool facts about them.
WHAT IS the Arizona Leafy Greens Marketing Agreement?
Arizona Leafy Greens Marketing Agreement (Arizona LGMA) provides rigorous, science-based food safety audits to the Arizona produce industry and is managed by the Arizona Leafy Greens Food Safety Committee. Arizona is the second-largest leafy green producer in the United States.  Arizona Leafy Greens members represent 98% of leafy green products grown in Arizona.
Finally, we celebrated Arizona's leafy greens production in Arizona this last Saturday on Rosie on the House. We had a great conversation about Food Safety thanks to our guest Kami Weddle with Maricopa County's Rousseau Farming Company. The whole radio segment is embedded below.