Our Communication Tactics: Committed to Outreach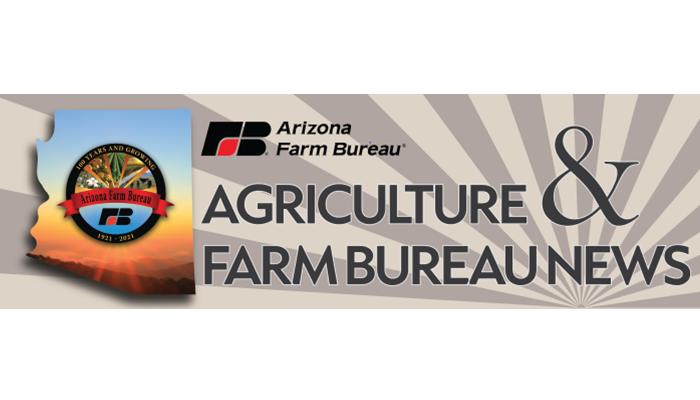 Arizona Farm Bureau (AZFB) ACES are key areas for our members and an easy way to explain our core competencies. The "C" stands for communication and this area highlights all our outreach to our members and the public. In this article, we will go over all the outreach efforts of the Arizona Farm Bureau. Arizona Farm Bureau utilizes traditional and new media to inform its members and the public of the latest news and information relating to agriculture. The Arizona Farm Bureau is the voice of agriculture. 
Traditional Media 
Arizona Agriculture: is the voice of Arizona agriculture. This publication is circulated nine times and provides pertinent agricultural, legislative, and regulatory news and information exclusively to our agriculture members. The circulation of this publication averages 3,200 people. Because the average pass-along rate is two to three other individuals around 6,400 people read this monthly publication. 
Choices: A member benefits magazine distributed to all Arizona Farm Bureau members. This publication aims to inform and educate our members on current and new member benefits, and we include an article or two on what is happening in Arizona agriculture. Choices provide Farm Bureau members with choices for making informed decisions on our discount offerings. This publication is circulated three times a year. Choice's circulation is over 25,000.
Agent Advantage: A monthly e-newsletter delivered to Farm Bureau Financial Services Insurance Agents, reaching the current agency force of more than fifty. This publication informs our agents about what is happening at the state office and highlights the member benefits. 
While You Were Working: An e-newsletter sent out by the Advocacy team. The Advocacy team also posts it on their YouTube channel. With this communication tactic, you can learn about the latest news you need to know from the Advocacy team. The target audience for this publication is legislators and agriculture leaders. This publication is circulated weekly during the legislative session and bimonthly when not in session. It currently has over 800 subscribers. 
Agriculture and Farm Bureau News: An e-newsletter distributed to agriculture professionals, both members and non-members, with a current subscription of 1,800. This publication provides its subscribers with the latest general Arizona agriculture and Farm Bureau news. This publication attempts to provide more late-breaking information. 
Videos: Our "Food for Thought" videos are an excellent informational source, covering various topics such as sustainable agriculture, climate change and other interesting ag facts. These videos are on AZFB.org, YouTube and our social media channels. Impressively, our videos have garnered over 155,000 impressions this last year alone. Typically, we release around 20 videos a year. 
New Media 
Social Media: Arizona Farm Bureau also utilizes social media for its outreach efforts. Social media is a significant tool in AZFB's arsenal when communicating directly with its members and the public, allowing us to connect with people all over the state and the world. Be sure to follow us on Facebook, Instagram, Twitter, YouTube and Pinterest.
Digital channels: Arizona Farm Bureau has a couple of Blogs: "The Voice" on azfb.org and Fill your Plate on fillyourplate.org, sponsored by the Arizona Farm Bureau. The Voice blog's target audience is Farm Bureau members, partners in the agriculture industry and the media. We typically post three articles a week. In 2021 we had around 100,000 impressions on our articles. Our FillYourPlate.org blog articles target moms with children still in the home and foodies. This site had over 100,000 impressions in 2021. This blog also typically publishes three articles a week. 
Webinar Wednesday: A quarterly webinar series hosted by the Arizona Farm Bureau. These webinars cover a diverse set of topics. Some of our most recent topics included "The Road to Homeownership" and "The Legislative Session Wrap-Up." 
With these various outreach efforts, it's evident that the Arizona Farm Bureau is an organization that places significant importance on communication and outreach. The Arizona Farm Bureau is dedicated to effectively communicating with its members and the public. 
Editor's Note: Stay tuned for future changes. We're evaluating our channels and seeking to exploit additional opportunities going forward.