Pigging Out on the Arizona Pork Industry Story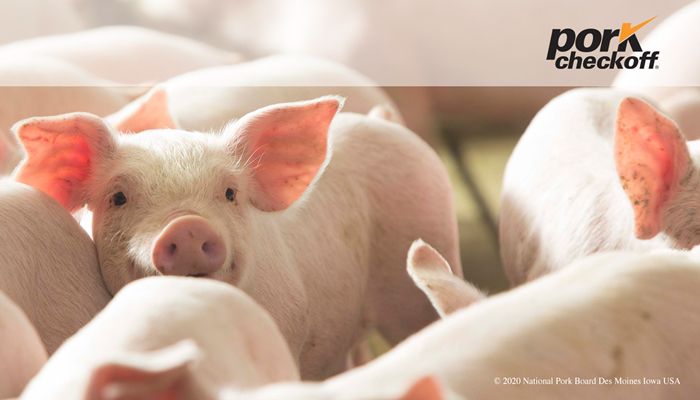 Our most recent Farm Fresh segment on Rosie on the House on KTAR hosted Rogers Brothers Farm partner Kevin Rogers and Schulz Farm's Shannon Schulz. Our topic was pork. And we "pigged out" on the amazing story of Arizona's pork industry. We absolutely were not short on stories to tell.
Each time we're on the radio, we focus on a specific agriculture topic. Arizona's $41 million pork industry featured its history, the youth element, health benefits and the very light carbon footprint, plus more. We highlight just a few of the points below. But, to hear all the stories and especially the pork industry's impact on youth, you need to listen to the radio show embedded below these points.
Arizona pork has a great tradition and legacy in Arizona. Let's talk about some of these historical tidbits about Arizona's pork industry

.
The Pork Industry in Arizona really took off in the 1970s. 

The Industry in our state ranges from $40 million to $50 million, per USDA-NASS.

Arizona Pork Council Promotes pork in the state. 

Early on, all four corners of the state had various pork farmers. Nearly all were small- to medium-sized family-owned farms. 

One major commercial farming operates today.

A handful of producers produce show pigs for 4-H and FFA youth where business management, animal handling care and more are taught.

We also have small, direct-market pork producers, for example, the Meat Shop in Phoenix.
We all know meat protein is so important in our daily diets. 
Pork is an excellent source of protein and provides several important vitamins and minerals. A 3-ounce serving of pork is an "excellent" source of thiamin, selenium, protein, niacin, vitamin B-6 and phosphorus, and a good source of zinc, riboflavin and potassium.

Heart-Healthy: Pork is naturally low in sodium and an "excellent" source of potassium – two nutrients that, together, can help regulate blood pressure.

Both the pork tenderloin and pork sirloin roast meet the criteria for the American Heart Association Heart Checkmark, which means they contain less than 5 grams of fat, 2 grams or less of saturated fat and 480 milligrams or less of sodium per label serving.
Let's talk about agriculture's carbon footprint, but most people don't realize the efficiencies that the pork industry has advanced on in this area. 
Safeguarding the environment is important to America's pork producers who work to steward their land for future generations. Protecting resources is a priority because their livelihoods depend on it.

In the past six decades, pig farmers have 

reduced the pork industry's environmental footprint

 by using less.
*75.9% less land
*25.1 % less water
*7% less energy
*7.7% fewer carbon emissions
Pork production accounts for less than .3% of greenhouse gas emissions, according to the American Farm Bureau. Work continues to adopt practices that improve productivity and enhance sustainability.
4.A few more notes on the nutrition of pork
.
Eight cuts of pork meet the USDA guidelines for "lean," containing less than 10 grams of fat, 4.5 grams of saturated fat and 95 milligrams of cholesterol per 100 grams of meat.

The popular pork tenderloin is considered "extra lean" and has the same amount of fat as skinless chicken breast. 

All of this has come about because of improved genetics and improved feeding and animal care practices over the decades. 
We had plenty to visit about on Rosie on the House. It was an hour full of fun, insights, enlightenment and affirmation as to why Arizona's agriculture is so special and certainly in the Arizona pork industry. Listen to the radio show here and you'll know what I mean.