Pinal County Ag, An Economic Powerhouse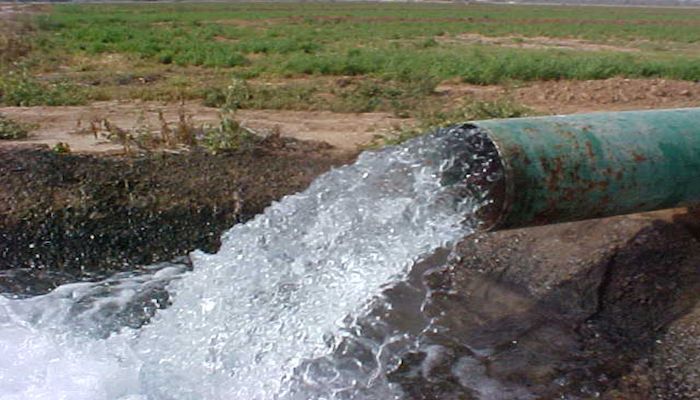 In the early 1970s, while brother, Brent, and I, as barefoot and snotty-nosed kids, would hop into the truck with dad to check the pumps that powered our wells around the farm in Maricopa in Pinal County, construction of the Central Arizona Project (CAP) canal system was beginning in Lake Havasu in 1973.
I remember the smell of oil and watching a droplet of oil fall through this small, clear glass tube, with us counting the quick, oily drops. They called it, "drop oil."
Simply excited to be hanging out with dad and going somewhere, even if it was just around the farm, we didn't even wonder, at our youthful age, about the canal being built that would take 20 years at a cost of more than $4 billion and conclude south of Tucson.
Pinal County farmers did, and why talking to them and agriculture stakeholders involved at the time, you'll always hear them refer to CAP as an engineering marvel that pumps water uphill: Water that enters the system at Mark Wilmer Pumping Plant where six 66,000 horsepower pumps lift water more than 800 vertical feet into the seven-mile-long Buckskin Mountain Tunnel. The water then flows into the open canal where it continues its journey across the state.
Much of the 336-mile long canal can be seen from the air.
Retired from farming, it's still why when dad takes you up in his Super Decathlon aircraft he shows you miles of the open canal and explains that some of that 336-mile long canal brought water to his own farm in the late 1980s. Having by then acquired his own farm, he was excited about using CAP water to grow his cotton, wheat, alfalfa, and other crops and be part of the new growth opportunities in farming that would be taking place in Pinal County, opportunities that created an economic engine in this rural county.
On average, CAP came to the farmers as higher quality water compared to most wells because of lower salinity levels the surface water contained, opening the soil much better. An obvious benefit to farming.
Decades later, we still love hanging out with dad even if it's not checking pumps. Oddly enough, a younger generation of farming families may have to do so again when CAP water is cut, mainly impacting farmers in Pinal County.
And, as area farmers face cuts to their water supplies, a new study finds Pinal County agriculture is an economic powerhouse. According to the study, Pinal County ranks in the top 2% of all U.S. counties in the total value of agricultural sales and the top 1% in cotton and cottonseed sales, milk sales, and inventories of cattle and calves. Supporting large dairy and beef industries, Pinal County ranks in the top 4% of all counties in barley acreage, corn acreage, and forage (such as alfalfa and Sudan grass) crop acreage.
"Not only does the Economic Contribution Analysis for Pinal County agriculture confirm the importance of the agriculture sector locally and statewide, but its production ranking nationally," said Arizona Farm Bureau President Stefanie Smallhouse, who ranches with her husband, Andy, in Pima County. "Both the livestock and crop sectors are strongly represented in the county and given its relatively small population size, it's a giant in terms of feeding its urban neighbors throughout the state. This compilation and analysis of the numbers make it hard to dispute the importance of water mitigation for these farmers in the state's drought contingency planning and the high value of agriculture and its need for reliable water is of interest to all Arizonans. Funding infrastructure and finding water to offset what would be a great loss should be recognized as an investment in all our future."
The study, "The Contribution of On-Farm Agriculture and Agribusiness to the Pinal County Economy" by Ashley Kerna Bickel, Dari Duval, George Frisvold, the Department of Agricultural & Resource Economics, University of Arizona Cooperative Extension, comes at a time when leaders are working to develop a plan to protect Colorado River supplies. Within Arizona, stakeholders have been working for months to negotiate the terms of Arizona's Drought Contingency Plan, which will outline how water is allocated in the event of a shortage on the Colorado River. Based on the current plan, Pinal County agricultural water users will be the first to lose access to Colorado River water when supplies are curtailed, which would cut the water available for irrigation in that county nearly in half.
"Our forefathers like Governor McFarland, Senator Hayden and so many others too numerous to mention did so much to build the CAP to deliver Colorado River surface water to Central Arizona lands for all our people to prosper," said Maricopa Stanfield Irrigation Drainage District (MSIDD) President Bryan Hartman and Pinal County farmer. "The University of Arizona study has foreseen what will happen to us if we do not continue to receive a renewable water supply. Here in MSIDD alone, we have a distribution system of over 200 miles of concrete-lined canals & laterals that serve our landowners, growers, and communities. There are many other irrigation districts including Tribal irrigation districts encompassing Pinal County. What a shame if we cannot work together so that Pinal County Agriculture can continue to thrive and even grow. If we lose our CAP Surface water all farming including the communities of Gila River, Ak Chin, and the Tohono O'odham will be hurt agriculturally. Agriculture product suppliers, equipment dealerships, agriculture employees and all the small businesses that serve our industry will be hurt and the cost of ag products, food and fiber will increase. We need to work together on a solution that we can all agree on to avoid such a negative impact on everyone."
This study gives a snapshot of existing agricultural activity in Pinal County, also conducting county-level economic analyses for (1) on-farm agriculture and (2) on-farm agriculture and agribusiness combined in 2016, the latest numbers available from the USDA. Finally, as the availability of irrigation water is of utmost importance to crop production in the region, this study considers the economic consequences of a hypothetical water cutback. It estimates not only direct on-farm effects of reduced acreage, crop sales, and hired farm labor. It also estimates, through multiplier effects, the negative effects of reduced agricultural production on the broader economy of Pinal County.
"The University of Arizona study quantifies what Farm Bureau members already knew: agriculture is the economic engine of Pinal County," said Chelsea McGuire, Arizona Farm Bureau's Government Relations Director, and a former Pinal County farmer with her family. "With the legislature convening in a matter of days, we are confident that these numbers will catch the attention of all elected officials who've committed themselves to make sure that Arizona's economy continues to thrive."
Every county in Arizona has important and interesting agriculture numbers. In reports, articles and more, farm and ranch number are often highlighted. Certainly, that's Pinal County.
"When you look at the study numbers, there isn't a county in the state that wouldn't be fighting to keep those ag numbers viable; They're huge," said Arizona Farm Bureau 2nd Vice President Richie Kennedy and Pinal County resident who has cattle in Pinal County but also farms in Maricopa County. "Then, think about all the years it's taken for agriculture to get to this point including realizing that the only reason we are at this point economically is because of what our farmers did decades ago to bring surface water to the area. The only reason we're here at $1.1 billion in on-farm agriculture sales, for example, and the only reason urban economies are truly where they are today is because our farmers got the ball rolling on getting water to this county and other areas of the state. The generational farm families have worked very hard for these numbers. To lose them now to a dramatic cut in water is tough."
Even on the ag-specific side of the economics, one example shows how interconnected farming and ranching is from one Arizona county to the other. As Arizona Farm Bureau President Smallhouse noted the significance of the study earlier in the article, she also adds that Carlink Ranch often purchases truckloads of hay from Pinal County farmers.
The study was commissioned by irrigation districts in Pinal County but all data collection and analysis were independent of the groups and carried out by U of A's economists.
So, to water those same Pinal County farm fields, some of the old wells will need to be refurbished to "fire up" again when needed. But even with Pinal County wells running again, farmers on average will have to fallow 30 to 40% of their farmland once the cuts come.
And the costs seem impossible to surmount. The Pinal County irrigation districts estimate the infrastructure to get the wells running again will cost $50 million. More than one source says Governor Ducey has pledged $5 million and another $5 million pledged by CAP and some federal dollars could be coming our way. But, when added all up, there's still a significant shortfall.
Referring to the tough and dramatic, historical water deals of earlier decades, "You gotta, deal, and you gotta deadline and you gotta stick with it," added Kennedy. "We get it. But everyone did anticipate more; more development in Pinal County by now and available water. And, no one anticipated this level of drought during earlier water negotiations. Those predicted scenarios didn't fully come to fruition. But, as important as agriculture is to everyone, I see no reason not to ask for leniency, or what everyone's calling mitigation because of the water crisis to try and keep this economic animal going and growing as long as we can. Go back in history and figure out why we're here, real economic activity exists because of farmers. You eliminate agriculture and everyone, I mean everyone will suffer, not just the farmers."
The days of checking well pumps in Pinal County will come back in style. Check with me on the oil drops per second.