Pucker Up; We're in Love with Arizona Lemons
By Katie Aikins, Arizona Farm Bureau Education Director: You better pucker up! Arizona Farm Bureau's Ag in the Classroom program will be out in force this weekend to teach Arizona families everything they ever wanted to know about lemons and lemonade, but never thought to ask. And, this is all because we're so sweet on this tart citrus especially since we grow lemons so well in Arizona.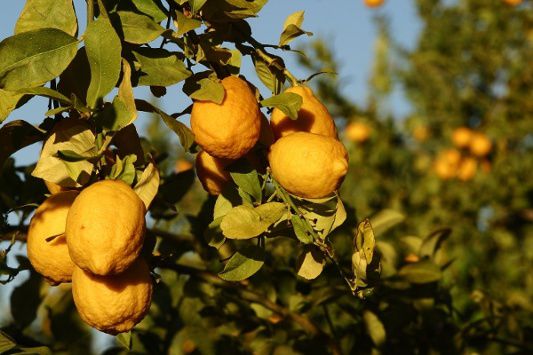 If you don't make it to our booth in Queen Creek at Founder's Park off of Ellsworth Road this coming Saturday (May 20th), here are a few fun facts about lemons we'll be talking about this weekend.
National Lemonade Day is August 20th.
Lemons are harvested by hand.
Paris, France was where the 1st lemonade 'soft drink' debuted.
Arizona and California produce 95% of the U.S. lemon crop.
The 'ade' in lemonade signifies that it is not 100% lemon juice.
The average lemon contains about 3 tablespoons of juice.
The average lemon contains 8 seeds.
Arizona is one of only 4 states that produce lemons. Others include California, Florida and Texas.
There are nearly 50 varieties of lemons.
Depending on the rootstock it takes 3-5 years for a lemon tree to bear fruit.
Lisbon lemon trees grow on a sweet orange root stock.
A lemon tree can produce 500-600 pounds of fruit each year.
A lemon tree can produce fruit year round, but the main season is late winter and spring.
Citrus is one of Arizona's Five Cs: Citrus, Cattle, Cotton, Copper, and Climate.
Lemon blossoms (the flower) are white.
Lemons are rich in Vitamin C and contain about the same amount of the vitamin as oranges.
Lemons are used in drinks, soaps, lotions, and even make-up.
Lemons can keep for about 2 months if kept in the refrigerator. They will only keep for about 3 weeks when left out on the counter.
Arizona had 7,500 harvested acres of processing and fresh market lemons last year.
Lemons are a hybrid between a sour orange and a citron.
Curious about what Arizona Farm Bureau's Ag in the Classroom program can do for you? Check us out on Arizona Farm Bureau's website. If you want to schedule a Biotech, Misconceptions or any other presentation, email us at aitc@azfb.org. In the meantime, drink some lemonade made from Arizona lemons.