Senate GOP Unveils $20B Coronavirus Relief Package for Agriculture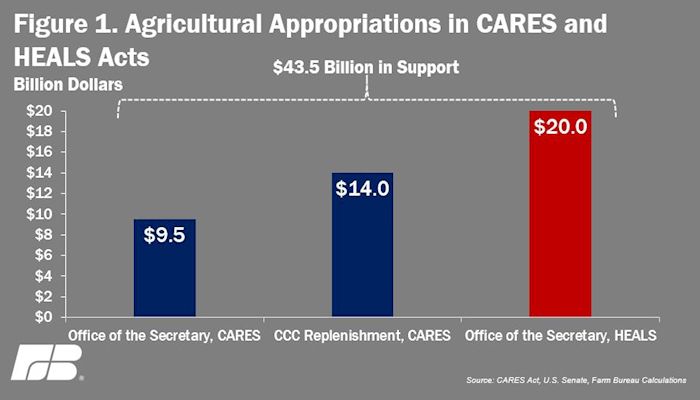 On Monday, July 27, Senate Republicans released a Coronavirus relief package that would give the USDA an additional $20 billion to aid in relief for agricultural producers and processors that have been negatively affected by the pandemic.
The bill stipulates the $20 billion dollars can be used "to prevent, prepare for, and respond to coronavirus by providing support for agriculture producers, growers, and processors impacted by coronavirus, including producers, growers, and processors of specialty crops, non-specialty crops, dairy, livestock and poultry, including livestock and poultry depopulated due to insufficient processing access and growers who produce livestock or poultry under a contract for another entity."
A portion of these funds would be used to increase the existing $14 billion that is allocated for the Commodity Credit Corp (CCC). With this new provision the CCC will provide a total of $34 billion to agriculture producers. Another provision that has been inserted is the, HEALS Act, which is a combination of individual measures that would forgive all Paycheck Protection Program (PPP) loans under $150,000.
The bill allocates an additional $457 million to USDA to address other issues, including $245 million to make up for lost inspection fees and $113 million in rural rental assistance to low-wage residents. The Farm Service Agency would receive an additional $76.4 million to cover temporary staff and overtime costs.
American Farm Bureau President Zippy Duvall applauded the proposed bill, stating that it places "a high property on bringing relief to America's farmers and ranchers throughout this crisis. The additional $20 billion for agriculture in the HEALS Act would come at a critical time as the impact of this pandemic continues to hit our farms and rural communities."
This bill also allows for a second round of the forgivable loans to businesses that have lost half their revenue. For agriculture producers that have taken out PPP loans, there will be a specific local calculation based on the Schedule F agriculture income. The bill also defines a seasonal employer to be an eligible recipient which: (1) operates for no more than seven months in a year, or (2) earned no more than 1/3rd of its receipts in any six months in the prior calendar year.
All PPP borrowers, which would include agriculture producers, will be allowed to select ANY eight-week period during 2020 to use the forgivable loan proceeds. This will benefit producers whose highest payroll periods fell during the time that is not allowed under the current restrictions. This loan expansion includes the cost of worker protections among other costs.
Different from the House bill, the Senate version does not mention the biofuel industry but has a stipulation that includes processors as eligible recipients that would allow the USDA to make payments to ethanol producers. Also missing is the expansion of the Soil Health and Income Protection Program, which was authorized as a 50,000-acre pilot program in the 2018 Farm Bill. The HEROES Act would expand this program to 5 million acres and offer farmers an annual payment of $70 per acre to enroll land in SHIPP for three years. Also not included was the 15% increase in Supplemental Nutrition Assistance Program (SNAP).
For more information about the Senate package, check out the latest Farm Bureau Market Intel piece written by some of American Farm Bureau's top economists.
As this important piece of legislation continues to develop, we'll update this article to reflect the latest news and information. Check back here or go to www.azfb.org to find everything you need to know!