Summey to Serve as Ag in the Classroom Manager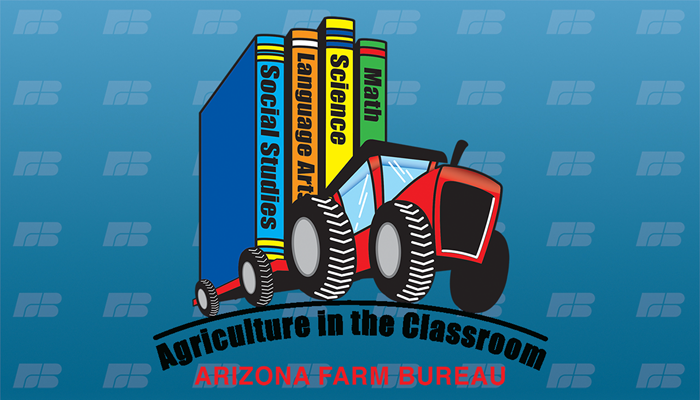 We are pleased to announce Tori Summey as Arizona Farm Bureau's Ag in the Classroom Manager. Summey joins Arizona Farm Bureau Age Education Director Katie Aikins and our Team of interns as they work to expand the reach and impact of our Ag in the Classroom (AITC) Program.
"Working as the Ag In The Classroom Manager is a dream come true for me," said Summey. "It is my passion to advocate for agriculture, and I cannot think of a better place to do so. I have also looked up to many of the leaders within Arizona Farm Bureau for a while now, and I am excited to begin working alongside them. Everyone has been extremely welcoming and hard working. I can't wait to see what's in store as we have many exciting programs and resources available and in the works!"
Born and raised in Arizona, Summey has a passion for promoting agricultural literacy. 
She grew up a city kid and found her love of the industry and appreciation for Arizona's hardworking farmers and ranchers while attending high school at Arizona Agriculture and Equine Center (AAEC), Paradise Valley Campus. Since then, she has served as an Arizona State FFA Officer, an Arizona and National Beef Ambassador, an elementary school 4-H Leader, and a Collegiate Agricultural Ambassador. Her time as an Intern for Arizona National Livestock Show, Arizona Beef Council, and Agricultural Marketing Services at the USDA in Washington D.C. strengthened her knowledge of the industry and deepened her passion to promote it.
Through her studies, Summey served as a research assistant for the University of Kentucky's Agricultural Education department, where she facilitated a multicultural teaching methods undergraduate course and has conducted research aimed at building agricultural literacy regarding safe farming practices and food justice and nutrition. Her research and interests also led her to work more closely within the community, serving as a leader for several agricultural literacy grants in partnership with the Tweens Nutrition and Fitness Coalition. Summey holds a B.S. in Agricultural Economics and an M.S. in Agricultural Education/Community and Leadership Development.
"Tori is the perfect fit for our Ag in the Classroom Team, said Aikins. "Her passion and skills are going to take the program to new heights. We anticipate great things!"
Summey believes in the future of agriculture and the ability to promote STEM education and learning through its applied context. Arizona Farm Bureau is excited to have Tori on our Team!
Join Our Family