Tasting History, Arizona's Ancient Grains!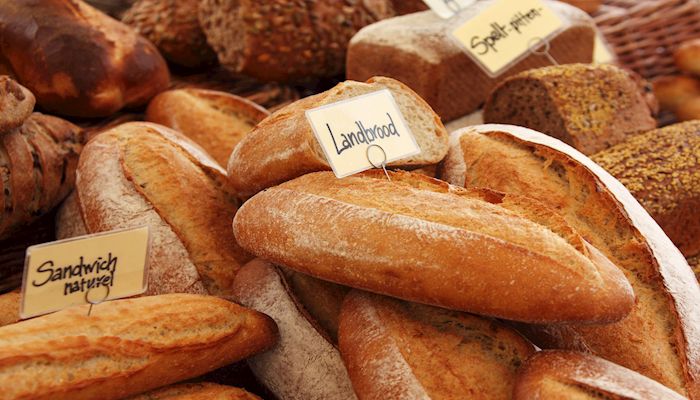 Ancient Grains that originated in the Fertile Crescent are grown and processed by Arizona farm families. Farm Bureau members, Janna Anderson and Steve Sossaman are two farm families especially familiar with growing ancient grains.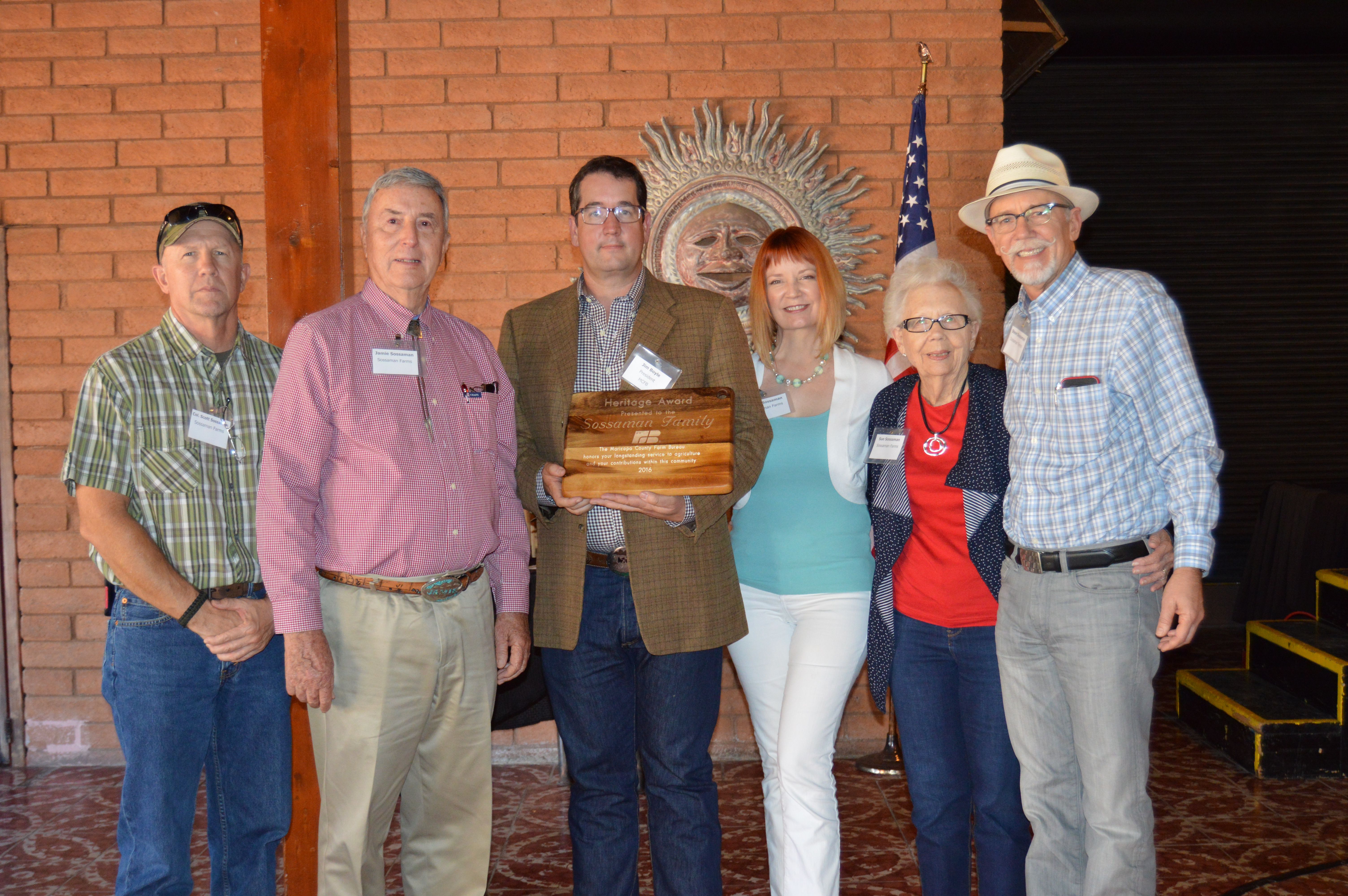 The Sossaman family receiving the Heritage Award from former Maricopa County Farm Bureau President Jim Boyle.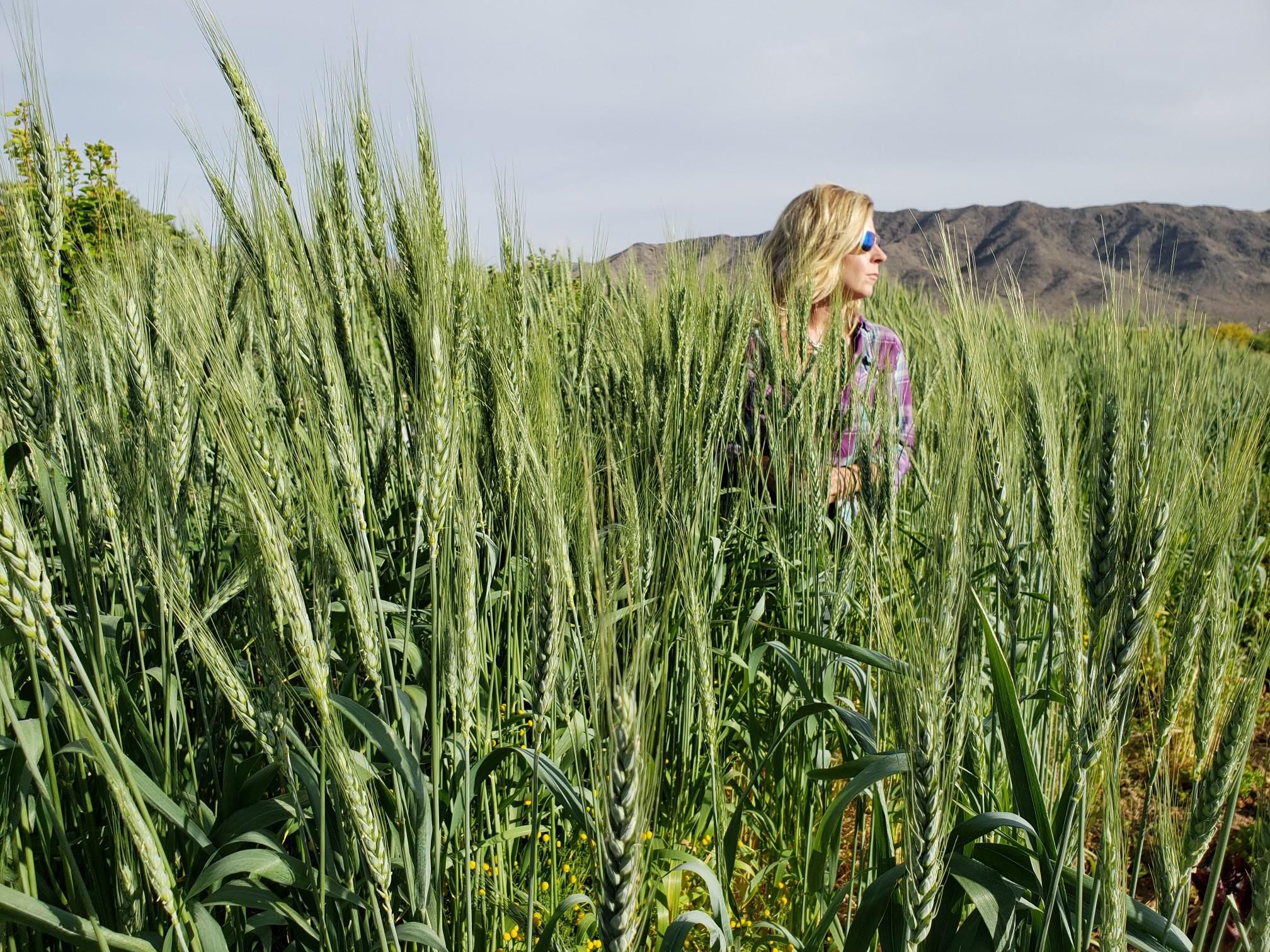 Janna Anderson in one of her Baart Wheat fields.
A fourth-generation farmer and owner of Sossaman Farms in Queen Creek, Arizona, Sossaman explains that central Arizona is host to prime farming conditions for some of our special grains. Sossaman and some of our other long-time farmers like to point out that it's one of the few areas in the county where you can farm every day of the year.
Sossaman prefers to call them heritage grains, but whether heritage or ancient, these grains have a history, and often a special one. Farro, or Jesus Wheat, for example, is thought to be a 2,000-year-old grain!
Arizona's warm climate and soil provide perfect terroir for ancient grains. Plus, the deep roots of ancient grains allow farmers to pull nutrients and long forgotten flavors from the soil!
Janna Anderson of Pinnacle Farms started with a tiny little plot behind the Scottsdale Community College in 2000. She had been to the farmer's markets and saw that there was a large demand for growers on a small scale even before the locally-grown movement became trendy. Anderson decided to follow her heart and applied herself to filling this niche market for many years until she realized she had finally grown so much that she needed to look elsewhere to move her product and take full advantage of the ground she leased.
Anderson then ventured out into the grain market and with a leap of faith grew an heirloom variety of wheat that hadn't been popular until recently. The last few years, she's enjoyed fulfilling a market for ancient grains and will continue to grow heritage varieties as the market evolves.
As a first-generation farmer, Anderson keeps her eyes and ears open. "I have changed and adapted to the needs of my market base for years," she explains. "I have always been willing to try new growing techniques and listen to how farmers of old do it too. As my farm grows, I am still a very small farm in terms of the typical farmer, but 46 acres requires a different type of technique than a farm of 5 or 5,000 acres will."
Sossaman and Anderson have a passion for farming and are excited about the new wave of interest in ancient grains.
Join Our Family