The EcoBoost Driving Challenge Was an Ego Booster!
By Peggy Jo Goodfellow, Arizona Farm Bureau: I love to drive (my hubby and co-workers can vouch for my claim)! Naturally, I love test driving cars…all types of cars. So when Ford invited me to attend an exclusive media day event prior to the all-day Ford EcoBoost Challenge at the Phoenix Stadium in Glendale…I jumped at the chance!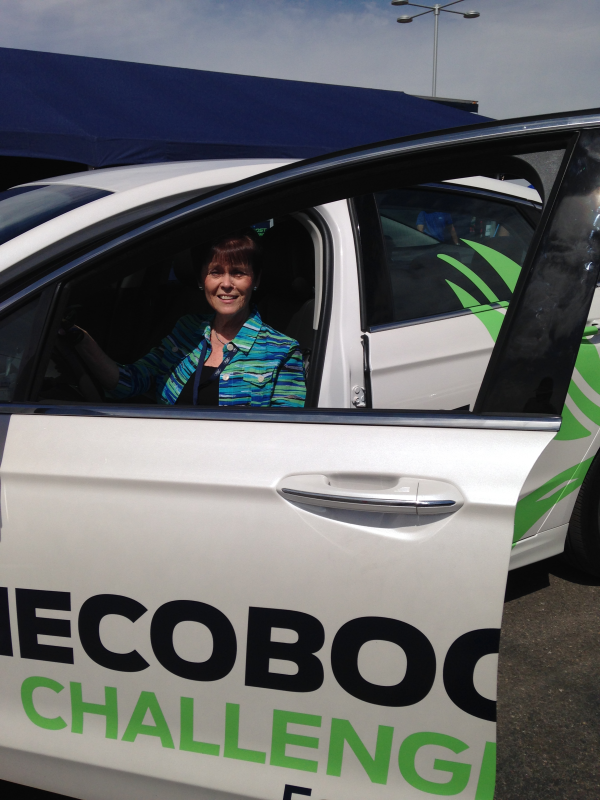 This Ford event put fun and fuel efficient EcoBoost-powered vehicles to the test in three closed-tract experiences:
The high performance drive featured the new Fiesta ST… a pocket rocket! I had the most fun I've had behind the wheel of a small car in a long time. I actually made the tires squeal a few times … well maybe a bit more than a few times.
Then I took the hybrid challenge course pitting a C-MAX against the Toyota Prius. This was my first time to drive a hybrid vehicle. I was surprised at the easy handling and the off-the-line speed the C-MAX had to offer. The amount of cargo space in the back is impressive.
The EcoBoost Challenge course was where we had the chance to take on the Ford F-150 versus Chevy Silverado, Ford Fusion versus Toyota Camry, and Ford Escape versus Honda CRV in head-to-head competition. To make it a fair challenge, I tried to drive each vehicle the same way….fast! Are you sensing a pattern here?
Can I just say….WOW! If you get a chance to test drive a Ford with EcoBoost… do it…you will be amazed!
Thinking about buying a car? Now is a good time to visit your local Arizona Ford Dealer. Eligible Arizona Farm Bureau members can get a $500 rebate toward the purchase of new Ford vehicles and $750 toward Lincoln vehicles.
For more information, go to our Member Benefits page.
Join our Family!