The Hiccups in the Ag Supply Chain: How It's Impacting Arizona Farmers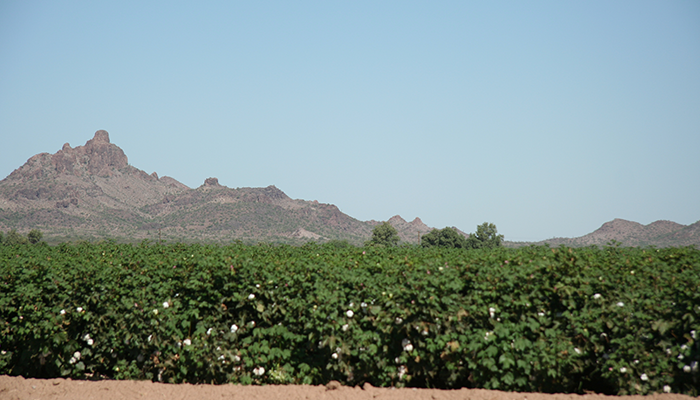 A third-generation Arizona farmer, Ron Rayner is a partner in A-Tumbling-T Ranches with his family, growing cotton, alfalfa and grains in the Goodyear, and Gila Bend, Arizona areas. He also farms in California. 
With extensive service to agriculture, much of his work has been in the cotton industry. He is a past Chairman of the Board of the National Cotton Council (NCC), after serving as the organization's president in 1999. The NCC is an organization that encompasses all seven segments of the industry – from production to shipping to manufacturing. Prior to serving as president, he served as chairman of the American Cotton Producers, the grower segment of the Council. He also served as a director and executive committee member of Cotton Council International, the NCC's export promotions arm and served as a member of Cotton Incorporated's board.
Since 1999 he has served as a director of Calcot Ltd., a cotton-marketing cooperative for Arizona, California, New Mexico, and Texas growers. He served as Calcot's chairman of the board for four years, retiring from that position in 2015. He also is a director and past president of the Arizona Cotton Growers Association.
At home, Ron is an organizing director, stockholder and president of Farmer's Gin, Inc. in Buckeye, serves as chairman of the Board of Electrical District No. 8; served as a member of the Central Arizona Project Board of Directors; and has served as a member of the Arizona Water Resources Advisory Board.
The Arizona Farm Bureau recognized Ron as its Farmer of the Year in 1998. He is a lifelong member of the Maricopa County Farm Bureau and served on the county board. He's also served as chairman of the Arizona Farm Bureau Water 2000 committee.
In 2021, Arizona Farm Bureau recognized A-Tumbling-T Ranches as a Century Farm and Ranch. And this last February (2022), Ron received the Harry S. Baker Distinguished Service Award from the National Cotton Council (NCC).
Ron has a passion for agriculture and a commitment to seeing this industry continue to thrive despite its varying challenges. He's developed an expertise in low-till cotton farming and water management. 
The most problematic supply chain issues for the farm and ranch industry include transportation costs, labor availability, rising energy costs and challenges with obtaining inputs and products for the ag sector.
The causes of today's supply chain issues cover a variety of factors. Tariffs and recent trade wars disrupted markets. Cyberattacks have taken down grain elevators and a packing plant. The West and Upper Plains have suffered recent droughts, reducing forage, increasing irrigation needs and lowering river levels. Hurricane Ida closed the Gulf port, slowed Mississippi River traffic, and closed chemical plants. Perhaps most significantly, the COVID-19 pandemic hammered every aspect of the supply chain, from transportation costs to labor availability. And now, Russia's invasion of Ukraine may exacerbate already volatile global markets. 
And most logistics experts point to the ripple effect of China's influence on global supply chains. Ambrose Conroy, CEO of Seraph, a U.S. supply chain consulting firm, told Voice of America at the end of January that the supply chain crisis is probably manageable if only factories are temporarily closed, but port closures in China and other parts of the world become a more critical issue. 
With the United States the world's largest consumer market, months of poor logistics result in a severe shortage of goods in large supermarkets and a spike in consumer prices. Increasing energy costs are not helping. In fact, the latest data released by the U.S. Department of Labor on February 10, put the U.S. inflation rate at 7.5% in January, the highest inflation point in 40 years. 
With soaring commodity and transportation costs having a huge impact on the global economy and supply chain, the Federal Reserve has invented a new analytical tool called the Global Supply Chain Stress Index (GSCP). It will use nearly 25 years of data and a variety of indicators to map, measure and manage the adverse impacts on global supply chains.
Specific to the agricultural industry, the cost and availability of fertilizer alone have been extremely challenging. The primary feedstock and process fuel for ammonia production is natural gas. The recent doubling of the Henry Hub natural gas price dramatically increased the cost of production, the building block of all nitrogen fertilizers. 
It's in this setting that Arizona Agriculture reached out to Ron Rayner to get boots-on-the-ground insights on what's happening at the farm level. We wanted his take on some of the finer points of our current supply chain management challenges in the agriculture industry with its direct impact on farming management and inputs. 
Arizona Agriculture: The food and ag supply chain hiccups are daily evident especially when we see empty store shelves. But how have these supply chain hiccups been impacting you as a farmer? What else needs to be done. 
Rayner: The food and ag supply chain hiccups are truly evident in our business each day. First, we see the lack of supply in areas of inputs such as fertilizer. We have reduced our application to wheat by half so far in the crop. We know this may have a negative impact on our yields, but we are carefully monitoring the crop progress. 
We anticipated the tightness of supply and higher prices, so we decided to apply a light rate of dairy manure over most of the acreage. We also applied a lighter rate of urea but ordered it with an inhibitor to slow down leaching by irrigation water and make each pound of N (Nitrogen) more efficient to promote plant growth. We are worried about the availability of some herbicides for our cotton because we plant no-till and strip-till thus depending on herbicides to control weeds without cultivation.                                 
Arizona Agriculture: How are you mitigating for all of this?
Rayner: Our farm is planning to make additional capital investments to replace equipment instead of making repairs. In December we purchased two new tractors to replace two high hour ones. We have ordered two more pivot sprinkler systems to supplement the one we already have, and plan to continue mechanizing as quickly as time and capital allows. Labor availability is also a concern and is helped through investment in mechanical irrigation technology as well.
Arizona Agriculture: Energy costs are a factor too, correct?
Rayner: Regarding the rise in natural gas prices, I have already mentioned fertilizer use earlier but rising natural gas prices have directly affected our irrigation pumping costs.  A lot of the power purchased by our electrical district is generated with natural gas. Our district was forced to enact rate increases that in some cases doubled our pump costs over last year. To counter that sudden jump, we have ordered two more pivot sprinklers and ordered a mobile drip system for an existing pivot. All this is to immediately increase our application efficiency and to reduce our pumping costs.
Arizona Agriculture: The agriculture supply chain is both upstream and downstream, acquiring and selling. Talk about this. 
Rayner
: Our supply chain usually involves thinking about our suppliers, but it also impacts what we sell. Even though cotton prices have risen quickly, and demand is good, you can't sell your product unless you can tell your buyer when he will receive your product. Our cotton marketing cooperative, Calcot, has created innovative ways to get our cotton in containers and delivered to the port when a ship is available. However, trucking and ocean freight continue to be very uncertain when scheduling customers' deliveries. Some forecast a correction of these problems may take another six months or more.