Toasting 100 Years with Centennial Red and Cien Beer
It's Official. We can toast Arizona Farm Bureau's 100 years of existence with specially made wine and beer!
In the mix of our celebrations, we wanted to partner with organizations to help us truly celebrate the achievement of Arizona Farm Bureau reaching 100 years and also to toast the next 100 years.
Centennial Red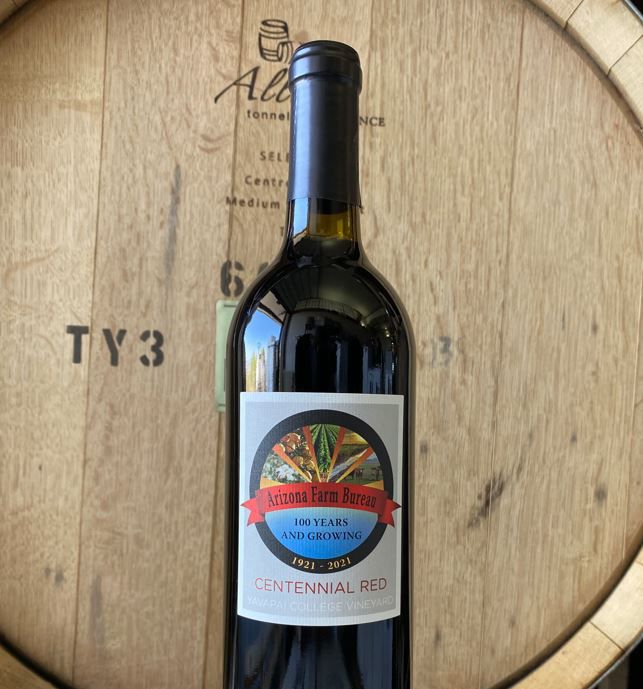 Arizona Farm Bureau partnered with Yavapai Farm Bureau's Michael Pierce and the students at the Southwest Wine Center of Yavapai College, where Pierce also serves as director.
This 2019 vintage is a dry red blend with a burst of dried black cherry, medium tannins and a delicious lingering finish. Pierce suggests one pair Centennial Red with "a beautifully marbled steak and Maytag blue cheese."
Students at the Southwest Wine Center of Yavapai College have grown, produced, and bottled this red wine to commemorate 100 years of the Arizona Farmer Bureau. The red blend is from Tempranillo, Refosco, Carignan, Sangiovese, Tannat and Cabernet Sauvignon.
Says Pierce, "Cheers to the history and future of Arizona agriculture!"
To purchase the Centennial Red, you'll find it at the beautiful Tasting Room of the Southwest Wine Center at Yavapai College. 
Cien Beer
Arizona Farm Bureau partnered with Old Ellsworth Brewing Company for this special Centennial beer, called Cien.
Says Old Ellsworth Brewing Company owner Brian, "Cien has all Arizona grains in it. We have grain from Sinagua Malt in Camp Verde and Queen Creek from Grain R&D. I would describe the beer as a California common style. We call it an Arizona steam beer. It's a really old-style beer that's really easy to drink. Super malt-forward, super flavorful and it has that nice coppery Arizona color."
You can purchase Cien beer at Old Ellsworth Brewing Company. You can also find the beer at select Wine & More stores around the valley. 
"We live and work by the cycle of the seasons in a loop of prepare, plant, steward and harvest," said Arizona Farm Bureau President Stefanie Smallhouse.  "We have good years and bad.  While we are subject to both factors within and out of our control we know, Agriculture is essential to Arizona's prosperity and Arizona Farm Bureau is the Voice of Agriculture.  We empower members through grassroots advocacy, communication, and education and will continue this work for the next 100 years."