Viticulture Program Helping Ensure Arizona Keeps Making More Wine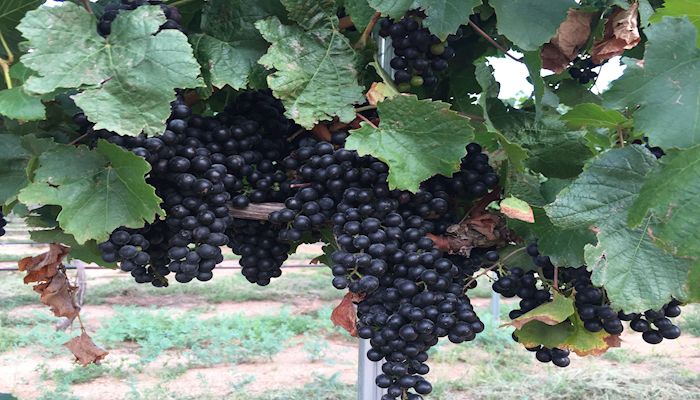 Michael Pierce is Director of Viticulture & Enology, Southwest Wine Center for Yavapai College. Pierce is an Arizona native who has been working in the wine industry for the last ten years. He not only makes wine, but he teaches others how to make wine.
In 2014, he accepted the position as Director. He oversees the Southwest Wine Center located on Yavapai College's Clarkdale campus. The Southwest Wine Center is home to a 13-acre vineyard, industry-scale teaching winery, and on-campus tasting room.
In addition to his work at the college, Michael is the winemaker for two wine brands he runs in conjunction with his parents. Both brands, Bodega Pierce and Saeculum Cellars, utilize fruit grown at the family's 27-acre vineyard in Willcox, Arizona. The Pierce family's approach to winegrowing is to be true to the place and allow the vineyard site to speak for itself. As a result, the wines are designed to express the high desert terroir of the Willcox Bench that the family has found to be unsurpassed in producing spectacular world-class wines.
Earlier in 2019, the Arizona Farm Bureau Outreach team drove to Yavapai College to visit with Pierce and get a personal tour of the Southwest Wine Center. Students at Yavapai College's Verde Valley campus, that can range in age from 21 to 86, discover a very different, hands-on kind of college experience. They're learning how to grow grapes and make wine.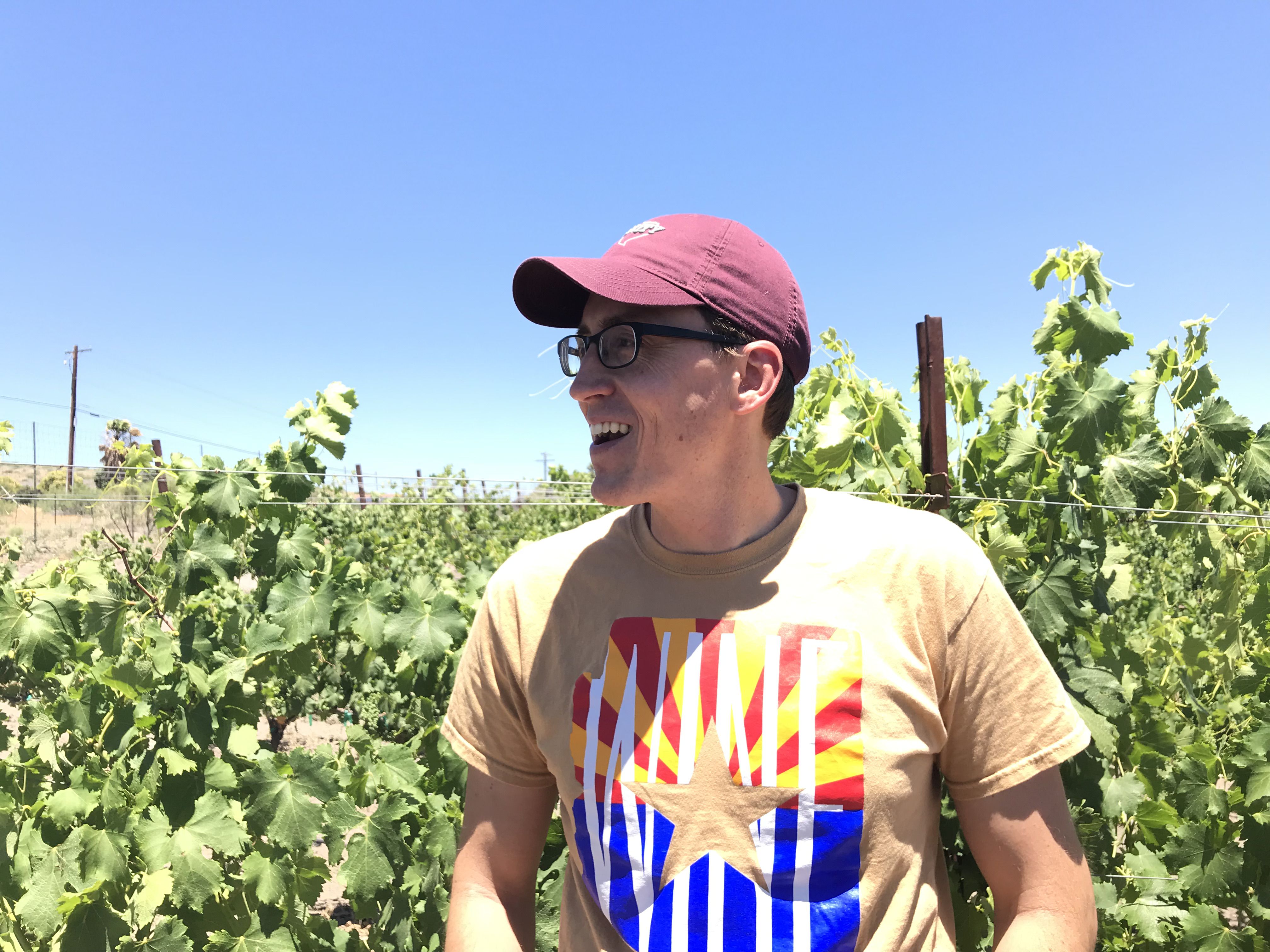 "The academic program is built around the Southwest Wine Center which is a working model of an Arizona farm winery," explain Director Michael Pierce. "Our 13-acre vineyard exposes students to all aspects of growing wine grapes," Pierce asks wine enthusiasts to encourage wine shops to carry Arizona wine.
Students can earn a certificate in viticulture, or take the full two-year program for an associate's degree in viticulture and enology. Courses include soils, water, insects, along with how to establish and operate a vineyard. The associate track adds the science of winemaking, some chemistry and microbiology, and of course, learn the sensory evaluation of wine. So, if you've ever thought all-important sensory evaluations on a fine wine were out-of-tune, Yavapai College's wine course would be more than just a tune-up for you.
To get the business experience partnering with vineyards in the Verde Valley and around Arizona, the program prepares students for careers as vineyard designers, cellar masters, or tasting room managers. The day my team took the tour, you could sense an aspirational vibe, excitement about a growing industry. Pierce's remarks reflect this exciting time in Arizona's wine industry.
Arizona Agriculture : Talk a bit about Yavapai College's Viticulture program. How does it rank?
Pierce : Yavapai College's Viticulture and Enology program was established in 2009 as an educational resource designed to support the local wine industry. The southwestern United States is home to several growing wine regions. Yavapai College is stepping up and addressing the need for higher education in grape growing and winemaking specific to our climate. Currently, 1-year certificates in Viticulture or Enology and a 2-year A.A.S. degree is offered in both disciplines. This is a similar structure to peer schools in other parts of the country. Where Yavapai College excels is in our on-campus learning labs.
The academic program is built around the Southwest Wine Center (SWC) which is a working model of an Arizona farm winery. Our 13-acre vineyard exposes students to all aspects of growing wine grapes. A focus of our grape growing program is the development of best practices for water conservation and appropriate pesticide applications. The 13,000 vines are grown using an A+ effluent water source provided by the City of Cottonwood. Students can see the management structure of an industry-scale growing operation while under the guidance of our faculty. The second year of the associate's degree takes place in the teaching winery at the Southwest Wine Center. In 2018, students harvested and processed nearly 20 tons of grapes, which produced approximately 1,100 cases of wine. The academic year follows the creation of the wine through the cellar and into the bottle. While the students are learning about wine production in the cellar, additional classes are taught on the marketing, sales, and compliance pieces of the wine industry. This is where students learn unexpected lessons in the program which prepare them for the wine business.
With the affordability of in-state tuition at Yavapai College and the available learning resources, the Southwest Wine Center easily ranks as a top choice for students wanting an education in grape growing and winemaking. Several scholarships unique to the program are available – some of which are not based on financial need. So, money is available and students are encouraged to apply.
Arizona Agriculture : What will the YC program do for the future of the wine industry in Arizona?
Pierce : In the fall of 2018, the average age of students in the viticulture and enology program was 48.5. Nearly all of these adults are working while going to school to prepare for their next project in life. Many of the graduates and current students work in the industry, either in vineyards, wineries, tasting rooms, or wine sales. However, a strong contingent is entrepreneurs. Several of whom have established businesses, and many more have businesses in the making. Examples are, Oddity Wine Collective, Heart Wood Cellars, Cove Mesa Vineyard, Najar Cellars, 1764 Vineyards, Mogollon Vineyards, Salt Mine Wines, Flying Kite Vineyard, among others. The program has provided a foundation for these graduates to continue on their journey. I think the work of this educational program is just beginning. Many future students will be able to get their start at YC. Additionally, the Southwest Wine Center and the tasting room is committed to the promotion and education of wine consumers who would like to know more about the Arizona wine industry. The SWC's tasting room is open to the public Thursday through Sunday from noon to 6:00 p.m.
Arizona Agriculture : What's your take on the wine industry in Arizona?
Pierce : Wine grapes are an excellent crop for Arizona. Low acreage, high density, low water use, and high economic return. The varieties we are learning to grow like Malvasia Bianca, Graciano, Tempranillo, and many others, like our dry climate. We are not only growing a crop well suited for the high elevation desert but creating a product that is uniquely Arizona. Our wines are an expression of the places they are cultivated. Consumers are starting to take notice which has created tourism and economic growth in rural areas of the state where it is needed most. I anticipate growth will continue as we create more Arizona wine customers. When you look at the Arizona wine businesses which are out there now, it is nearly all locally-owned and operated small family businesses. These are people who have chosen the lifestyle to grow grapes and make wine. There is an authenticity to the effort and the products they produce. The wine enthusiasts who are our customers, know the difference between the generic mass-distributed wines and those grown right here.
Arizona Agriculture : You also produce your own wine, talk about this.
Pierce : My family and I have been producing wine in Arizona since 2010. Our family brand is Bodega Pierce, which produces roughly 1,500 cases of wine per year. My parents, Dan and Barbara, live in Willcox and grow the 27-acres of grapes we currently have planted. The vineyard has 18 different varieties. Although we might be on the high side, having a large diversity in varieties is common in Arizona. The list of wine grapes which grow in our state is long. Which ones are the most successful in the field, and the market is debated among the industry. Although some are easier to deal with than others, I look forward to seeing every variety come in each harvest. Annually, I make about 30 unique wines from our vineyard and others. These wines are available at our two tasting rooms in Willcox and Clarkdale. You can also find them at select bottle shops throughout the state. If you don't see Arizona wine where you shop, please ask them why. It's about time they get on board.
Arizona Agriculture : What makes Arizona's wine industry stand out among other wine regions of the country. Are we as special as we think we are?
Pierce : For those who enjoy good wines which are representative of the place they are grown, Arizona wine is a special thing that can be appreciated for what it is. We can achieve a wine quality greater than some regions which have been established decades before ours. The wines are not boring and for the most part, small-batch and handcrafted. This allows for a story to lead in the marketing of the wine. Arizona has many beautiful areas in the Northern and Southern parts of the state. Now those places which people visit and have come to love are adjacent to great winegrowing regions. It's a bonus either way – come for the wine and get the state or come for the state and get the wine.
Arizona Agriculture : We're told that 80% of the wine grapes are grown in southeast Arizona, but 80% of the actual wine is crafted in northern Arizona. Why is this?
Pierce : The last USDA statewide study on wine grapes was in 2013. The data in the study was close to the percentages you mention. Southern Arizona is a great place to grow grapes. High elevation with air drainage at the good sites, affordable land, and access to water. The same isn't as true in northern growing regions of the state. However, the areas around the Verde Valley is home to large tourist attractions such as Sedona, Jerome, Flagstaff, and the Grand Canyon. So, the production and tasting rooms have taken root here more so than the larger vineyards. Many wineries in the state have aspects of their business in multiple areas of the state to diversify.
Arizona Agriculture : The future?
Pierce : Keep going. Continue to enjoy what we do and be honest with what is working for us in the vineyard. The wine industry is still crafting and telling its story to our customers and future customers. A stronger presence in the market and educating the state's legislature on the economic impact of our industry are near-term goals. The Southwest Wine Center and Yavapai College will be here to help educate and tell this story.
Arizona Agriculture : What is the typical profile of a successful winemaker?
Pierce : Hard-working, curious, and a good decision-maker. I find our students fit this profile. Many of them are coming from successful careers in other industries and are re-tooling in preparation to follow a passion. To support this passion and the demographic we serve, YC has designed the program for these students. Our lecture-based classes are either online or scheduled one night per week. This allows our students to schedule their own time to take advantage of working in the vineyard and the winery as life permits. It's a pleasure to work with these students and rewarding to see them grow into successful winemakers.
Editors note : watch for other articles about Arizona's wine industry in the future. We hope to continuously cover the potential of this very important commodity in Arizona. This article originally appeared in the September issue of Arizona Farm Bureau's Arizona agriculture.
Join Our Family